Wondering "Is Anything Vegan at McDonalds?" Here's the answer.

McDonald's has a dark history when it comes to animal welfare, but if you're stuck and need to eat at the Golden Arches, there are some vegan options available.

We'll cover all of the vegan options around the world and touch on what McDonald's is doing about animal welfare.
Table of Contents
There are many products on the McDonald's menu that appear vegan but are not, even if the raw ingredients don't contain meat or dairy.

Here's why:

1) They may be cooked in the same oil as meat dishes

2)They may be processed using the same equipment as meat dishes

3) Some dishes like fries use meat flavourings (for example in the past McDonald's fries were cooked with beef tallow – a rendered cow fat)

McDonald's stopped using Beef Tallow back in 1990 and replaced it with a vegetable oil with trans fat substitute. When the "Saturated Fat & Trans Fat Scandal" hit the media, McDonald's changed the recipe again, this time for "Natural Beef Flavour".

Natural beef flavor is actually made from milk according to The New York Post which makes it non-vegan.
These items are also perfect for a plant based diet:
Fruit And Maple Oatmeal
Ask for no cream to keep it vegan.
---
Apple Slices
---
Southwest Salad
Ask for no cheddar and no Southwest Dressing (made with eggs).
---
Side Salad
---
McCafe Coffee – Black
---
Minute Maid Slushie
---
Apple Pie
---
To Be On The Lookout For:
McPlant Burger
The McPlant Burger was introduced in November of 2020 on a test trial in countries such as Denmark and Sweden. The McPlant Burger is vegan was co-created by McDonald's and Beyond Meats Inc. The burger is still in its trial phase and might be sold in the US if it's successful.
It's important to note, however, that even though the ingredients used in making the burger are vegan, the patties are, however, still grilled next to the meat patties which may be cause for cross-contamination.
McDonald's UK has a good amount of vegan options:
Apple Slices
Raw food vegan, at McDonalds 🙂
---
Side Salad
Green and lean, this one is always vegan.
---
McCafe Coffee
Just make sure to hold the leche.
---
The Happy Meal Veggie Wrap
Note that the Happy Meal Veggie Wrap is vegan, but McDonald's lists them as vegetarian because the tortillas pass through the same toaster as the buns that contain milk.

Honestly, the milk in the buns is unlikely to get transferred to your food, especially with the heat of the toaster so we consider this a vegan option.
---
The Vegetable Deluxe
The Veggie Deluxe is a bona fide vegan burger, as long as you ask for no sandwich sauce (which is made with egg).

Even better, McDonald's uses a separate fryer for the burger patty as confirmed in this statement:
"The Veggie patty is cooked in a dedicated fryer used only for this product and fries. Chicken and fish are cooked in completely separate fryers and beef and pork is not cooked in fryers."
---
Fries
Unlike fries in the USA, McDonald's UK fries are vegan for 2 reasons:
1) They Avoid Cross-Contamination
McDonald's issued a statement saying:
"We use dedicated colour-coded tongs and trays for Veggie products and the procedures used to make the Spicy Veggie Wrap [Spicy Vegetable Deluxe] and Spicy Veggie Sandwich [Vegetable Deluxe] are approved by the Vegetarian Society."
McDonald's UK fries contain vegan friendly ingredients: potatoes, sunflower oil, rapeseed oil and dextrose, natural sugar.
2) They're Not Cooked With Animal-Based Flavourings
In the US and many other counties, McDonald's used meat or dairy based flavourings on their fries. You can read more about that here.
---
Apple Pie
The McDonald's Apple Pie is vegan unlike many other apple pies which use shortcrust pastry (which contains egg).

The only potential worry for vegans is cross-contamination which McDonald's are open about in their statement:
'Due to the design of the oil filtration system there is a small chance the oil used to fry the Apple Pies can come into contact with oil used to cook chicken and fish products during the oil filtering process. We therefore cannot guarantee that cross contamination will not occur.'
We'd say the apple pie is not vegan as a result of this.
---
Veggie Dippers Meal
McDonald's said its Veggie Dippers meal – including vegan nuggets served with chips and a soft drink – will launch in the UK in January 2020 and it did launch but a little later in March 2020.
---
Vegan McNuggets
Since March 2020, McDonalds also vegan nuggets which switch chicken breast for plant based ingredients like potato, chickpeas, onions, carrot and corn coated with breadcrumbs.
---
More Vegan Options Coming in 2020
Good news for UK vegans – In December 2019 a BBC article called "McDonald's latest fast food chain to join vegan craze" The article claimed McDonald's is to join a growing list of fast food restaurants selling fully vegan meals in the UK.

This was driven by an "80% uplift" in customers ordering vegetarian and vegan options in the last 12 months.
Canada has many vegan options available:
Fruit And Maple Oatmeal
Ask for no cream.
---
Apple Slices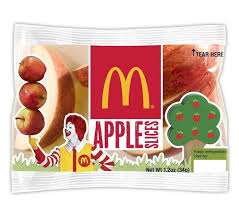 ---
Side Salad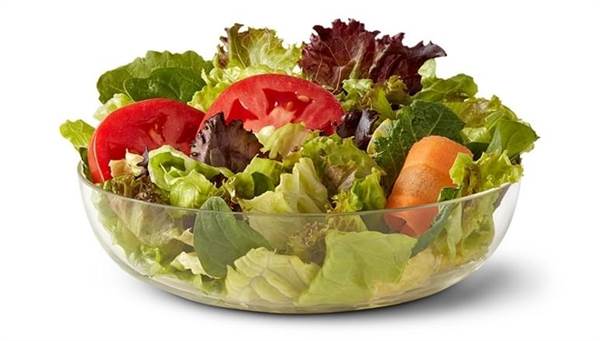 ---
McCafe Coffee
Go for the American – Black and dairy free.
---
Apple Pie
---
The Spicy Veggie One Wrap
---
The Happy Meal Veggie Wrap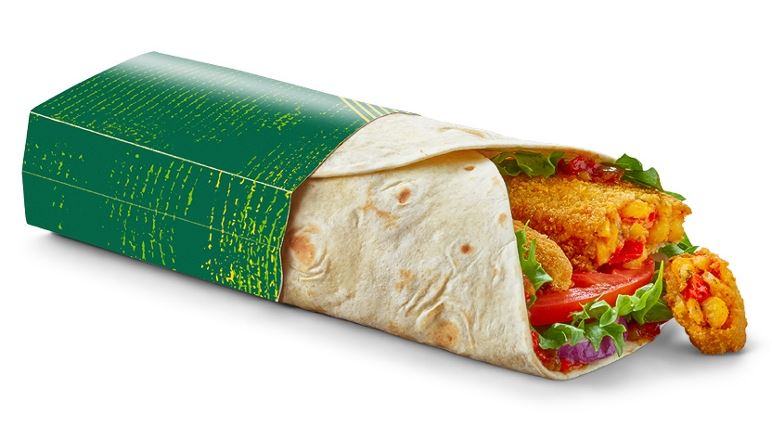 ---
The Veggie Deluxe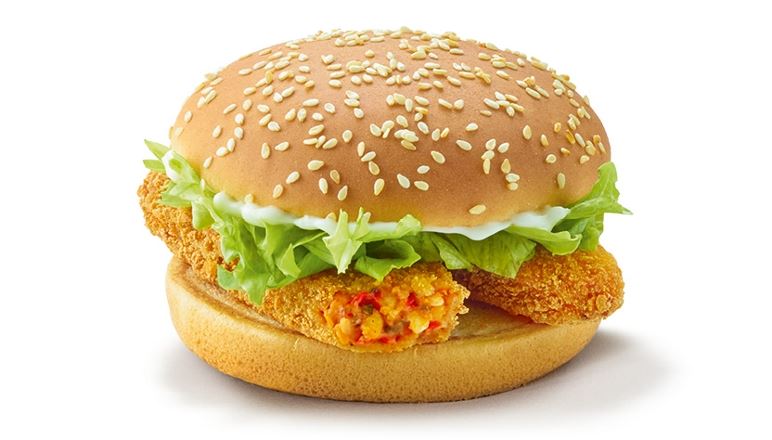 Aside from the above, there was a Beyond Meat Vegan burger at 52 McDonald's in Southwestern Ontario between September 2019 and April 2020. It was discontinued, for more information go here.
Fruit And Maple Oatmeal
McCafe Coffee
McDonald's Canada recently ran a Beyond Meat burger trial between September 30th 2019 and April 6th 2020 for vegan burgers to access demand.

Things started off well, on January 8th 2020 the trial was expanded to 52 outlets in southwestern Ontario. Unfortunately, on June 25th, 2020 McDonald's ended the trial in Canada with no plans for a plant-based option.
McDonald's CEO was asked about it afterwards and said McDonald's is paying "close attention to and internally discussing vegan and plant-based menu items." However, there isn't much more to say "at the moment."

At the same time, Beyond Meat only said the relationship was still good while Beyond Meats competitor Impossible Foods said it was no longer trying to win a deal with McDonald's because it does not currently have the capacity to supply the the world's biggest restaurant.

McDonald's has been criticised for taking so long to provide a plant based burger in comparison to Burger King and others who adopted vegan options like the Impossible burger and Beyond Burger faster.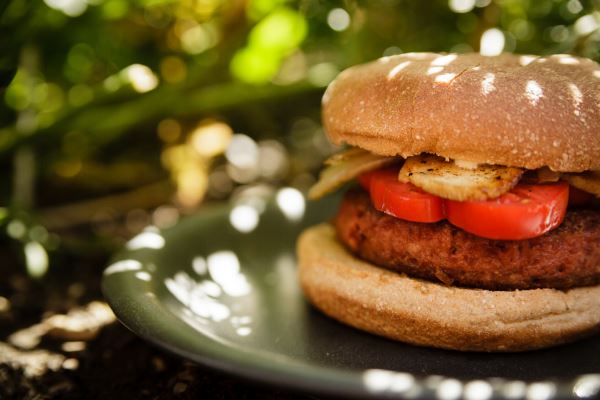 McDonald's were asked about this and their CEO, Steve Easterbrook explained why they've not taken the plunge, describing it as "a matter of "simplicity".

The explanation is that when McDonald's considers a new menu item they ask 2 key questions:

1) Is there an additional complexity?
2) If there is, is that complexity worth it?

Simply that means how hard is it to roll out across their restaurants and how much additional cash is it likely to generate.

Update November 2020: McDonald's to introduce a line of plant-based meat alternatives called "McPlant" in 2021 which covers plant-based burgers, chicken substitutes and breakfast sandwiches. Read more here.
We've already seen McDonald's roll out plant based options in specific countries:
McDonald's First Fully Vegetarian Restaurant
in 2013, McDonald's opened its first fully vegetarian restaurant in Amritsar, Northern India. McDonald's Indian menu has many vegetarian and even Jain options (no food from the earth e.g. onions etc) thanks to the many religious beliefs across India.
The McVegan
In late 2017 The McVegan burger was launched in Finland and 150,000 burgers were sold in the first month! It was so popular McDonald's rolled it out to neighboring Sweden in early 2018.

150,000 burgers sold in Finland might seem low, but with a 5.5 million Fins, that represents a little under 3% of the country wanted to try the McVegan.
Vegan Vegetable Nuggets – Norway
---
The McAloo Tikki – India
Originally from India (Aloo = Potato in Hindi)
---
Falafel Nuggets Happy Meal – Sweden
---
The McVegan – Finland

Developed in Finland, Mäkkär's first 100% vegan burger worldwide. The McVegan burger features a succulent soy protein steak, vegan mayonnaise, tasty tomato, crispy salad, pickles, onion, and ketchup and mustard. A vegan delicacy and another solid plant based burger.
---
The El Veggo – USA
The second vegan burger nationwide.
---
The Big Vegan TS – Germany
Made with Nestlé's Garden Gourmet "Incredible Burger & cooked separately
to avoid cross-contamination with animal fats.
---
Cucumber Fries – France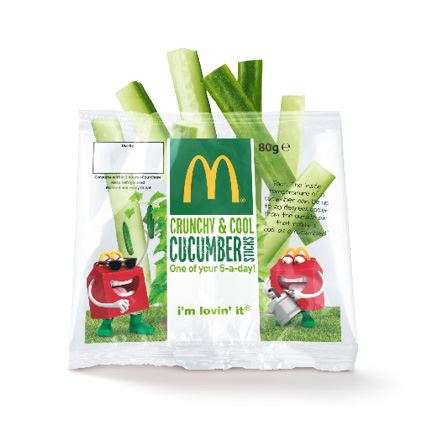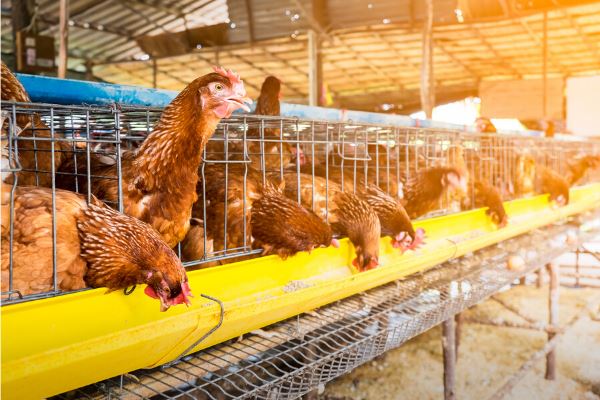 One of the best quotes about McDonald's and their treatment of animals is "If you were a chicken, Ronald McDonald would represent the devil and the golden arches would be Hell on Earth".

That sums it up well.

McDonald's is the worlds biggest purchaser of beef and pork (as well as potatoes, lettuce and tomatoes) and the second-biggest buyer of chicken, after KFC. They are responsible for the systematised slaughter of hundreds of millions of animals each year.

Don't let McDonald's public statements fool you, they're still as bad as ever despite them buying favourable statements like winning the RSPCA Assured's Food Service Award for commitment to Farm Animal Welfare in 2017.

In 2015, McDonald's also announced they'd stop using battery eggs and vowed all suppliers would be cage-free by 2025.

On McDonald's website they show their Guiding Principles for Animal Health and Welfare which say:
"Quality: We believe treating animals with care and respect is an integral part of our commitment to serving McDonald's customers safe food. Healthy animals provide safe food."
This is what care and respect looks like:
The billions of dollars McDonald's generates lets them cover up the extent of animal abuse, but Mercy for Animals recently did a public exposure in New York's Times Square: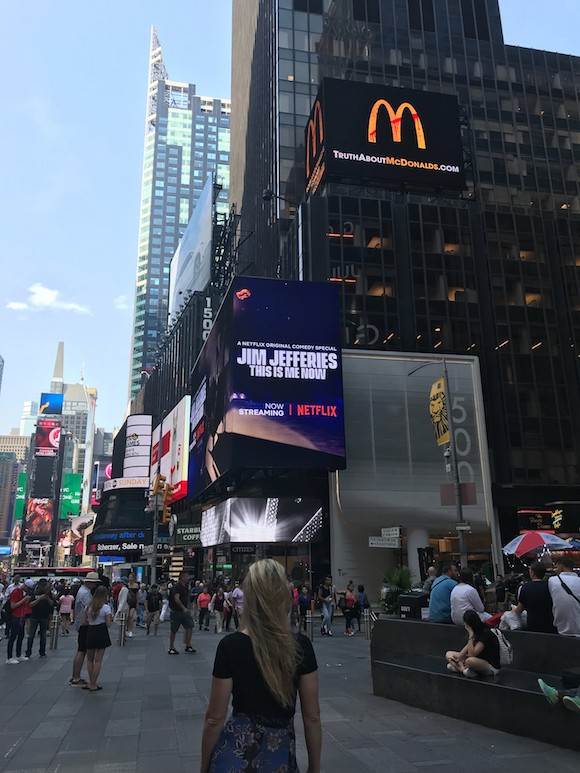 They've even created a website called McDonald's Cruelty which has a petition (you should sign) revealing chickens were:
Bred to grow so fast their fragile legs often give out and the birds collapse under their own weight. Many die from heart attacks and organ failure.
Kept in darkness nearly their entire lives.
Spend most of their lives sitting in old litter soaked with faeces and urine, resulting in painful sores and respiratory problems.
Are often crammed together by the tens of thousands inside barren warehouses.
You can read more about McDonald's chicken cruelty here.

PETA has also been critical of McDonalds after McDonald's finally agreed to implement a less cruel chicken slaughter method, something that PETA has urged it to do for 20 years.The problem is it will take until 2024 to implement and will apply to only 70 percent of McDonald's chicken suppliers.

PETA said:
"McDonald's pledge will help reduce some horrific suffering, but millions of birds will still be scalded alive for McNuggets until the policy takes effect in 2024, and the company still raises chickens with crippled legs and deformities. Other chains have enacted much stronger protections already and have broadened their base by offering vegan options."
In Summary
Is anything vegan at McDonalds? Yes there is.

But…despite some vegan options, McDonald's continues to be the world's largest purchaser of Beef and Pork and the second largest purchaser of chicken. Hundreds of millions of animals a year are slaughtered, most in the cruellest ways (like scalding the skin off live chickens).

Attempts to introduce more human methods of slaughter have been delayed and take years to implement. Besides, how is there any humane way to murder a living being?
Hey! We're Miriam & Skye, two digital nomads travelling the world year round searching for the best vegan food, fashion and beauty products. We share the best of everything we find.  Miriam is from Mexico City (but lived in the U.S ) and Skye is from London, UK.  When we're not blogging here, we're busy discovering new cities, watching The Office (UK) reruns and finding quiet coffee shops and libraries around the world.  Read More About Us Here.