Are you trying to find the best vegan mens dress shoes?
If yes, this is the article for vegans who want to wear cruelty-free shoes. Every year, selections of vegan footwear are booming.
We cannot deny that shoes on the market are commonly made out of leather, nubuck, and suede which derives from real leather. However, it's good for us to find different brands across the globe that can offer sustainable shoes for men. These animal-friendly footwear can compete for quality.
Vegan dress shoes for men are 100% ethically made from vegan leather. Despite not being genuine leather, they can still compete with shoes derived from real leather. These shoes are made with quality, style, and comfort in mind.
Also, vegan dress shoes are suitable for occasions such as weddings, parties, graduations, and formal or casual events. Therefore, these are must-have items for all vegans like us.
The Ultimate Vegan Men's Dress Shoes List
There is a never-ending list of great finds when it comes to vegan men's dress shoes.
BRANDS:
Vegan Men's Shoes Brands
Many famous brands are now trying to move towards making vegan products like shoes for men. The market for vegan style shoes is increasing every year, so they need to keep up with current trends.
Herbivore Vegan Leather Shoes
If you want the latest and most fashionable list of vegan leather shoes, you can opt for Herbivore Vegan Shoes. This well-known vegan online store can offer an array of leather shoes from black to other colours that will suit your wardrobe.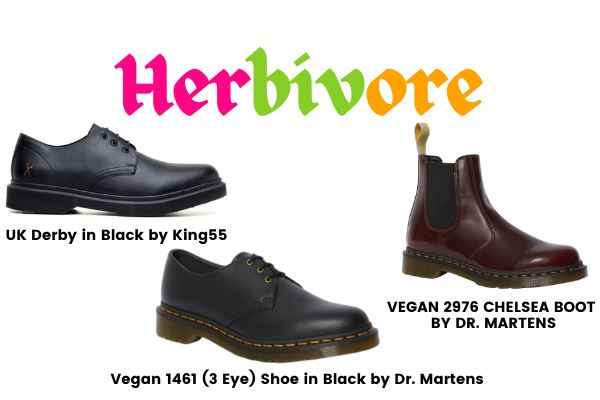 At Herbivore, you can find anything from low cut shoes to leather boots depending on your style and taste. So, check out their amazing collection of ethically made shoes that may just be perfect for you.
You can see our Herbivore Clothing company guide here for more on this vegan company.
Will's Vegan Shoes
If you want vegan shoes that you can pair with other vegan accessories such as belts, bags, and wallets, you could visit Will's Vegan Shoe Collection.

You will not only find leather shoes, but stylish rubber shoes are also available. They have monumental choices of cruelty-free and vegan shoes to match all tastes and styles.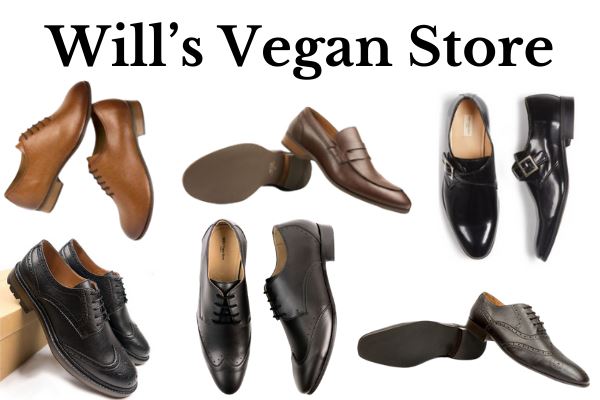 Men's Vegan Shoes at Zappos
For top of the popular brands of vegan shoes for men, Zappos collection of different vegan shoe brands will satisfy your needs.
At Zappos, brands like Native, Toms, Onitsuka Tiger, Sanuk, Merrell and Saucony offer an original style of vegan shoes. For instance, slip-on shoes, running shoes, and more.
Men's Vegan Dress Shoes at Amazon
When it comes to discounted vegan shoes, affordable items are available at Amazon Vegan Shoes. Aside from the men's range, you can also buy vegan dress shoes for women at a low price.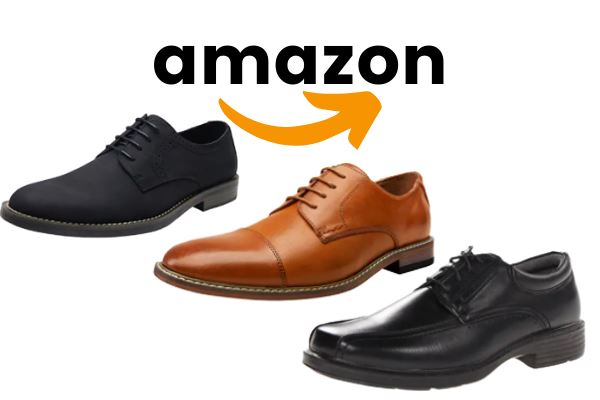 Vegan Dress Shoes for Men at Call It Spring
For a more classic collection of vegan dress shoes for men, you can look at Call It Spring. This Brand offers free shipping for items sold for $70 and up.

Here, you can scout for formal footwear suitable for special events.
Nae Vegan Shoes for Men
Another online store that only sells vegan apparel is Nae Vegan Shoes.

Aside from shoes, you will also find a range of stylish vegan accessories such as bags, wallets, belts, suspenders, and more.
Unicorn Good Men's Vegan Shoes
Unicorn Good is proud of its massive collection of vegan shoes for both men and women. They are made from fake and faux leather and suede which is friendly to the environment, animals, and humans.
Other Vegan Footwear Brands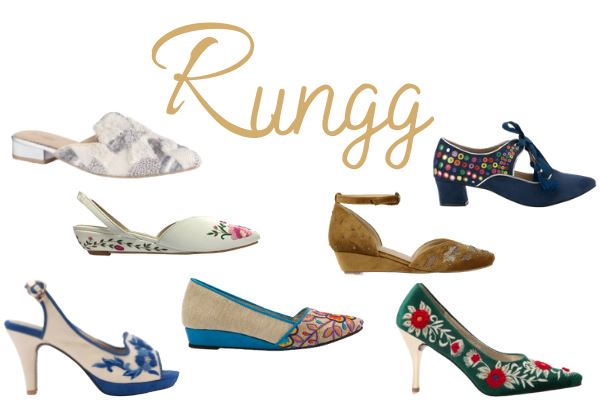 Another vegan shoe brand is Rungg which stocks an array of vegan dress shoes for women, which are PETA approved.
Styles of Vegan Dress Shoes
We wear shoes for different occasions and milestones in life. Thanks to the new technology we vegans can now enjoy wearing comfortable and high-quality vegan dress shoes.
Vegan Men's Dress Boots
Fans of dress boots for men can choose from diverse brands that sell vegan boots that will suit your style and personality.
Insulated Waterproof Chelsea Boots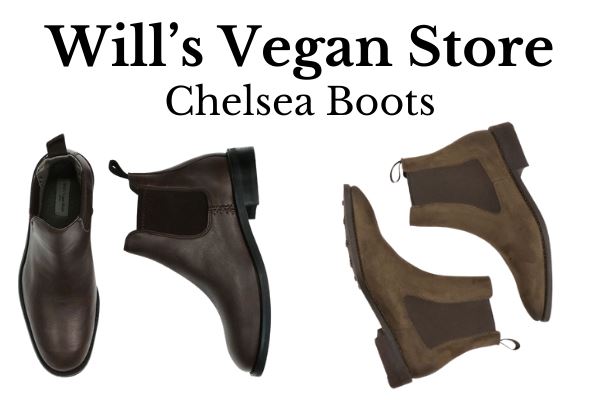 These vegan boots are made with animals in mind as they only used plant-based leather from Italy, which comes from cereal crops grown in Northern Europe. This is used for producing bio-oil using a carbon-neutral process.
They are waterproof, perfect for long wear and can withstand any weather.
Goodyear Welt Brogue Boots
These are produced using vegan leather that is Ecolabel Certified from Italy. Also, you can re-sole them to extend the footwear's lifespan.
Many love the shoes' comfort and feel because of the cushioned insole that comes from recycled rubber.
Classic Vegan Derby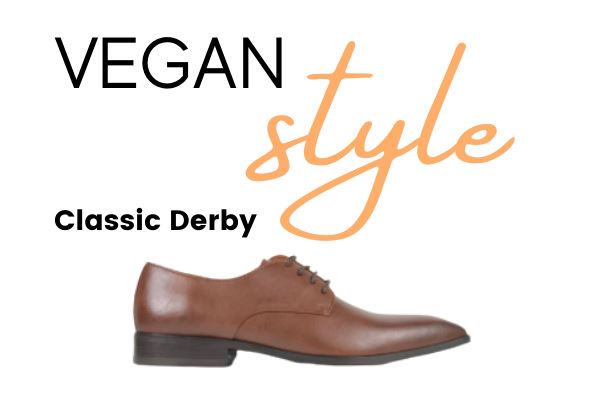 This is another Ecolabel Certified vegan leather shoe that can offer a classic look which doesn't compromise the comfort experienced while wearing the shoes.

You'll love the fact that they have an antibacterial lining and are made from breathable materials.
Vegan Casual Dress Shoes
A set of casual wear is an essential part of any wardrobe. So, to complete your casual outfit, look for vegan casual dress shoes to match your clothes.
Mutaqinoti Men's Loafers Brunette Brown Casual Loafers
This brand has an impressive selection of casual loafer vegan shoes that can provide ultimate comfort with their inner lining and padded collar.
Elitous Suede Penne Driver Loafers for Men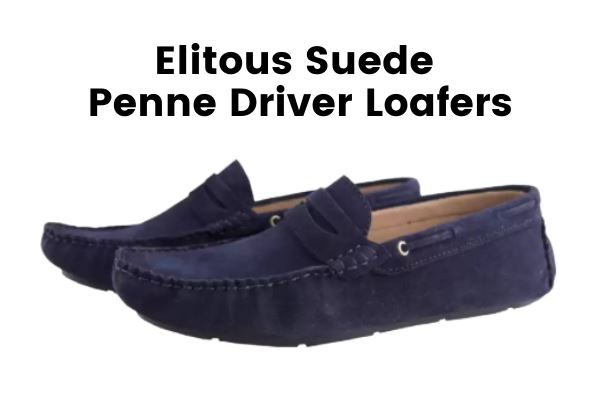 Made from faux synthetic leather this makes them ideal for casual wear and will suit any occasion.
Vegan Men's Dress Shoes Black
Black shoes are a staple for every man's wardrobe. The colour black can match any style and shade of outfit that you want to wear.
Zette Vegan Black Shoes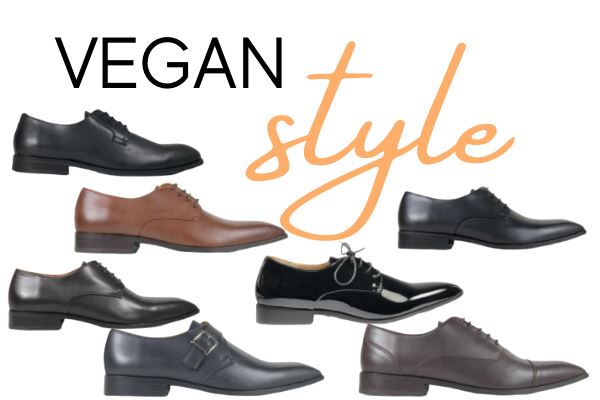 If you're looking for the best vegan black shoes, then Zette has huge selections that are OEKO certified from Spain. All shoes have cushioned innersoles that are breathable, comfortable, and antibacterial.
Burano Black Leather Shoes
Burano is a brand that is famous for durability because of Goodyear's technique. The materials comprise vegan-friendly leather that comes from Bio-Poly Oil. Also, they use Alcantara as an alternative to suede, which is more eco-friendly.
Vegan Loafers Men's
Loafers are a top favourite for men's vegan shoes because of their style and comfort. Today, we can window shop for diverse brands that offer many choices for men's vegan loafers.
Bourgeois Boheme
This popular brand makes products from PVC-free eco-friendly vegan leather, which is handcrafted by expert artisans in Portugal.
Ahimsa
If you are searching for a more casual type of ethical vegan loafers, then Ahimsa is the right choice for you. They are available in black and cognac and will suit any style.
Vegan Men's Business Shoes
Attending a business meeting requires a specific type of vegan dress shoes, especially if you want to have confidence when meeting an important client for example.
Vincente Verde Cagliari
These shoes are made from high-end faux leather with a breathable and soft lining that offers a different level of comfort. Also, they are ethically made from vegan leather, handmade in Brazil.
Vegan Men's Derby Dress Shoes
If you prefer fun and exciting footwear, then vegan men's derby shoes will match your personality.
Nae Eric Men Vegan Derby Shoes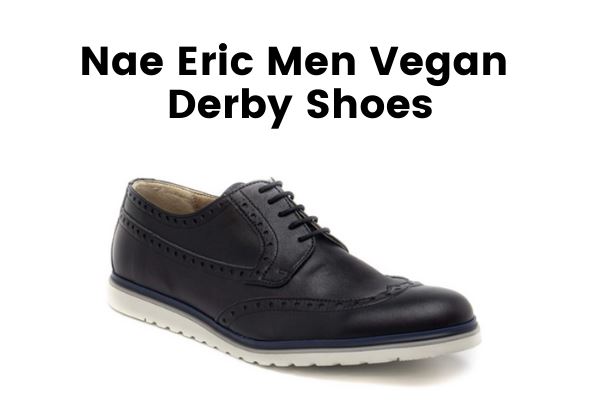 Nae Eric Men Derby Shoes handcrafted in Portugal are OEKO Certified. Also, you will appreciate that they are washable, water-resistant, lightweight, and very durable.
Where Can I Buy Vegan Men's Dress Shoes Near Me?
Purchasing men's dress shoes isn't a problem for vegans any longer as there are many online stores to choose from. You shouldn't have to take a single step out of the house to find a nearby vegan shoe store.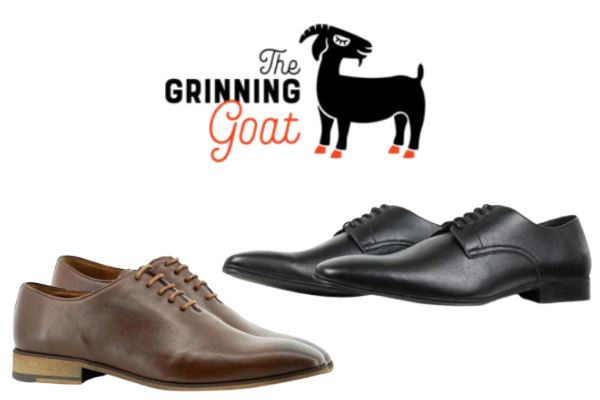 Within the safety and comfort of your own home, while watching television and sitting comfortably on the sofa, you can find the latest styles and trends for vegan footwear for any gender. You might like to check out The Grinning Goat for the latest vegan shoe craze.
Where Can I Buy Vegan Men's Dress Shoes In Canada?
If you're from Canada, you can visit Dr. Martens and find a long list of ethically made men's shoes. A quick view of their vegan shoes range will surely stimulate your interest when choosing new shoes.
Another great option is Nice Shoes, which are perfect for those living in and close to Vancouver. The company is a sole vegan shoe store at Fraser Street & 19th Avenue and has an online website.
Despite the name, they sell other vegan items like purses, wallets, bags, accessories, and much more.
Where Can I Buy Vegan Men's Dress Shoes in The UK?
Vegans from the United Kingdom can go to Vegan London for all sorts of apparel needs that are 100% vegan and cruelty-free. You can find the best prices at Amazon.co.uk.
What are Vegan Men's dress shoes made of?
According to PETA, vegan shoes are produced from plant materials such as apples, mushrooms, bananas, or are made from synthetic materials. Examples like polyurethane or PU, rubber, and microfiber are common raw materials for vegan shoes.
What Are Vegan Leather Shoes Made of?
Vegan leather originates from a polymer called polyurethane that is made to order by manufacturers. You'll be amazed to learn that some shoes are also produced using sustainable raw materials like apple peel, recycled plastic, pineapple leaves, and other fruit waste.
What Materials Are Used for Vegan Dress Shoes?
The following are common raw materials used to make vegan dress shoes.
Microfiber leather

Bio latex insole

Ecolabel certified OEKO YEX 100 vegan leather

Plants using BIO Oil that comes from organic cereal crops

Pinatex

Natural rubber

Recycled PET Bottles

Hemp a plant fiber

Are Vegan Men's Dress Shoes Made With Rubber?
Yes, they are produced using natural rubber from a Rubber Tree. It's a common raw material used to form the sole of the shoes. Also, it is a sustainable material that's eco-friendly and easily recycled.
Are Vegan Men's Dress Shoes Cruelty-Free?
All companies manufacturing vegan shoes for men are considered cruelty-free which means they do not support any form of animal testing. Here is a list of cruelty-free brands from PETA.
Rungg

Nae Vegan Shoes

NOAH

Taylor + Thomas

SUSI Studio

Veerah

Brave GentleMan

Matt and Nat

The best vegan men's dress shoes are rapidly increasing in popularity in the shoe industry. It's good news for us vegans as we do not have to worry about finding cruelty-free and vegan footwear.
Anything that does not originate from pure leather and other animal by-products is vegan. Also, take note the brand must not support any form of animal testing.
If you enjoyed our review of the best vegan men's dress shoes, you'll most likely be interested in our other vegan fashion reviews such as: