Caribe Vegano Cancun Vegan Restaurant was one of our absolute favourites after living in Downtown Cancun for over 6 months.

We did our best to eat at every single vegan restaurant – all in the name of research of course 😄 and this one was special.

But the first time we went was a bad experience (more on that below), but despite that, the food was so good, we made our way back and never regretted it.
Table of Contents
Caribe Vegano Cancun Vegan Restaurant is out of the way, its around 30 minutes in a Taxi from the hotel zone and just over 15 minutes from Downtown Cancun.

The area the restaurant is located in is a typical local area. You won't feel unsafe, but you also probably don't want to walk the neighbourhood for too long. Miriam who is Mexican herself said the same when we both had to walk those streets searching for an ATM (more on that below).

The other thing about the location is the restaurant is very hard to find. The addresses online don't give you the right location and there's no big signs out the front to know its there.

It's like the locals are trying to keep it one of Cancun's best kept secrets (which it is).

To make it easier to find, see the where is it section below for a map and photos of the location.
The menu is pretty extensive, but they have regular specials posted on the large blackboard on the restaurant wall:
The menu is also in Spanish, but here's the English translated version for you (note every dish is 100% vegan):
Meal of The Day
Includes soup, main course, side dish and water
Starters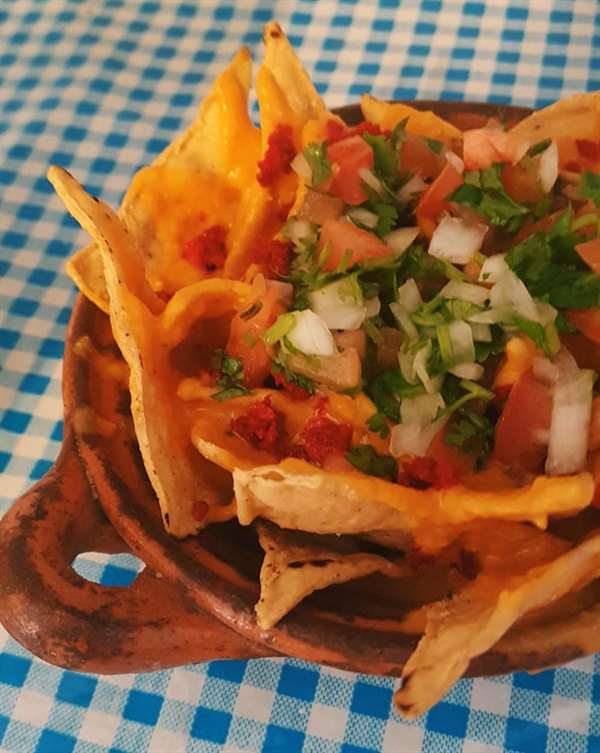 Nachos – Tortilla chips with cheddar cheese, chorizo and pico de gallo (salsa)
Guacamole – Mashed Avocados
Potatoes with Lime – Pan-fried potatoes
No Wings – Accompanied with Red Hot sauce and blue cheese seasoning
Hamburgers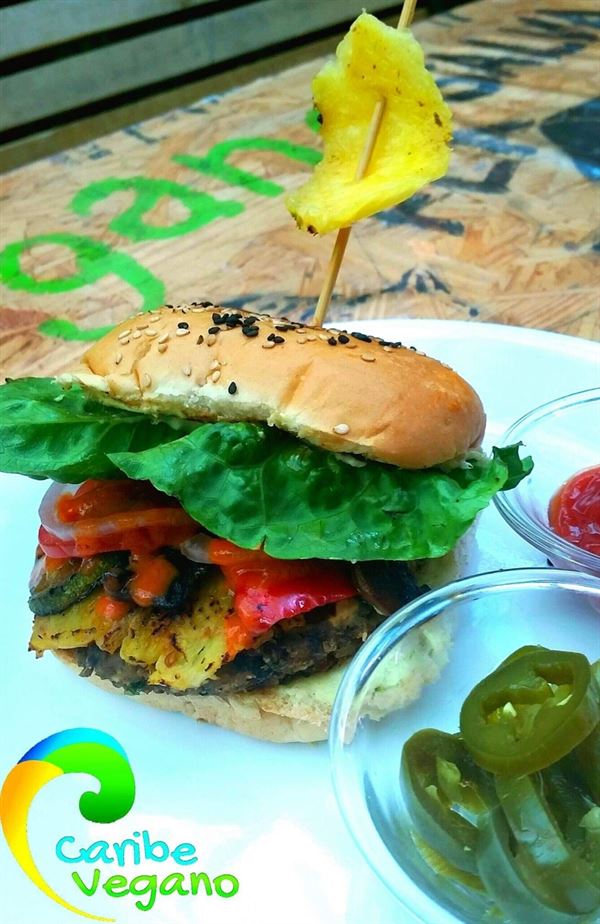 Hamburger – Lentil, walnut, rice and vegetables patty, chipotle or natural vegan mayo, cheddar cheese and chorizo
Chickpeas Hamburger – Chickpea, oatmeal and amaranth patty, with cheddar cheese
Hawaiian Hamburger – Vegetable patty with roasted pineapple with red hot sauce
Hot Dog – Vegan sausage, cheddar cheese, vegan mayo and salsa
Tacos*
Pastor – Thinly sliced grilled pork with sliced onion, pineapple and cilantro
Steak – with sliced onion, pineapple and cilantro
Chorizo – Spicy sausage
Chorizo with potatoes – Spicy sausage with pan-fried potatoes
Chimichurri – Vegetables with onions
Alambres Vegetables – Grilled beef topped with chopped bacon, bell peppers, onions, cheese and salsa
Mushroom – Portobello mushrooms
Jamaica – Hibiscus flowers with pineapple, onion, avocado, cilantro, and green salsa
No Camaron – Shrimp tacos
*Choice of flour or rice tacos
Tortas (Sandwiches)
Pastor – Thinly sliced grilled pork or steak with onions, vegetables, avocado
Chimichurri – Vegetables with onions
Torta Loca – Steak, sausage, mushrooms, chorizo, vegetables, beans, tomato, onion and avocado
Tacon Madre
Flour omelette, steak, pastor, chorizo, onion, coriander and pineapple
Paninis
Mushroom – Mushrooms, almond cheese and pesto sauce
Veggie – Grilled vegetables, vegan mayo and chimmichuri sauce
Pizza – Tomato sauce, melted cheese, pepperoni, ham, sausage, mushrooms, olives and peppers
Roquefort – Roquefort cheese and vegetables
Salads
Primavera (Sprint) – Lettuce, spinach, apple, caramelized walnut with agave honey and raspberry dressing
Puesta de Sol (Sunset) – Carrot, lettuce, cabbage, cucumber, spinach, walnut, blueberry, and coriander dressing
Mixta (Mixed) – Lettuce, tomato, cucumber, avocado, spinach, sunflower seeds, and mustard dressing
Desserts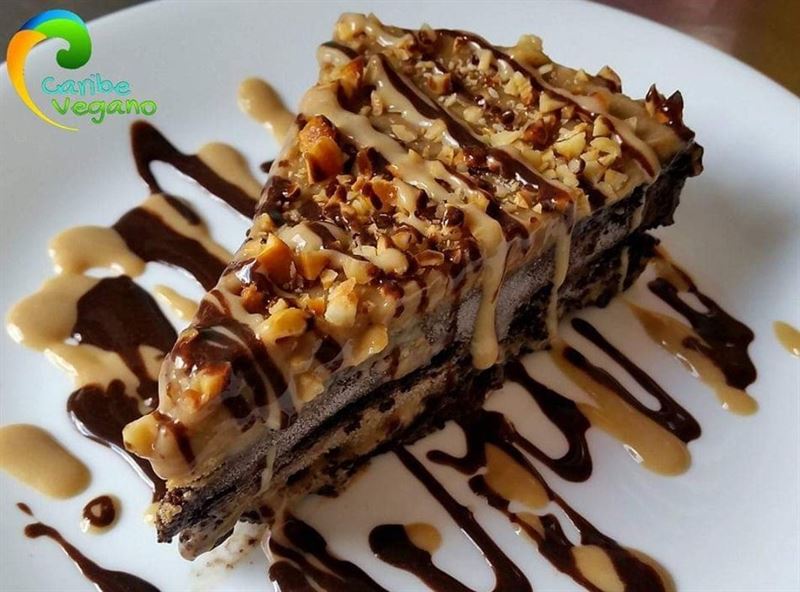 Lemon cake
Cheesecake
Rolls
Brownie
Chocolate cake
Cream, Chocolate & Peanut cake
Chocolate and mint cake
Snickers cake
Hibiscus and Mint cake
Lemon with Chia cake
Drinks
Hibiscus
Horchata (sweet rice milk)
Tamarind
Lemon with good herbs
Water of the day
Black Coffee
Cappuccino
O M G! 😍

Caribe Vegano is hands down, one of the greatest vegan restaurants we've ever been to. And we've been travelling the world (living in a different city every month) taste testing as many of them as possible.

We especially loved:
Pambazo – My favourite Mexican dish in the world! This one didn't give us heartburn/stomach aches like many others (because they don't use clean oil)
Chocolate Mint Cheesecake – So tasty, fresh, soft and full of flavour
Hibiscus tea – Super refreshing
Hawaiian Burger – A delicious burger, the patty stayed in one piece and the pineapple complemented it perfectly
Torta Cubano – Had every ingredient perfect (just like the non-vegan version)a nd the vegan sausage was top quality
We fell in love with Caribe Vegano! We also ate the tacos, no wings, multiple deserts, coffee and they were all so good.

For a first timer, we'd recommend the pambazo, Hawaiian burger, Torta Cubano and the chocolate mint cheesecake – all solid options but honestly, everything is on point.
The restaurant consists of two areas, the main area when you enter which has the large blackboard menu covering the left wall and a second area through a door where you go to pay.
The main area is around 10 tables, covered with simple plastic table covering – its a no frills affair where its all about the food.

The second area through the door is narrow and has a few tables dotted on the left and a few more on the right. At the end of that room is the cashier and the kitchen is at the back.

We sat in the main area both times and found it pleasant enough.
Our Caribe Vegano experience started off really badly.

We'd just finished our meal, we're completely blown away and excited about this wonderful Cancun vegan restaurant we'd uncovered.

And then we tried to pay – and they told us they only accept cash.

Without cash I needed an ATM, and the staff told us there was one up the street. I left Miriam at the table and spent the next 40 minutes walking the streets trying to find an ATM.

The problem is, Caribe Vegano isn't near much else. There's an OXXO store, a gas station, a larger cash and carry style store and a small row of stores – none of which has an ATM or offers cashback.
Returning frustrated, Miriam went out to look too and after 30 minutes returned with the same issue.

In the end, the owner drove us to Walmart where we got cash and paid. She was lovely, I had a great chat with her in the car but we were so frustrated and tired by time we got home as we lost a good amount of our Sunday just trying to pay.

Arguably we should have called ahead, when we looked on Google we didn't see anything about cash and we naively assumed we'd be able to pay with card.

Our mistake. The next time we took cash and the experience was far better.
The service was friendly and efficient, the food came quickly and was hot and fresh when it arrived.
Despite us not being able to pay with card and the difficulties that caused us (see above), the staff helped us to resolve it and we were grateful for that.
Its a mixed crowd which tends to be on the younger side. Mostly couples and groups of young friends, but there were a few families with children.
Overall a relaxed and peaceful atmosphere.
The menu had a lot of variety and the specials on the board gave us a few items we had to try before we missed them.
Caribe Vegano is one of the most affordable vegan restaurants in Cancun – especially when you consider how good the food is.

Compared to many other vegan restaurants in Cancun (which are nowhere near as good), Caribe Vegano Cancun Vegan Restaurant is very fairly priced.
(9 / 10)
There are a few addresses online for Caribe Vegano Cancun Vegan Restaurant and not all of them are correct.

The correct address is:

127 Andalucía – Supmza. 526 (at Cancún, Quintana Roo), Cancun, Mexico, 77535

Getting there is easy enough, its:
26 minutes from the hotel zone in a car/taxi
17 minutes from Downtown Cancun in a car/taxi
58 minutes from Playa Del Carmen in a car/taxi
Here's a map of the area:
When you get there, its still hard to find as the addresses don't take you directly to the door and there's no obvious signage.
Here's how you get to the Caribe Vegano restaurant:
The restaurant is on this road (this is the corner):
This is the entrance to the restaurant:
If you want to contact Caribe Vegano their contact details are below:
Phone: +52-9987348465
Facebook: https://www.facebook.com/caribevegano/
Important: The restaurant is only open on Sundays
Sunday – 1:00pm – 10:00pm