Revolato Bucharest is hands down the best vegan ice-cream place we've ever visited!

Here's everything you need to know about this vegan company revolutionising the world of gelato.
Discovering Revolato Bucharest
In the heart of Bucharest's charming Old Town, lies Revolato. It's the first and only 100% vegan gelateria in Romania.
This vegan gelato emporium caught our eye and captured our hearts during our two months living in beautiful Bucharest.
As you meander through the cobbled streets, taking in the history and ambience, you come across a storefront that stands out thanks to its bold branding.
Revolato immediately caught our attention.

On a hot day, any ice-cream parlour will see us walk in and ask "do you have anything vegan?". Usually, we ask with a melancholy tone in our voices, almost already knowing the answer to be no. Heads hanging, we stroll back out into the punishing sun, sweat falling from our brows, shoulders slumped with dejection.

But Revolato was different!

As soon as we walked in, we realised EVERYTHING IS VEGAN! We couldn't believe it, there were over 15 flavours, there were cakes – in truth the choice was so overwhelming we just stood there marvelling at their creations and taking pictures.
During our 2 months, we visited weekly, met the owners Cristina and Dario and tried almost every flavour.

Here's why you need to visit Revolato when you're in Bucharest:
Reason #1 – Everything Is Vegan
Everything is vegan at Revolato, with no compromises.

The founders are vegan and see Revolato as a little step towards a better world. They invite their customers to participate in their dream of #changingtheworldscoopbyscoop with #noguiltypleasure.

Revolato means "REVOluzione del gelATO" because they took the old traditional Italian recipes and moved them into the 21st century by eliminating animal suffering from the ingredients list. That's why they're called "Revolato – Il Nuovo Gelato" which means "gelato of the future", and the future begins now.
Reason #2 – 16 Flavours + Regular Specials
The team at Revolato Bucharest wanted to eat more than just sorbet, which is usually the only thing on offer for vegans. So when they started the business, they made sure to have creamy flavours like chocolate, pistachio, hazelnuts, vanilla etc.

Also, all of the gelatos are gluten-free – everything except the cones, but these are soon to be introduced.
Regular Flavours
Coconut
Mango
Melon
Caramelized Vanilla
Hazelnut with Vegan Nutella
Cremino al Caffè
Pistacchio
Chocolate
Yoghurt with Cherries
Stracciatella
Black Sesame
Lychee & Raspberry
Cherries
Guava
Figs
Kalamansi
Specials
Rose
Pomegranate
Strawberry
Fruits of the Forest
Tangerine
Passion Fruit
Ananas
Gianduia
Kiwi
Yoghurt with Figs
Yoghurt with Fruits of the Forest
Yoghurt with Coconut
Lemon
Peanuts
Blueberries
Matcha
Poppy
Almonds & Cookies
Reason #3 – New Flavours Regularly
Revolato introduces new flavours faster than we could try them!

So far they've introduced 1-4 new flavours every week, and they have a really long list of new flavours of gelato and semifreddo cakes on the way.
Reason #4 – Cakes Galore!
As you enter, there's a fridge on the right side of the ice cream cabinets which contains some special cakes, all of which are gluten-free.

The semifreddo cakes are to die for!

They're based on vegan "panna ", which is a vegan whipped cream. The cakes have the texture of a mousse, flavoured with different kinds of nuts or fruits – very delicious!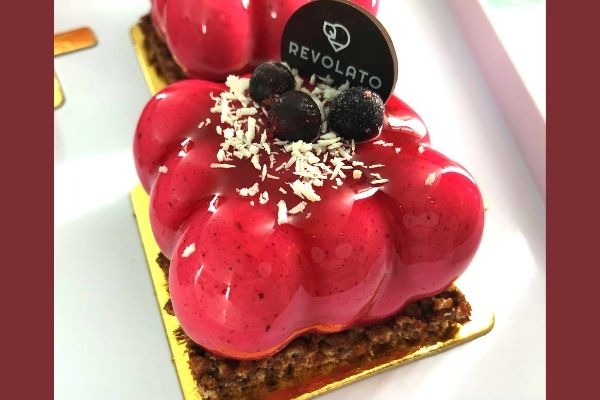 Revolato has two types of semifreddo cakes:

1) The small ones called "monoporzione" which can be eaten immediately, taken away or delivered to your door

2) The big ones which are perfect for celebrations like birthdays, parties and company events.

The cakes can be made in many different flavours and even personalised.

You won't find these cakes anywhere else in Romania (and probably not anywhere in Eastern Europe). We've not seen anything like it after travelling to 12 cities in Europe this year (including Rome, Milan and Venice).

P.S – if you get a semifreddo, try Revolato's coffee with it – divine!
Reason #5 – Raw Vegan is Coming!
Raw vegans of the Bucharest prepare yourselves!

Revolato is already working on their raw vegan gelato recipes, and word on the street is there's going to be a lot of flavours coming your way.

Keep an eye on Revolato's Instagram to know when these new gelatos are introduced.
Reason #6 – Revolato is Eco-Friendly
Being vegan only, Revolato already scores highly on the eco-friendly scale. Still, these smart owners wanted to go one better.

They eliminate single-use plastic (as far as possible) and their take away boxes, spoons and gelato & coffee cups are made of compostable materials.  Known as PLA and totally plant-based as its made from sugar cane, cornstarch or tapioca root.  That means it disintegrates naturally after 6-12 months. Impressive considering traditional materials need toxic chemicals and hundreds to thousands of years to disappear!

PLA costs twice as much as plastic, but Revolato thinks it's worth it for the planet, and we agree wholeheartedly. 🌍 💚 
Reason #7 – The Owners Are Awesome!
The soul and brain behind Revolato are Cristina & Dario.

Cristina was born in Romania and became vegan 6 years ago, Dario is from Sicily and has been vegan for 2 years. Could there be a better combination for an authentic Italian and vegan gelateria in the heart of Bucharest!

Before Revolato, Dario was a civil engineer, and Cristina studied physics, which means they started Revolato Bucharest with only a dream and no idea how to do it.  It was as simple as knowing they wanted to make the best vegan gelato in the world.
Reason #8 – Healthier Than Regular Ice Cream
Revolutionising gelato to be vegan is one thing, but making it healthier than regular ice-cream is another bonus.

The gelato contains almost no fat (just the natural fat from the nuts), but it's no less creamy or tasty than regular ice cream. 

The vegan gelato is made with a base of rice milk mixed with the flavours, all coming from fruits and nuts. There are no added chemical colourants or aromas.

Revolato Bucharest has Sugar Free flavours too, which are sweetened only with stevia.  The gelato with sugar uses grape sugar and cane sugar.
How To Find Revolato Bucharest
Address:
Strada Covaci nr 12, București 030167, Romania
Map: 
Opening Hours:
Thursday 12–10PM
Friday 12–10PM
Saturday 12–10PM
Sunday 12–10PM
Monday 12–10PM
Tuesday 12–10PM
Wednesday 12–10PM
Connect With Revolato Bucharest
Want More Amazing Vegan Food Spots?
We travel the world full time to discover the best vegan food spots to feature. See more of our vegan restaurant reviews here and all of our vegan food posts here.