Ah super simple vegan pancakes recipes.

Everything is better with pancakes, regardless of when you eat them, and what you eat them with. But the simpler the recipe is, the faster I can eat them!

It doesn't matter whether you're looking for a delicious way to start your day, or a comforting fluffy treat to enjoy in an evening as you relax on the sofa, there's always time for pancakes.
Traditionally, pancakes are made using ingredients including milk, butter, and eggs, which are strictly off limits if you happen to be following a vegan diet and lifestyle. Does this mean that vegans can't enjoy pancakes? Absolutely not!
There are plenty of vegan pancakes out there ranging from healthy paleo vegan pancakes and vegan pancakes without milk, to sweet and chocolatey pancakes rich in calories and taste that are perfect as a treat.
4 Super Simple Vegan Pancakes Recipes Anyone Can Master
Vegan Rainbow Pancakes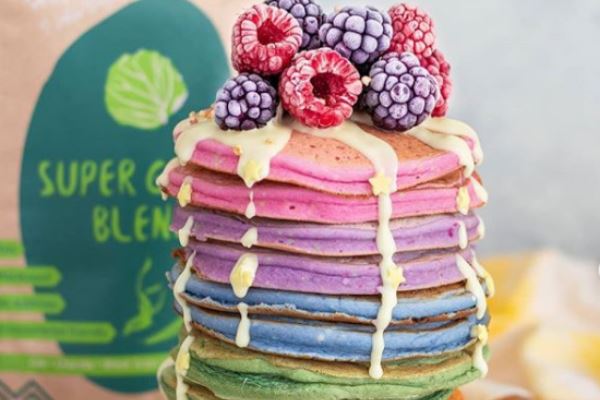 This colourful recipe from @andreeasbreakfast comes alive thanks to @theorganiclab.eu and their colouring powders.

They say that you eat with your eyes, and we're inclined to agree. Once you set eyes on these rainbow pancakes, vegan or not, you'll instantly fall in love.
If you're looking for an egg substitute for pancakes, the apple cider vinegar and vegan milk in this recipe works a treat.
Made using organic colouring powders, this explosion of colour will light up any plate of pancakes.
Ingredients:
15g baking powder
150g all purpose flour
60ml of water
240ml of a plant-based milk of your choosing
2 small ripe and mashed bananas
A pinch of salt
1 tb apple cider vinegar
1 tsp of vanilla extract (not essence, it will give an artificial taste)
3 tbsp unrefined cane sugar
Organic colouring powders made by a vegan-friendly company such as The Organic Lab
Directions:
Take a small bowl, and combine the milk and vinegar together and leave to sit for 5 mins
In a larger mixing bowl, combine the sugar, baking powder, flour, and the salt
Now add in the mashed bananas, vanilla, and plant-based milk and vinegar mix
Give everything a good whisk until all ingredients are incorporated
Now, take 6 bowls and combine the batter evenly between each one
In each of the bowls, add a touch of food colouring a little at a time, until you get a colour you're happy with
Now, heat up a skillet, add some vegan-friendly cooking spray, and cook your pancakes evenly
Stack them up and create a rainbow effect and you're all set.
These go great with mixed berries and vegan almond yoghurt
Simple Vegan Pancakes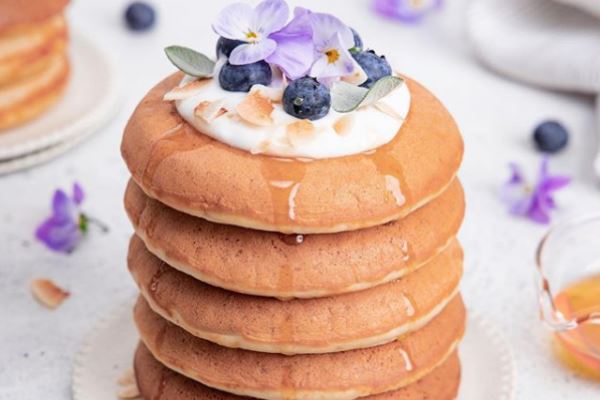 Sometimes in life, the simplest things are the best, and that is especially true when it comes to food. If you're in a hurry and want to minimize the washing up afterwards, this is another one of our essential super simple vegan pancakes recipes.
Ingredients:
1 level tsp of baking powder
1 tbsp of sugar (USDA approved sugar is vegan – more here: Is Sugar Vegan?)
Pinch of salt
300g of self-raising flour
1 tbsp of vanilla extract (again, not essence)
400ml of oat milk (other plant-based milks will also work. In fact, almond milk in pancakes is another winner)
Vegetable oil for cooking
Directions:
Take a large mixing bowl, and gently whisk together the flour, baking powder, salt, and the sugar
Now, take the milk and slowly pour it into the dry mixture a little at a time, whisking as you do so until a thick batter mixture has been formed
Take a skillet, heat it over a medium flame, add some oil, and 2 tbsp of batter for each pancake
Cook until small bubbles start to form on the surface and then flip the pancakes over to cook and seal the other side until golden brown
Stack your pancakes on a plate, and serve with an accompaniment of your choosing. Banana slices and maple syrup work very well with these pancakes.
Banana and Chocolate Chip Pancakes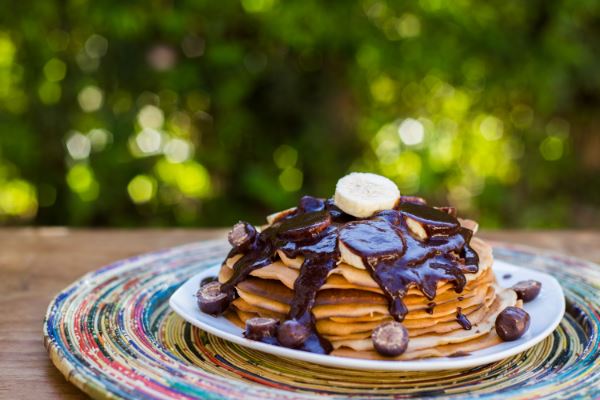 Sometimes when you're craving something sweet and decadent, only the best will do. These vegan pancake banana chocolate chip treats are sweet, rich, filling, and absolutely delicious. They're perhaps not one for those of you on a diet, but as a treat now and then, they're fab.
Ingredients:
1 cup (135g) of all-purpose flour
1 tbsp of baking powder
1 ½ ripe mashed bananas
2 tbsp of refined caster sugar
1 tbsp of virgin coconut oil
250ml of warm plant-based milk
Pinch of sea salt
3 tbsp of vegan cocoa nibs
Directions:
Take a large mixing bowl and combine together the flour, baking powder, sea salt and the cocoa nibs
Next, gently heat your plant-based milk, making sure not to boil it, and add the sugar and the coconut oil and give a good mix
Add ¾ of the milk mixture to your dry mixture and mix until a thick batter forms
Add your mashed banana and the remaining liquid and mix again
Now, take a skillet, heat it over a medium heat, add a touch of coconut oil and add 1/3 of a cup of batter to the pan and heat until small bubbles start to form on the surface and the cocoa nibs just start to melt
Repeat as necessary and flip the pancakes and cook the other side until lightly golden
Serve with your choice of toppings, though vegan peanut, cashew, or almond butter works very well with these
Enjoy.
Vegan S'mores Pancakes
If the other vegan pancake recipes without milk weren't quite sweet enough for you, this vegan S'mores pancakes recipe will definitely hit that sweet spot.
People often wonder can you use water instead of milk for pancakes, and the answer is yes, though in this instance, water would result in a thinner, less decadent batter.
Perfect for camping or on a cold Fall evening, here is the ultimate vegan S'mores pancakes recipe.
Ingredients:
2 cups of all-purpose flour
Pinch of sea salt
Half tsp vanilla extract
2 tbsp of white sugar
2 cups of almond milk as this pancakes recipe with almond milk works very well, though you can also use water, as we mentioned earlier on
2 tbsp organic coconut oil
1 tbsp apple cider vinegar
1 jar of vegan hazelnut chocolate spread
½ cup vegan marshmallows
½ cup of vegan crackers
½ cup of vegan cracker dust
Directions:
In a mixing bowl, whisk together your almond milk, or liquid of your choice, with the apple cider vinegar and set to one side for 5 minutes
Now, take a clean bowl and whisk together your flour, your cracker dust, the sugar, the salt, and the baking powder
To the milk mixture, add the coconut oil and vanilla extract, mix, and add to the flour cracker mixture and give a good whisk until a smooth and thick batter has formed
Heat a skillet or griddle pan over a medium heat, add coconut oil or vegetable oil, and a ¼ cup of pancake batter and heat for 3 – 4 minutes before flipping and cooking the other side until golden
Take each pancake, add a layer of vegan chocolate spread, sprinkle over the crackers, and repeat for as many layers as required
Add a thick layer of chocolate spread over the top layer and top with your vegan marshmallows
Melt the marshmallows with a kitchen blowtorch or under the grill, and enjoy whilst warm and gooey
Got Any More Super Simple Vegan Pancakes Recipes We Should Feature?
Liked our super simple vegan pancakes recipes?

We'd love to know about any awesome recipes you've got, send us a message here and if we like it, we'll feature it here.

Miriam & Skye x