After a little exploration, we stumbled upon this vanilla vegan birthday cake with buttercream icing recipe and thought it was just the thing for a traditional vegan birthday cake.

Well, it's not quite the traditional version, but we've heard many people raving about the taste and texture of this dessert, and we think it's definitely worth a try if you haven't yet.

Bonus: This vegan birthday cake will only cost you $10!
Why Vanilla?
Aside from being rich in vitamins (include B12 which vegans need) and tasting amazing, you can also use it to improve your cake.

When you add it to a batter, it makes it so soft and moist. Vanilla doesn't just give the cake its flavor, but it also adds a very pleasing fragrance to the cake without being overpowering. 
The icing is a buttercream frosting that pairs really well with vanilla cakes.
Before You Start
There are a few things you need to know to make sure your cake comes out right:
Tip #1: The Size of The Pan
The recipe below uses two 6 inch cake pans which are just enough. If you need a bigger cake, you may need to double the cake recipe.
Tip #2: Powdered Sugar Might Not Be Vegan
Some powdered sugars aren't vegan because they contain animal bone char (usually bones from cows). This is because the bone char is used to grind the sugar to make it fine.
The safest choice is to use USDA approved sugar. Sugars bearing that hallmark are not allowed to use bone char so you're safe as long as you look for the stamp. Any sugar without the USDA hallmark is not vegan.

You can read more about this and get a list of vegan sugars here.
For this recipe, the brand used was 365 Organic Powdered Sugar, which does not contain animal bone char.
Another reason to use organic powdered sugar is because it normally contains cornstarch which is often made from GMO corn (unless it's labeled organic).
The Vanilla Vegan Birthday Cake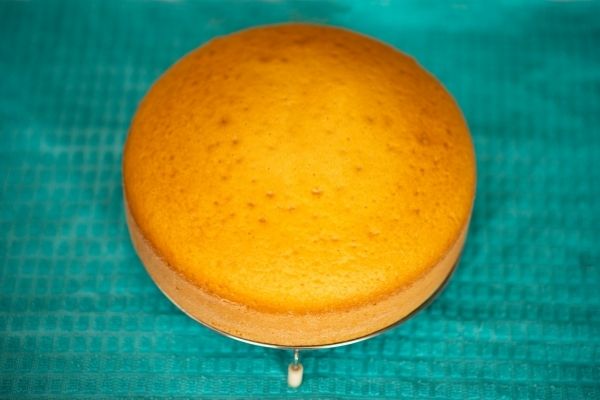 Ingredients
Dry ingredients:
3 cups organic unbleached all-purpose flour
1 1/2 cup vegan cane sugar or turbinado sugar
2 teaspoons baking soda
1 teaspoon pink Himalayan salt
1/2 teaspoon organic cinnamon
Wet Ingredients:
3/4 cups organic applesauce
2 teaspoons organic vanilla extract
2 tablespoons Bragg apple cider vinegar
1 1/2 cup distilled or purified water

Directions
Mix all the dry ingredients together in the mixing bowl of an electric mixer.
Add all the wet ingredients to the dry ingredients, one at a time.
Using an electric mixer, mix until well combined.
Pour into the greased can pans (two 6 inch pans).
Bake at 350 degrees for approximately 35-40 minutes (or until cooked throughout).
Remove from the oven and let it cool before removing from the pans.
Ice and decorate as desired.

The Vegan "Buttercream" Icing
Directions
Cream the vegan spread and vegan butter together with an electric mixer.
Add the vanilla.
Gradually add the powdered sugar, one cup at a time, and mix until smooth and creamy.
Add just enough milk as necessary to get a thick icing texture.
Source: http://www.madejustright.com/classic-buttercream-icing-its-vegan/
Simple right?!
Still Want More?
We hope you enjoyed this vanilla vegan birthday cake with buttercream icing. If you're a cake fiend like us, you might enjoy our other cake recipes here:
Did you make this?

Let us know in the comments (bonus points for pictures 😄)