We've scoured every inch of the internet to find the best vegan chocolate chip pancakes recipes so that you don't have to.
Breakfast is one of the most important meals you need to consume every day. A good and healthy breakfast consists of the right nutrients to fuel your body and help sustain your day of physical activities.
Surprisingly, a vegan breakfast is delicious and nutritious at the same time. It's not bland and lifeless which is a common misconception among non-vegans. Vegan recipes, especially for breakfast, are tasty and easy to prepare.
When it comes to breakfast, pancakes are a great option, as they have lots of nutrients our bodies need.
Today, you will find lots of vegan pancake recipes on the internet. It's very hard to know which ones will be the most delicious.
If you are longing for pancakes, here are the top-rated recipes for vegan chocolate chip pancakes that you can try. You will also find other recipes that will satisfy your cravings.
What Makes Chocolate Chip Pancakes Vegan?
The traditional pancake recipe may include eggs and other dairy products. What makes the recipes below suitable for vegans like us is that they are eggless and non-dairy.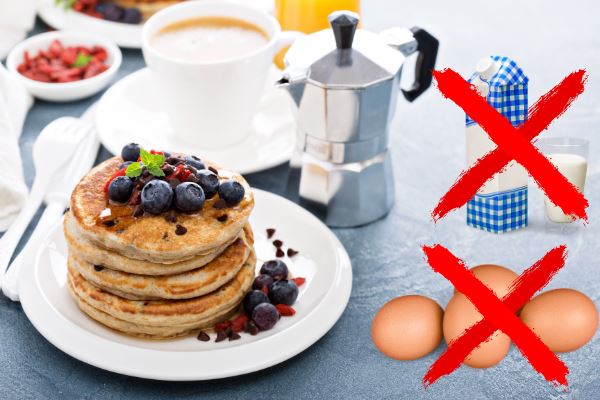 This means that we need to use ingredient substitutes to attain the same consistency, taste, and texture of a traditional pancake while still ending up with chocolate chip pancakes that are vegan.
What is Vegan Substitution?
Substituting ingredients is often done in recipes, even non-vegan ones. We can substitute an ingredient when trying a new recipe or when experimenting with a healthier version.
It is also used for recipes to cater to the specific needs of the person who will consume the food. For instance, people who are allergic to the egg but not vegan can also benefit from vegan chocolate chip pancake recipes.
Vegan Substitute Ingredients for Pancakes
Egg- In this recipe, we will use a banana as a substitute for an egg. Eggs are used as a binder and flavour enhancer in a recipe. Using banana adds to the final product's delicious appearance and appetising colour.
Mashed bananas can serve as a binder, add texture, enhance the recipe's flavour and give colour to the final product.
Dairy milk- Pancakes are more delicious and tasty with the use of milk instead of water. Vegans are lucky because technology in the food industry has meant that dairy milk substitutes are now available.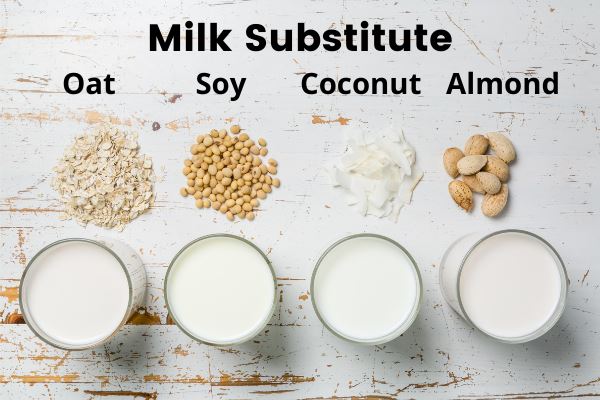 Most vegan recipes with dairy milk use soy, almond, or rice milk as a substitute. These vegan milk products can offer the same rich taste as traditional dairy milk.
Vegan Chocolate Chip Pancakes Recipes
Vegan pancake recipes, like conventional ones, are very easy to prepare and cook. They use simple and easy to prepare ingredients. Most of these ingredients are probably already in your pantry.
Vegan Chocolate Chip Pancakes
These vegan banana chocolate chip pancakes from I Love Vegan make use of a special organic and vegan chocolate chip from Camino.
The brand is very well known for fair trade and organic products and ingredients. If you want the taste of pure chocolate chips, this brand can give you an authentic taste of chocolate, without the guilt.
Serving Size: 6 to 7 pancakes
Vegan Ingredients:
135 grams of All-Purpose Flour

3 tablespoons of Chocolate Chips

¼ teaspoon of Sea Salt

250 ml of warm Almond Milk or any Non-dairy Milk

2 tablespoons of Sugar

1 tablespoon of Melted Coconut Oil

Method :
1. In a bowl, mix together flour, baking powder, and salt. Add the chocolate chips.
2. Place a frying pan on medium heat. * If necessary add a little oil to the pan to ensure your pancakes will not stick.*
3. Heat the almond milk in a microwave until warm. Add the melted coconut oil and sugar to the warm milk.
4. Add the liquid mixture to the dry mixture. Blend well using a fork until there are only a few lumps in the batter mixture. Make sure you do not overmix.
5. Using ¼ or 1/3 cup, scoop the batter into the preheated pan. Turn the pancake after 3 to 4 minutes until you see bubbles on the top of the pancake.
6. Turn the pancake and cook for a further 3-4 minutes.
7. Cook all the remaining batter using the same method.
8. If you want your pancake to keep warm but not soggy, it can be kept in a warm oven.
There are a variety of options for toppings. There is also a vegan butter that can add flavour and aroma to your pancake. Adding fruit on top will provide a delicious dessert.
My Chocolate Chip Pancakes
This eggless vegan chocolate chip pancake recipe uses a buttermilk substitute from My Darling Vegan.
It uses apple cider vinegar, but you may also use other ingredients for example white wine vinegar, lemon juice, or ordinary white vinegar.
Each one can offer a different effect on the taste and smell of the final product. *They can also be found at O Organic Products.*
Serving Size: 12 pancakes
Vegan Ingredients:
1 ½ cup of All-Purpose Flour

2 ½ tsp. of baking Powder

½ tsp. of Salt

1 ½ cup of Organic Unsweetened Soymilk

1 ½ tsp. of Apple Cider Vinegar

2 tbsp. of Organic Coconut Oil

2 tbsp. of Organic Maple Syrup

1 tsp. of vanilla Extract

1 cup of Vegan Chocolate Chips

Cooking Spray

Method :
1. Preheat a griddle to 375 degrees.
2. Mix the apple cider vinegar and soy milk in a small bowl. Set the mixture aside for about 5 minutes or until it curdles.
3. Using a separate bowl, mix the flour, baking powder, and salt.
4. Put the maple syrup, oil, and vanilla into the curdled milk mixture.
5. Mix together the wet and dry ingredients until well combined.
6. Fold the vegan chocolate chips into the batter and let the mixture rest for 5 minutes.
7. Add a spray of the oil to your griddle. Using ¼ cup, pour the batter on the griddle.
Depending on the size of your griddle several pancakes may be cooked at the same time. Turn the pancake to ensure even cooking until it doubles in size.
8. Add more oil to your griddle for each pancake batch.
You can serve them with chocolate chips on top or fruit. Any leftover pancakes can be stored in the fridge with plastic wrap to retain freshness. The shelf life of the pancake is up to 3 days.
Vegan Chocolate Chip Cookies
An alternative to pancakes that you can serve for breakfast or as a snack, is vegan chocolate chip cookies which are another great treat for chocolate lovers. Just like a traditional cookie, this recipe from Loving It Vegan is chewy and crunchy at the same time.
Serving Size: 20 pieces
Vegan Ingredients:
112 grams of Vegan Butter

200 grams of Light Brown Sugar

60 ml of Soy Milk or other Non-dairy Milk

1 tablespoon of Vanilla Extract

250 grams of All-Purpose Flour

1 teaspoon of Baking Soda

1 teaspoon of Baking Powder

2 teaspoon of Cornstarch

½ teaspoon of Salt

175 grams of Vegan Chocolate Chips or more for toppings

Method:
1. Using an electric mixer, cream the vegan butter and brown sugar.
2. Add the soy milk and vanilla into the cream mixture and mix well.
3. In a separate bowl, mix all dry ingredients flour, baking soda, baking powder, cornstarch, and salt omitting the chocolate chips.
4. Mix the dry and wet ingredients together. *Do not use an electric mixer.* Mix ingredients evenly until it resembles cookie dough.
5. With your hands, fold in the chocolate chips and evenly distribute them into the cookie dough mixture.
6. Set the oven temperature to 350°F or 180°C
7. Roll out the dough and make ball shapes. Then place on a baking tray prepared with parchment paper. With this recipe, you should make 20 cookie balls.
8. Bake for around 10 to 12 minutes or until the cookie's edges are set and slightly brown.
9. Top with a few more chocolate chips after removing from the oven.
10. Allow cooling then remove from the tray.
Vegan Pancakes Mixes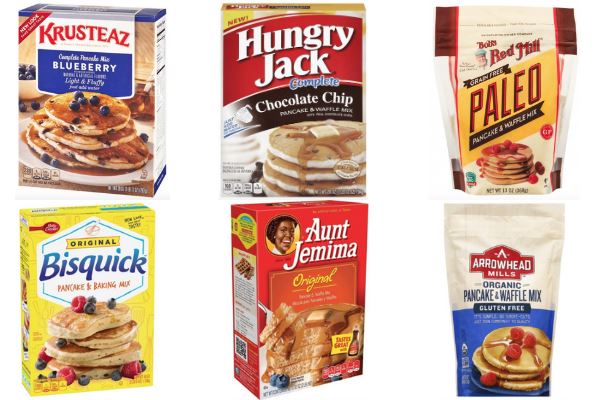 Some beginners can make few mistakes when attempting to make their vegan pancakes.
If you are short of time, you can opt for a vegan pancake mix. Several brands in the market are vegan approved.
You can find them at ChooseVeg. I will share with you some of the best premix brands so you can make the best vegan chocolate chip pancakes.
Bisquick Original Pancake Mix
It's easy to find pancake mixes that are widely available in grocery stores. Also, you can find gluten-free, vegan pancake mixes for people who are allergic to gluten.
Aunt Jemima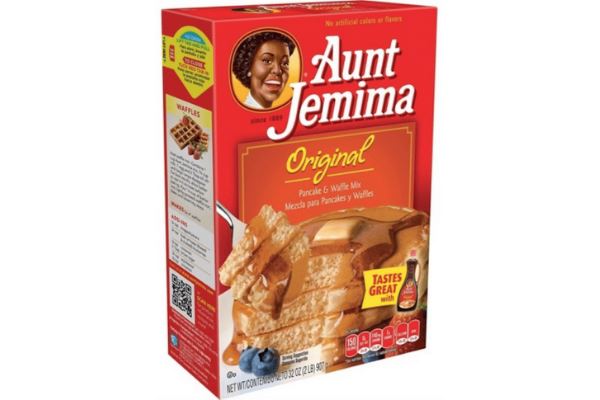 This is a household favourite pancake mix, which is vegan. If you want to add nutritional value, then you can choose their whole-wheat mixes.
Hungry Jack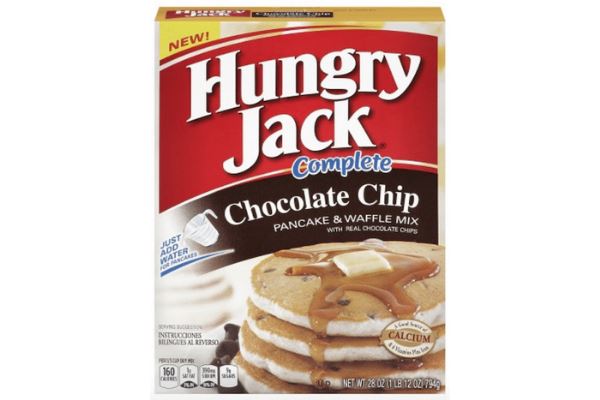 This vegan pancake mix is very easy to prepare. All you need to do is add water and other liquid ingredients. The taste and texture are good.
It's a plant-based pancake mix, but you also need some non-dairy milk and vegetable oil. Using this recipe, you could add some mashed banana for improved flavour and texture.
Common Vegan Pancake Mistakes
Making a perfect vegan pancake can be easy but it's good to be aware of some common mistakes.
Gummy Vegan Pancake
A rubbery pancake is a common problem. This is due to overmixing of the dough. An overmixed pancake dough will make a gummy pancake.
The reason for its rubbery texture is the formation of gluten in the dough. The secret is to mix the batter until it comes together. A few lumps on the cookie dough are okay. Also, an undercooked pancake in the middle can be slightly gummy when cooled.
For your morning breakfast, chocolate chip pancakes are very easy to prepare and cook if you have the right ingredients and follow the method carefully. 
Remember to use substitutes to ensure the recipe is vegan. If you are a busy homemaker, choose vegan pancake mixes to avoid the hassle of measuring ingredients.
Instructions for ingredient amounts can be found on the back of the packaging.
Like these?
If you enjoyed these pancake recipes we shared, you might also be interested in the following vegan recipes: