We can now indulge in vegan chocolate covered strawberries that taste just as delightful as the ones we had before we switched to a vegan diet!
If you want the best-tasting fruit that can offer lots of health benefits, then you can count on strawberries. They have the power to boost the body's immune response to harmful microorganisms.
Humans cannot naturally produce vitamin C in the body, so we need to consume large amounts of it in our diet. A good source for vitamin C is strawberries.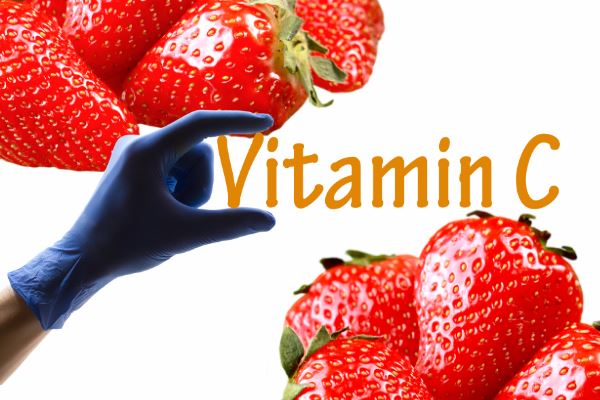 Another delicious and sweet healthy treat is chocolate made from cacao that is very rich in potent antioxidant flavonoids and plant compound polyphenols.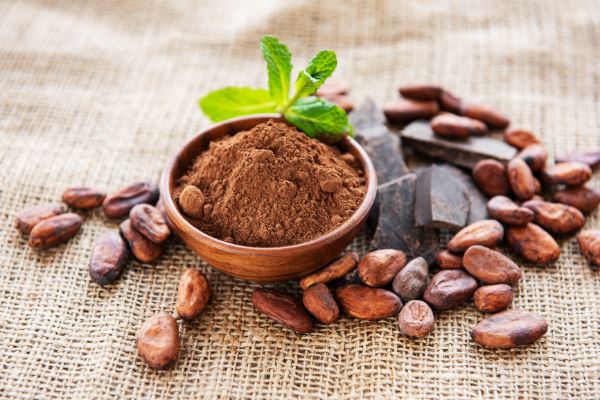 The combination of strawberries and chocolate as a dessert or snack is very nutritious and delightful at the same time. That's why many vegans crave this delicious dessert.\
We can make and eat vegan chocolate covered strawberries without any guilt. Ensuring they are vegan is simple- just use vegan chocolate bars.
Frequently Asked Questions about Vegan Chocolate Covered Strawberries
The following are frequently asked questions from vegans, but you can go straight to the recipes through this link:
1. Can Vegans Eat Chocolate Covered Strawberries?
It is yes for strawberries, but we need to look at the recipe or ingredients to be sure the chocolate part is animal-free. The main concern is if the chocolate contains any dairy products.
So, looking carefully at the ingredients will tell us if dairy is included. We can eat chocolate-covered strawberries if the chocolate is made from non-dairy milk ingredients.
The answers to the next questions will give help with this.
2. What Brands Of Chocolate Are Vegan?
Today, it's not hard to find a bar of vegan chocolate. All you need to do is to search for chocolate without animal ingredients. The most important thing is to inspect the list of ingredients. Typical vegan chocolate consists of the following:
Vegan Ingredients
Sugar

Chocolate Liquor

Cocoa Butter (natural fat that comes from cocoa)

Vanilla

50% or more cacao content

Other Ingredients
Caramel

Peanut Butter

Almonds

Dried Fruits

Ingredients to Avoid
Casein

Whey

Milk Fat

Milk Solids
Vegan Chocolate Brands
Purdy's Vegan Dark Chocolate

Green and Black's Organic Dark Chocolate

Whole Foods' Organic Dark Chocolate

Divine Treasures Chocolate Bar

Theo Chocolate

Alter Eco

3. Can You Melt Vegan Chocolate?
Like other traditional chocolate bars with dairy milk, it's still possible to melt vegan chocolate bars. The key is to have good quality chocolate with more than 50% cacao.
Also, you must know how to temper chocolate. Tempering is a method of melting chocolate slowly to create stable cocoa butter.
It's important to achieve the glossiness of traditional chocolate and prevent blooming.
How to Temper Vegan Chocolate?
The easiest way to temper it is through seeding. Chop half of the chocolate bar and place it in a double boiler. The heat should be set to medium, so it does not reach 110 degrees Fahrenheit.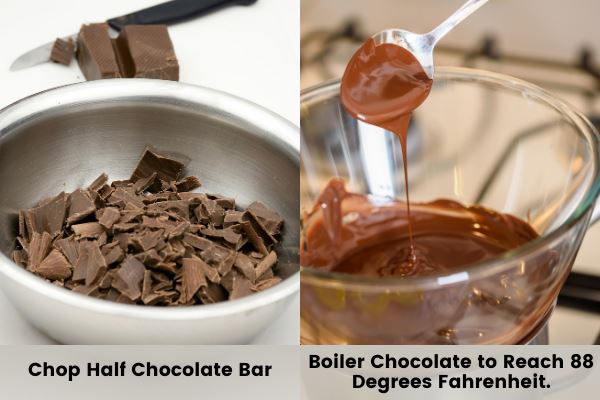 Ensure that the bottom of the pan does not touch the boiling water. Stir it slowly and melt the chocolate. Lastly, turn off the heat and add half of the chocolate bar to cool the chocolate mixture to 88 degrees.
4. Is Dark Chocolate Vegan?
Dark Chocolate is vegan as long as it does not contain any animal ingredients. Also, most dark chocolate that is vegan will clearly be labelled as such.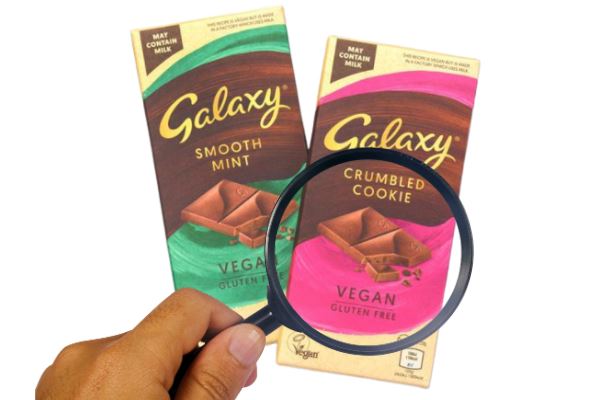 We still need to look at the ingredients and make sure that it does not contain any animal by-products.
Dark chocolate, in general, is not vegan as some contain dairy milk. Mostly, vegan dark chocolate is composed of coconut sugar, organic cacao, and organic cocoa butter.
5. How Do You Keep Chocolate Covered Strawberries From Cracking?
There are a few reasons why chocolate strawberries may crack. One of the main reasons is the temperature change.
You can prevent this from happening by storing your vegan chocolate-coated strawberry in a colder place like in an air-conditioned room.
You can also allow it to sit at room temperature with an air conditioner and by avoiding storing it in the refrigerator.
A sudden temperature change will cause it to crack. The key is not to keep them too cold.
How to Make Vegan Chocolate Covered Strawberries?
You are sure to find lots of recipes online that do not only taste good but are Instagram worthy. Here are the best vegan chocolate-covered strawberry recipes to try at home.
Classic Vegan Chocolate Covered Strawberries
The red colour of strawberries and dark brown chocolate is a perfect match, particularly for a special occasion.
The sweet and sour taste of strawberry matches the bittersweet taste of the chocolate. It's the perfect dessert that anyone will love to try.
Without complications, you can have an elegant vegan dessert that you can share with your friends and loved ones.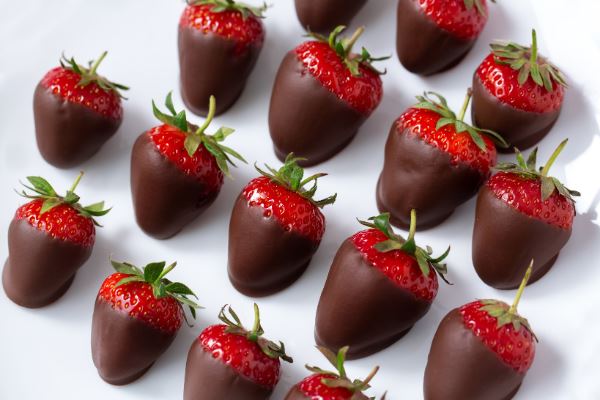 Serving Size: 30 chocolate covered strawberries that are vegan.
Vegan Ingredients
30 Fresh Strawberries

200 grams of Vegan Chocolate

1 teaspoon of Coconut Oil

Method
1. Firstly, wash the strawberries under running water. Place on a paper towel to dry. Please note they must be completely dry before dipping them in the chocolate mixture.
2. Make chocolate chips by cutting the bar into several pieces. Using a microwave-safe bowl, mix chocolate shavings and coconut oil together.
3. Place this mixture in the microwave for 30 seconds. Stir the mixture, and return to the microwave for a few more seconds. Repeat this procedure until all chocolate chips are melted.
4. Dip each strawberry into the chocolate mixture and put each one on a tray with parchment paper.
To set the chocolate, you can put them in the refrigerator for 5 to 10 minutes. Take them out and sprinkle some chocolate shavings on top.
*It is important not to rush the setting process by putting them in the freezer. Frozen chocolate can bloom and crack.*
Colourful Vegan Chocolate Covered Strawberries
If you want something new, you can experiment with colours. This recipe of vegan chocolate-covered strawberries uses two types of vegan chocolate: dark and white.
Serving Size: 16 pieces
Vegan Ingredients
16 Strawberries

400 grams of Vegan Chocolate Bars (white and dark chocolate)

1 teaspoon Vegetable Oil

Pink Colour Food Gel

Method
1. Prepare a baking tray with parchment paper.
2. Wash the strawberries and dry thoroughly before dipping them into the chocolate mixture.
3. Break the dark and white chocolate into small chips and put it in a heatproof bowl.
4. Fill a saucepan with water and simmer on low heat. Put the bowl with chocolate on top of the pan, ensuring the bowl does not touch the water.
*It is important to heat dark and white chocolate separately.*
5. Stir continuously until all chocolate has melted, then remove from the heat.
6. Repeat this procedure with the white chocolate. When you have removed from the heat, you can add the pink colouring, experimenting with shades if required.
7. Using the stem, hold the strawberry, and dip each one. It is important to remove excess chocolate by spinning it and place it evenly on the baking tray.
8. Place in the refrigerator for 15 to 30 minutes.
9. Heat the remaining chocolate and make a drizzle and let it set again in the fridge.
Your vegan chocolate covered strawberries can last up to 3 days in the fridge. As an alternative to chocolate, you could try desiccated coconut for variety.
Where Can I Buy Vegan Chocolate Covered Strawberries?
It is the easiest dessert that we can create at home. However, if time does not permit, you can always order online. Many online shops sell vegan desserts depending on where you are located.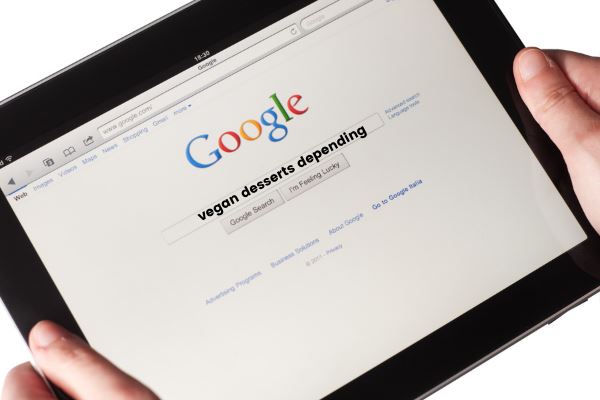 Can I Get Vegan Chocolate Covered Strawberries Delivered?
Today, everything is available for delivery, even vegan desserts. Online dessert shops that sell vegan desserts such as chocolate-covered strawberries make use of third party delivery services.
Make sure that you ask the seller for the dessert's shelf life before you make any purchase.
Final Thoughts
Vegan chocolate covered strawberries have only three ingredients: vegan chocolate, fresh strawberries, and vegetable oil.
Variations depend on how you want to present them. Additional toppings like coconut shavings are another option.
The key to making them vegan is to ensure that you are using a chocolate brand without animal ingredients.
We hope you enjoyed reading the recipes we shared.
Now that you can enjoy a chocolate covered strawberry that is vegan without much hassle, you'll probably be interested in our other vegan recipes here: