Looking for vegan eyeshadow palettes at Sephora? We've got you covered.
When it comes to makeup, it's good to know that you have many different brand choices. One of the best online shops for cosmetics, skincare, and hair care that you can count on to get plant-based makeup from ethical companies is Sephora.
They have a plethora of Vegan Beauty brands that include vegan eyeshadow palettes. Therefore, you can be sure that they don't contain any ingredients or by-products derived from animals.
Furthermore, being vegan means that you also have a deep love for the environment. Vegan products come from all-natural and eco-friendly ingredients. However, as a vegan, you need to understand that not all-natural products are vegan or can be considered plant-based.
The best thing about Sephora's best vegan eyeshadow palettes is that they are both vegan and organic. They don't use ingredients like elastin, wax, or lanolin that come from animals.
Before making your choice when it comes to finding the right vegan eyeshadow palettes at Sephora, for you to find everything you need to know, it is crucial that you go through all the details in this guide so and also understand the difference between vegan and cruelty-free.
Vegan Cosmetics Vs. Cruelty-Free Products
There is also a huge difference between vegan makeup and cruelty-free products. If you see makeup with a quote like "cruelty-free," it means that it is not tested on animals, but it may contain ingredients from animals.
It is good to find a brand of makeup that supports the vegan cause, like Sephora Vegan Palette. Therefore, being vegan and using Sephora products ensures you have the safest product for all skin types.
Vegan Cosmetics
A vegan cosmetic product means that it does not include any ingredients from animals such as beeswax, collagen, honey, carmine, gelatine, albumen, and more.

Another is that it should not have been tested on animals. However, it is not actually regulated by law, so many brands that support vegan highlight "vegan." Also, you need to understand that products that are tested on animals can claim that they are vegan and vice versa. 
Cruelty-Free Cosmetics
As you search for cruelty-free makeup, you will find lots of brands that make this claim.

Most of them also offer vegan cosmetics. It is important for you as a vegan to be very keen on choosing a product that is free from animal ingredients. If you want cruelty-free aside from vegan, it is important that a product is not tested on animals.

However, bear in mind that a product that is not animal tested may not be vegan. 
Advantages of Sephora Single Eyeshadow Vegan
Here are the advantages of choosing a vegan eyeshadow over a conventional one.
All Natural Ingredients Vegan Palette
Almost all vegan makeup and other products are free from chemicals. It is why you can always count on Vegan Matte Eyeshadow Palette by Sephora if you have very sensitive skin.

It will not damage your skin because it is free from the type of substance that can irritate it.
Vegan Palette for All Skin Types
Again, makeup made from all-natural products is suitable for all skin types.

This is true especially if you have sensitive skin. If you want to change your makeup line, you can choose from a wide range of cheap vegan makeup from Sephora. 
Vegan Palette Value for Money
We as vegans are already aware that products with natural ingredients like Sephora Single Eyeshadow are a bit pricey compared to other makeup that is not vegan.

The good thing about buying at Sephora for eyeshadows is that you can look for affordable options.
Cruelty-Free Vegan Palette
If you love animals and Mother Earth, then you can take a look at the latest best Vegan Eyeshadow Palettes. It is 100% free from animal ingredients and cruelty.

You will not feel guilty that an animal suffered as you enjoy your look. You will feel and look good, knowing that no animal has suffered in the process of producing this product.
What is the Best Vegan Eyeshadow Palette at Sephora?
It is not hard for a vegan like you to find the best vegan eyeshadow palette at Sephora as there are numerous brands for you.

It is good to know that this list comes from Peta to have peace of mind while using these products.
Most eyeshadow palettes and other cosmetics may contain carmine, which is a known part of dead bugs. Although they are insects, they are still living creatures that deserve to exist peacefully in the environment.

You can relax because this list of products is 100% free from any animal ingredients.
Below is a list of some of the best vegan eyeshadow palettes you can find at Sephora along with everything you need to know about them.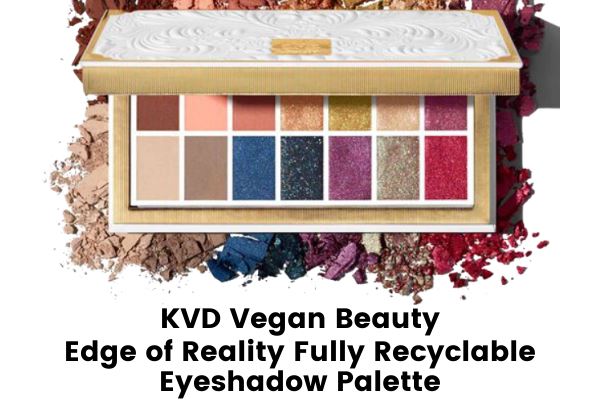 Vegan Eyeshadow Palettes At Sephora
Aether Beauty
This brand Aether Beauty has different types of eyeshadow palettes available at Sephora.

If you are interested, you can choose from the limited edition of Mini Crystal Eyeshadow Palette, Joshua Tree Desert Matte Eyeshadow Palette, and many more. 
Lilah B's Palette Perfection Eye Squad
You will love the fact that it is a multipurpose eyeshadow.

It has both the shimmering and matte shades that can help you transform from day to night makeup. It comes in four stunning colours and is certified by Sephora as clean. The green logo indicates free from any harmful ingredients like parabens, sulphate, and chemically made scents. 
KVD Vegan Beauty
The KVD Vegan Beauty Palette comes with a limited edition of 10 bold shades that are very safe for all skin types.

It is a celebration of the brand's love for animals and its commitment to the vegan cause. Also, a vegan lover like you will love that the brand donates 20% of the amount to Mercy for Animals. This non-profit organisation is dedicated to protecting animals from any cruelty. 
Roen Beauty Warm Vegan Eyeshadow
Aside from being vegan, surprisingly, it is also gluten-free. You can combine all four shades to create a stunning look or try one shade for simple yet elegant looking eyes. It has a sparkling pearl effect that will make your eyes vibrant.
Lawless
You can opt for The One Eyeshadow Palette by Lawless. If you want vegan, then it might not be the one for you, but it is cruelty-free.
Is Morphe Eyeshadow Palette Vegan?
Definitely, a big YES, Morphe is 100% cruelty-free and vegan.
How do they manage to do it?
Morphe does not do animal testing and they do not use ingredients derived from animals. They are also very strict when it comes to ensuring that their third party companies do not conduct any animal testing of their products.
The James Charles Artistry Palette
Although Morphe is a known cruelty-free brand, James Charles Palette is one of the products where it's not clear whether it's vegan or not. The brand is producing both non-vegan and vegan cosmetics.
What Sephora Brands are Vegan?
Sephora has been the temple for all vegans who love makeup and skincare.

If you search for a vegan product on their website, you will surely find the "clean-certified" products with a green logo. However, it does not signify that a product is 100% vegan. It is better to read the description to find out. The green logo means that a certain product is free from any harmful ingredients. 
It is good to look out for the word "cruelty-free," because it does not mean vegan.

Again, it is better to do your research and read the description. To help you with your quest to find true blue vegan products at Sephora, here is our 100% vegan line of makeup and skincare brand list.
Even though the main purpose of this guide is to help you find everything you need to know about the vegan eyeshadow palettes at Sephora, we like to go an extra mile for our audience and have decided to list a couple of other vegan makeup brands for your convenience.
Tarte Cosmetics
This is a proud vegan brand that features the experiences of real vegan customers. The best is their pink vegan matte eyeshadow palette for a lively eye look.
Does Sephora Sell Vegan Makeup?
There is no doubt that Sephora is a vegan supporter. It is the best platform for vegans to purchase skincare and makeup without animal ingredients.

However, not all brands at Sephora are 100% cruelty-free as they allow animal testing where the law requires, especially in Mainland China.
Sephora Animal Testing in China
It is shocking that China, by law, requires animal testing for all foreign cosmetics to allow them to be sold within China.

It means that all cosmetics and skincare brands, whether big or small, who want to sell products in China should adhere to their law. Big brands that do animal testing include Benefit, MAC Cosmetics, and Clinique. 
Why Sell in China?
China's cosmetic market is worth more than 26 billion dollars and rising. It is one of the main reasons big cosmetic brands, despite its law on animal testing, choose to sell in China.
What about the Law?
The law says that all cosmetic products that are not manufactured in China must have been tested on animals. The law also covers the following products:
Perfume

Hair Care products

Whitening Products

Nail care products

Sunscreen

Hair dye

Deodorant

Reason for Animal Testing for Makeup
Many people ignore the fact that animals also feel pain.

Unfortunately, millions of animals are used for animal testing in different parts of the world. The main argument is that is it fair for them to suffer in order to produce a safe product for humans? 
Animals do not have the same genetic materials as humans, but they still use animals to test products' efficacy and safety.

Actually, animal testing is a very old way of testing a product because there are new ways to do it with the help of science. Many cosmetic companies are now using human tissues in laboratories for testing. 
There is no need to sacrifice the life of a living thing to test a cosmetic product. Despite the advancement in science, many companies still choose to use animals, but why?

They do it to minimise their expenses and keep their profits high.
Which Sephora Makeup Products are not Vegan?
You might want to watch out for the following brands at Sephora who may offer 'vegan eyeshadow palettes' but may not offer info on everything you need to know transparently such as their involvement in animal testing. Some of them may also contain animal products.
Benefit
If you are a Benefit cosmetics fan and want to switch to vegan, you need to know that they are not cruelty-free. Although they have vegan products, it is not a 100% vegan brand.
Why is Benefit not Vegan Makeup?
What makes Benefit not vegan?

Although some products may not have animal ingredients, it is that they allow animal testing. Benefit cosmetics sell their products in China and are tested on animals because it's a country regulation. It is through a third-party distributor from China.

All products of Benefit are manufactured outside China but are being sold within the country. 
Clinique
Clinique is a popular brand of makeup because of its hypoallergenic products.

However, if you are a vegan, then this brand is not for you. Similar to Benefit, Clinique is not 100% vegan. It manufactures cosmetic products both vegan and non-vegan outside China. Also, they are not cruelty-free as they also sell to China.
Why is Clinique not vegan makeup?
Although the brand claims that most of their makeup is vegan friendly, some ingredients are from animals.

For instance, carmine, lanolin, and beeswax are ingredients used to prepare their cosmetics. These ingredients are the reason why Clinique cannot be considered a vegan company.
Fenty Beauty
This is the famous line of makeup by Rhianna, so many vegans like you are eager to know if it is vegan. The truth is that it is 100% cruelty-free as they do not allow animal testing anywhere, even for a third party on behalf of Fenty.

Most importantly, they choose not to sell their cosmetics in China. 
Why is Fenty not vegan makeup?
Fenty is not a pure vegan line of cosmetics as some of it's products contain ingredients that come from animal origins such as carmine and beeswax.

However, you may choose some of their vegan makeup from Sephora. 
NARS
Though another popular brand, NARS is not vegan and not 100% cruelty-free as they allow third-party testing on animals in China.
Why is NARS not vegan makeup?
The fact that they sell makeup in China ensures they are not cruelty-free, and they also pay for animal testing. Animal testing is a regulation in China for foreign brands so that they can be sold in stores all over China.

Also, you can find vegan makeup under NARS.
Sephora Collection
Sephora itself has a makeup line, but according to Peta, it is not cruelty-free and vegan.
Why is the Sephora Collection, not vegan makeup?
They are being sold in China, and most of their products contain animal derivatives. So, if you want to try it as a vegan, you can choose other brands.
Rare Beauty by Selena Gomez, a Complete Vegan
If you are a Selena Gomez fan, you should be proud that her makeup line is 100% cruelty-free and vegan.

Actually, there is an increasing demand for vegan products worldwide, and it is predicted to be worth a billion by the year 2029. The brand does not have any plans to sell its cosmetics in China, so you can have peace of mind that no animal is harmed while you put on your new cheap vegan makeup.
It's why many celebrities are investing in the cosmetic industry by producing vegan cosmetic and skincare products. Rare Beauty is the newest addition to your choices regarding the vegan palette and other makeup. She is a very well known celebrity with a deep love for animals and the environment. Aside from that, some profits will go to the Rare Impact Fund for mental awareness. You can check and grab some of their lovely collection at Sephora.
Why use cheap Vegan makeup?
The primary foundation of being a vegan is eating plant-based foods and staying away from animal-derived products.

Hence, it is essential to check every product as it can be very tricky. Surprisingly, a product that you thought was made out of pure plants may contain animal derivatives. For instance, clothing, paper towels, and furniture are examples. 
Although it can be very time-consuming at first, there are a lot of advantages that a vegan like you can reap out of buying vegan products, especially makeup.

The following reasons will aid you in knowing everything you need to know when it comes to purchasing vegan eyeshadow palettes among other makeup, especially at Sephora.
1. Vegan Makeup Saves Lives
Animals used for product testing are left in cages for the rest of their lives.

The only feelings that they are used to are pain and fear. Once they are no longer useful for these laboratories, then they will be euthanised. This method of testing is ruthless, senseless, as well as outdated. Switching to a cheap vegan palette for your eye needs will save millions of lives every year. 
2. Staying Away from Harmful Ingredients
If you search for the best vegan eyeshadow palettes 2021, you will find a wide range of excellent choices at Sephora.

With the green logo, you can assure they come from all-natural ingredients and you can also look for the word "vegan" in the description. Everyday products like makeup that contain harmful components may gradually harm the body. 
Makeup brands that are not vegan use animal-derived products including urine, which is very toxic to humans.

If you are not eating animals, why would you use animal products on your skin where the body quickly absorbs them.
3. Natural Ingredients Easy for the Body
Reading the labels of most makeup brands is a daunting task for you, as most of them are very hard to understand. It is because they are using synthetic ingredients.
If your mind cannot read it, then the body will also have difficulty processing it. Our body can properly digest plants, and it is even easier when it comes to absorbing them through our skin.
4. Vegan Makeup has Added Nutrients
Plants are the best source of nutrients, such as vitamins, minerals, and antioxidants to fight free radicals.

When it comes to Sephora Single Eyeshadow, it comes from plant sources. Therefore it can fuel the skin to look youthful and healthy inside and out. Putting makeup with harsh chemicals on the skin can speed up the ageing process. 
5. Vegan Packaging
As you opt for the vegan eyeshadow palette Ulta, it is not only the makeup itself that is vegan. The packaging is also vegan or made from biodegradable materials that are eco-friendly and free from animals ingredients.

The cosmetics industry largely contributes to waste every year. Think of how many eyeshadows and lipsticks you use each year. 
Today, companies supporting vegan also use environmentally friendly materials for their packaging. It is one way to create sustainable packaging that can be reused and recycled. You can become a part of the considerable difference by the more you shop for vegan makeup.
6. Say Goodbye to Skin Issues
Are you one of those who have very sensitive skin? It does not matter what your skin issues are because you can now enjoy a vegan palette.

Give your skin a treat by switching to cheap vegan makeup. You can now achieve healthy glowing skin and enjoy different shades of eyeshadow.
7. Safe for the Human Body
The skin is an organ that is located externally.

It is also the largest of all, so it is very susceptible to damage due to harmful ingredients. Everything that you use on your skin gets into the body. The body has it's way of filtering these toxic chemicals through the liver and kidneys. However, in the long run, these organs may fail. 
The scariest realisation is that anything that we put on our skin goes straight into our bloodstream. Specialists refer to our skin as a window to the body.

The look of your skin is a direct reflection of your overall health. Using vegan makeup will surely help you become healthier.
8. Sustainable Ingredients
Buying a vegan neutral eyeshadow palette can assure you that the environment is protected from destruction.

The makeup industry is indeed the largest destroyer of the ecosystem. Harvesting ingredients for makeup can badly impact the environment. 
Vegan brands only make use of sustainable ingredients. It means that they are not destroying the natural habitat of animals living in the forest.
9. High Quality
When it comes to quality, cheap vegan makeup it can compete with high-end brands that are not vegan. Their quality surpasses those that are non-vegan because of the benefits to humanity.
Another reason to switch is the fact that it is more affordable than non-vegan makeup. Since you have many things to gain and nothing to lose by trying vegan makeup, there is no reason not to choose a vegan palette to complete your makeup set.
Are You Ready for the Switch to Vegan Eyeshadow Palette?
Given that we have provided everything you need to know about the vegan eyeshadow palettes at Sephora, are you ready to switch to them?

As you can see, you will find countless reasons why vegan makeup from Sephora is gaining popularity. It is the easiest decision to make because it is evident that you can gain a lot from switching to a vegan palette and other makeup. Choose your makeup line from wide selections of vegan and cruelty-free cosmetic brands at Sephora. 
To sum up, here is why you should move to a vegan way of life:
You can enjoy being beautiful without harming the environment and animals.

It can save Mother Earth from destruction.

You will feel good and healthy inside and out, knowing that you are using products that are free from harmful ingredients.

If you are excited to shop for your new line of makeup, then you can look at Sephora and find out more about the best vegan eyeshadow palettes 2021.

Vegan cosmetics at Sephora are not only the best gift to get for yourself, but are also the safest gift that you can give to your family and friends. 
Now you can get your loved ones safe makeup products without worrying about it reacting negatively with their skin. Cheap vegan makeup is for everyone and all skin types.

Give your skin the care and treat it deserves by using cosmetics free from animal ingredients and harmful chemicals.
If you enjoyed learning everything you need to know about the vegan eyeshadow palettes at Sephora, you will most likely enjoy some of our other beauty brand reviews here: