We're happy to present you with The Ultimate Vegan Passover Recipes List as promised in our Passover guide.
We have carefully curated this list of vegan recipes for Passover in accordance with popular opinion, your needs that are also high in healthy nutrients.
The following recipes will ensure that your Passover is healthy, never boring and scrumptious meals are the norm.
Read on to learn more about some of the perfect Seder Passover dishes…
The Ultimate Vegan Seder Passover Recipes List
Best Matzah Vegan Recipes To Make
Matzah, Matza, or Matzo is basically a flatbread that originates from Israel. It is hard and looks like a cracker made from a dough that has not been allowed to rise, as Jews are not allowed to consume leavened bread during Passover. The dough usually consists of flour and water.
Matzah is eaten throughout the 8 days of Pesach and can only be made from one of the following types of grains: wheat, rye, oats, barley, and spelt.
Vegan Spinach & Mushroom Matzo Lasagna Recipe
Let's face it, vegans can't turn down a veggie-packed dish…
This mouthwatering recipe that is perfect for lunch or dinner is brought to you by none other than Manali Singh, a self-taught cook and author of the food blog, Cook with Manali. Enjoy!
Ingredients
Vegan Pesto
2 cups packed basil leaves
4 garlic cloves
3/4 cups pine nuts
1/2 teaspoon black pepper
1/2 cup olive oil
1/4 cup nutritional yeast
1 tablespoon lemon juice, optional
Salt to taste
Cashew Ricotta
1-1/2 cups raw cashews, soaked
1/4 cup water
1/4 cup non-dairy milk
1 tablespoon nutritional yeast
1 garlic clove
Salt & black pepper to taste
Filling
4 matzo sheets
1 teaspoon vegetable oil
2 garlic cloves chopped
1-1/2 cups finely chopped spinach
1-1/4 cups finely chopped mushrooms
1 teaspoon dried oregano
Salt & black pepper to taste
Preparation
In a blender, combine pesto ingredients. Set aside.
To prepare cashew ricotta, combine ingredients in the food processor and pulse until ricotta consistency is reached. Set aside. Preheat the oven to 350 degrees F.
In a saute pan, heat 1 teaspoon oil. Add garlic, spinach and mushrooms. Add salt, pepper and cook for 3-4 minutes until mixture dries out a little.
Combine spinach-mushroom mixture with prepared cashew ricotta. Add oregano and mix. Adjust salt and pepper to taste.
Divide pesto and cashew ricotta into three parts. (To make the cashew sauce garnish, reserve 2 tablespoons of cashew ricotta and mix it with a little lemon juice then dilute with non-dairy milk or water.)
In a casserole dish, spread a layer of pesto and place a matzo sheet on top. Layer the cashew ricotta. Continue layering by alternating matzo sheets, pesto and ricotta, finishing with pesto sauce. Sprinkle nutritional yeast on top (optional).
Cover with aluminum foil and bake for 35-40 minutes. Drizzle cashew sauce on top and serve.
Jewish Vegan Matzo Ball Soup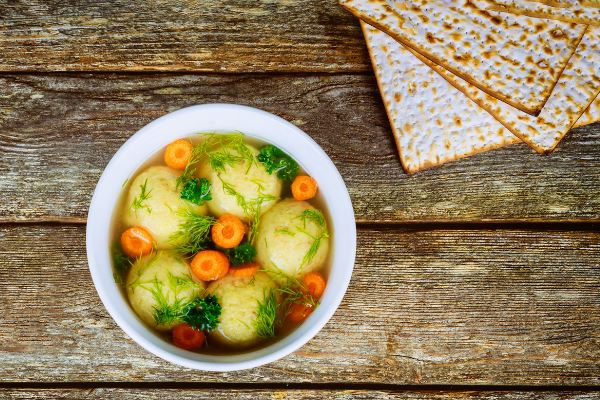 This classic savoury soup will be found in any Jewish home during Passover. It has always been one of the most- loved dishes during this time and that's for a good reason!
The recipe for this savoury vegan matzo ball soup is from Alissa Saenz, author of the vegan food blog, Connoisseurus Veg.
Ingredients
For the Matzo Balls
3/4 cup matzo meal
2 tablespoons chickpea flour
3 tablespoons tapioca starch
3/4 teaspoon salt
3/4 cup unflavored soy or almond milk
1/4 cup canola oil (or another neutral flavoured cooking oil)
For the Soup
1 tablespoon canola or olive oil
1 medium leek, white and pale green parts only, chopped
2 medium carrots, diced
3 garlic cloves, minced
6 cups vegetable broth
1 cup frozen peas, thawed
1/4 cup chopped fresh dill
Salt and pepper to taste
Instructions
To make the matzo balls, stir the matzo meal, chickpea flour, tapioca starch, and salt together in a medium bowl. Stir in the milk and oil until thoroughly mixed.
Cover the bowl and chill the mixture for at least 30 minutes, while you begin the soup.
To make the soup, add olive oil to a large pan and place it over medium heat. Add the leek and carrot, and sauté for 5 minutes, until the carrot begins to soften.
Add the garlic and sauté for another minute, then add to the broth.
Increase the heat and bring the broth to a boil, then reduce heat to a simmer.
Shape the matzo mix into 1" balls, pressing it firmly together. Carefully drop each ball into the soup straight away.
Allow the soup to cook, uncovered, at a low heat, for 45 minutes. Do not stir.
Carefully stir in the peas and cook for about 2 minutes more.
Remove from heat and season with salt and pepper to taste. Carefully stir in the dill.
Ladle into bowls and serve.
Dark Chocolate Coconut Banana Vegan Matzah Brei
To satisfy your sweet tooth you might want to indulge in this deliciously gooey Dark Chocolate Banana Vegan Matzah Brei. Wow, that was quite mouthful. But hey, you won't be complaining when you are enjoying it during Passover so it's probably worth the trouble reading it.
The recipe for this out-of-this-world vegan brei was prepared with love by Amy Kritzer, author of whatjewwannaeat blog.
Ingredients
2 slices matzah broken into pieces
Water or vegan red wine if you like a sauce.
2 ripe bananas mashed, plus sliced bananas for garnish
1/3 cup coconut oil melted, plus 1 tablespoon for cooking matzah brei
1 teaspoon ground cinnamon
1 teaspoon vanilla extract
Pinch of salt
1/2 cup dark chocolate
Ground coconut and chopped walnuts for garnish
Instructions
First, soak matzah in water or red wine for about 5 minutes. Then drain in a colander.
Meanwhile, mash bananas and mix with melted coconut oil, cinnamon, vanilla and salt. Carefully mix in drained matzah.
Put a non-stick skillet on a medium heat. Add 1 tablespoon coconut oil and melt. Then add in matzo brei pressing it down a little. Cook until golden brown on one side. Then flip and cook until the other side is golden brown, about 7 minutes in total.
Melt chocolate in a double boiler and drizzle over matzah brei. Garnish with sliced bananas, walnuts or coconut.
Plant Based Passover: Final Thoughts
Contrary to common belief, as you can tell by the recipes shared, today, Jewish vegans can actually enjoy tasty and healthy meals that are plant-based and free from any animal products while still caring for the environment and practicing their religion. Additionally, these meals are also perfect for vegetarians.
It's been our pleasure to search and find the best Passover recipes for you. May you and your loved ones have the perfect Passover this year!
If you enjoyed the vegan recipes for The Ultimate Vegan Passover Recipes List, you'll probably be interested in our other vegan recipes below: