This ultimate guide to vegan Passover recipes has been put together with our esteemed readers in mind.
Perhaps you'd like to invite your vegan friends for Passover, or maybe you just recently became vegan in which case, congratulations, welcome to the team!
You can still enjoy Passover as you did before you went vegan by following our carefully created guide.
We're going to start by explaining what Passover is and what it means so that our non-Jewish friends can understand what a lovely holiday it is!
Passover, also known as Pesach, is celebrated on the 15th day of Nisan, a Jewish month which usually falls between March and April and is one of the major Jewish holidays.
It commemorates the exodus of The Children of Israel from Ancient Egypt liberating them from slavery.
Even though Jews are allowed to eat meat, there are countless references in the Torah that encourage one to adopt a vegan diet. The following are some of the most common ones:
Prevention of animal cruelty
Maintaining personal health
Caring for God's World
Pursuit of Righteousness
It's clear that the 4 Jewish rules above are the same as the ones we vegans follow. It appears that the Torah promotes a plant-based lifestyle, evidenced by the sheer number of Jews who are becoming vegan.
This article explains the intersection between Judaism and Veganism.
So what better way for a vegan Jew to celebrate Passover than to enjoy some of the most mouth-watering recipes we share here today.
To our non-Jewish vegan friends, don't fret. This guide is for you too should you happen to have a vegan Jewish significant other or vegan Jewish friends that you'd like to host for Passover.
Seder is the first night of Pesach or Passover. Read on for the ultimate guide to Passover Seder:
The Ultimate Guide to Seder
Seder is a feast that is eaten with close family and friends. After dinner, the story of how the Jews escaped Egypt is retold by reading the 'Haggadah' which means 'telling' and sometimes the participants drink wine during the narration of the story.
There are specific rules that Jews have to observe during Pesach or Passover that we will also discuss here:
The first rule is that they're not allowed to eat leavened bread. They usually eat unleavened bread called matzoh or matzah.
The reasoning behind this rule is that, as the Jews were rushing to flee Egypt, they didn't have time to let their bread rise and so they just had to eat unleavened bread which was named matzoh.
Ashkenazi Jews (from Eastern and Central Europe) also believe that they're not allowed to eat Kitniyot. Kitniyot is generally referred to as legumes in Hebrew.
During Passover, Kitniyot includes foods such as rice, corn, sesame seeds, sunflower seeds and all legumes.
Regardless of the rules, vegan Jews can still enjoy Seder without compromising their enjoyment of the food. The following are common dishes found on the table during Seder:
Common Vegan Dishes During Passover Seder
1. Matzoh
Matzoh, matzah or matzo, is an unleavened bread that looks like a cracker and is one of the most common dishes eaten during Seder and the other Passover days.
As explained earlier, it symbolizes the unleavened bread that the Jews had to eat because there was no time to wait for it to rise as they rushed to leave Egypt.
The dough usually consists of flour and water. Matzoh is eaten throughout the 8 days of Pesach and should not be made from one of the following types of grains: wheat, rye, oats, barley and spelt. This is because they are forbidden.
To make matzoh interesting and tastier, a lot of dishes have been created using matzoh as the main ingredient.
Examples are matzoh ball soup, matzoh lasagne, as well as desserts such as matzoh brei. You can find all the recipes for these dishes at the end of this guide.
2. Zeroah
Traditionally, zeroah is a lamb shank bone or a roast chicken neck that is placed at the center of the Passover Seder plate to represent the sacrifice the Jews made at the temple. 
Since we're taking a vegan approach to this Passover, we've discovered that the lamb shank can be substituted by fresh red beets.
3. Beitzah
Beitzah, also used to represent a sacrificial offering that the Jews made at the temple, is usually a hard-boiled or roasted egg but a roasted eggplant is a great substitute. If you don't have an eggplant, you can use an avocado instead.
4. Maror
Maror is bitter herbs in Hebrew. It is placed on the Seder plate to represent the bitterness of the slavery the Jews suffered in Egypt. There are a lot of alternatives to maror, such as horseradish, lettuce, chicory, dandelion greens or even clover. 
5. Charoset
Charoset usually a slightly dark and sweet blend of fruits and nuts, which represents the celebration that commemorates the freedom from slavery in Ancient Egypt and is based on the book of Exodus. 
It's usually a mixture of chopped apples, pears, raisins, figs, nuts and cinnamon with orange juice or red wine.
6. Karpas
Lastly, we have Karpas which is parsley dipped in saltwater to represent the tears the Jewish people used to shed during captivity under Pharaoh's rule.
Now that we've discussed the history behind Pesach or Passover, it is time to focus on vegans during Passover.
Guide to Vegan Passover Food and Recipes
Now, you're probably wondering, how can I make matzo? Agreed, most of the other dishes on the Seder plate are self-explanatory but the only one that needs a little more information or direction is the matzo.
The Ultimate Vegan Matzo Passover Recipes List
Since bread is usually plant-based and derives from grains that are from plants, we have collected some recipes with different variations so you can choose the one that suits you best..
Matzah (Grain Free, Vegan, Oil Free)
For those of you who have to avoid Kitniyot i.e. Ashkenazi Jews, this grain-free and vegan recipe was created by Gwyne Clemons from Shalom Homestead and we're happy to share it with you.
Prep Time: 15 min
Cook Time: 25 min
Total Time: 40 min
Ingredients
1 cup cassava flour
¼ tsp salt
½-3/4 cup warm water
Instructions
Preheat the oven to 350˚F with a pizza/baking stone in the oven. If you do not own a baking stone, bake it for the first ten minutes using a baking sheet and then on the wire rack in the oven.
While the oven is preheating, whisk together the cassava flour and salt and then slowly mix in the warm water.
The dough should absorb most of the water and form a smooth ball that can be held in the hands without being sticky.
Divide the dough into four pieces and roll each into a ball.
Let the dough balls rest for ten minutes covered by a damp towel to prevent them from drying out.
Once the oven has preheated and the dough has rested for ten minutes, take one of the dough balls and roll it between two pieces of parchment paper until about ¼ inch thick.
Remove the top parchment paper and, using a fork, prick the matzo to give a traditional look and to keep it from bubbling too much. ** I can fit two matzos on my baking stone, so I repeat this step before placing it in the oven to bake.**
Leave the other two pieces of dough covered with the damp cloth until ready to use.
Place the matzos on the baking stone and bake for ten minutes.
After ten minutes, peel the matzos off the parchment paper and place them back on the baking stone, other side up, and bake another ten to fifteen minutes. The matzos should be crispy and golden brown along all the edges when ready.
Remove the matzos from the oven to a cooling rack and repeat the previous steps with the remaining pieces of dough.
Store in a bread box or airtight container.
Notes
The serving size and nutritional information are general estimates based upon the ingredient amounts.
Nutrition Information
Servings: 1 matza Calories: 102 kcal Fat: 0.5g Saturated fat: 0g Unsaturated fat: 0.5g Trans fat: 0g Carbohydrates: 23.9g Sugar: 0g Sodium: 272mg Fibre: 3.6g Protein: 0.5g Cholesterol: 0mg
Matzoh Crackers Recipe
Unlike the matzoh recipe we shared, this one is made using wheat flour, celtic sea salt and olive oil.
Since wheat flour is used in this recipe, in order to ensure that the matzoh is Kosher, the cooking time has to be less than 18 minutes.
If you want to maintain Kosher, we would advise you to get someone to help you out unless you secretly possess the lightning speed of The Flash in which case, go ahead, my super-powered friend!
This is a basic matzoh cracker recipe authored by Sarah from the vegan blog, Joybilee Farm.
Ingredients
3 cups of whole wheat flour
½ teaspoon celtic sea salt
3 tbsp virgin olive oil
1 cup of water
Directions
Mix all ingredients and knead until a firm dough forms.
Divide the dough into 12 pieces and roll each piece into a ball.
Roll each ball into a thin disk and pierce it several times with a fork.
Bake 2 disks at a time in a 500F oven for 3 minutes.
Flip and bake the second side for 2 minutes.
Cool on a rack and repeat with the rest of the dough.
Note: For Kosher matzoh, ensure that the cooking is complete 18 minutes or less after adding water to the mixture of flour, salt and olive oil.
Multi-Grained Matzoh Recipe
For those of you who prefer a much healthier option when it comes to vegan matzoh and you don't choose to maintain Kosher or kitniyot, you might want to consider this recipe.
This recipe is also brought to you by Sarah from the vegan blog, Joybilee Farm. You can find it below the recipe.
Ingredients
2 cups all purpose flour
1 cup whole wheat flour or (rye flour)
½ cup flax seeds, freshly ground
2 tablespoons poppy seeds
1 tbsp toasted sesame oil
2 tbsp coconut oil
½ tsp celtic sea salt
1 and ⅓ cup water
Directions
Mix flour, seeds, salt, and oil together.
Add water and mix until it forms a stiff ball.
Knead until smooth and elastic.
Allow to rest for 15 minutes.
At this point, I often put it in a Ziploc bag and let rest until the next day at room temperature.
When you are ready to proceed, preheat the oven to 500F and prepare 3 baking sheets
Divide dough into 16 balls, the size of a walnut. Roll each ball into a 7 inch circle as thinly as possible. You should see the worktop through the disks.
Place on an ungreased baking sheet and prick with a fork to ensure the crackers will rise but not be too crispy.
Bake for 3 minutes on the first side. Flip and bake for an additional 2 minutes. Watch carefully as they burn easily. If they aren't crispy when you take them out of the oven, bake for an additional 30 seconds
Repeat until all crackers are baked
Serve cold
What Do Vegans Eat on Passover?
To make it easier for new vegans as well as members of our audience who would like to host vegans for Pesach or Passover, we are listing some of the food that vegans can actually eat without breaking any rules.
This list was created with the health of you and your guests in mind.
Quinoa
High in protein, affordable and easily available, quinoa should be on your Passover list. Just like rice, quinoa can be made to suit your taste as long as the sauces you're using are not forbidden.
Avoid using soy sauce since it comes from soybean which is a legume and therefore kitniyot.
Instead of soy sauce, you can opt for marinara sauce.
Almond Milk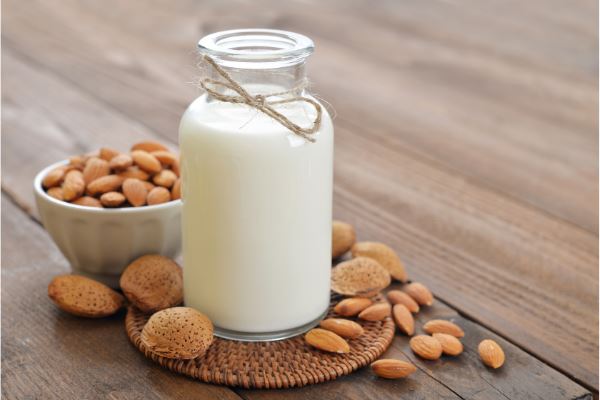 You can drink almond milk made from Kosher almond nuts.
Vegan and Kosher Cheese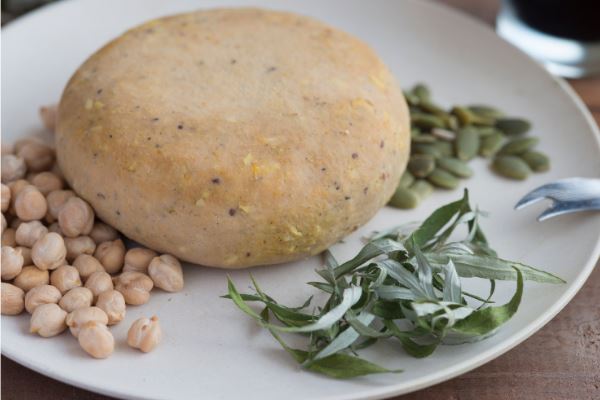 The cheese you consume has to be both Kosher (does not have anything from the kitniyot list) as well as plant-based. For example you can have 'ricotta cheese' made from Kosher Cashews.
To assist you in choosing which foods you can eat, we have also created lists that cover vegan food recipes to eat during Passover which you will find the link to at the end of this guide.
What Foods Are Forbidden During Passover?
Although we already mentioned some of the foods forbidden during Passover, we'd still like to provide you with a summary here so that it can easily be referred to.
Keep in mind some of these foods may be vegan but consumption may not be allowed during Passover.
Anything from the 5 main forbidden grains: oats, wheat, rye, barley and spelt are forbidden. Therefore you cannot consume anything made from them.
The only exception is matzo made from wheat as long as it is not allowed to rise. The following are some food and drinks you cannot consume during Pesach or Passover:
Beer
You cannot drink beer during Passover because it is made from fermented barley which is one of the 5 forbidden grains. Additionally, you cannot drink liquor such as whiskey, scotch or bourbon which are usually made from fermented grains and are therefore prohibited.
Rice
Rice is also not permitted since it is considered kitniyot.
Eating processed foods is also forbidden as the manufacturers usually produce a wide range of foods that may not be Kosher or suitable for Passover.
However, you can opt for processed foods that have been specifically labelled Kosher for Passover.
How To Do a Vegan Passover In Summary
For the Passover Seder plate, you can substitute animal products for plant-based foods such as fruits and vegetables as outlined above. Ensure that the plant-based substitutions you use are actually Kosher for Passover. 
For the matzah crackers, we have shared several recipes for vegan matzah. In addition to that we have included lists of what you can eat and what should be avoided at this time.
We hope this guide has been helpful and informative for you. Good luck and you have the perfect vegan Passover!
Need Vegan Recipes for Passover?
If you enjoyed reading this guide, you may also be interested in some of the top, perfect Passover recipes, to ensure that you not only maintain your health but are also engaging your taste buds in delightful dishes. 

Vegan Passover Recipes: The Ultimate List
You may also be interested in the following vegan recipes: