There are so many incredible vegan smores recipes and we've compiled the very best of them here.

Check out how these incredible bloggers and recipe revolutionists take 3 simple ingredients – crackers, marshmallows and chocolate and turn them into these mouth-watering creations!

This is the ultimate list of Vegan Smores Recipes:
Related Post You Might Like

Are Marshmallows Vegan?  




The short answer is no, here's the best vegan marshmallows for your smores recipes.



Bars
Vegan Smores Cookie Bars
We love these Vegan Smores Cookie Bars from Nora Cooks because they're super simple – Just 10 minutes, 9 ingredients, 1 bowl and just 6 steps to make.
5-Ingredient S'Mores Bars (Gluten Free, Vegan, and Paleo)
With a 3 ingredient crust, 2 ingredient filling and 1 ingredient topping, plus a few minutes in the oven these look divine! Being Gluten free and paleo scores extra points too.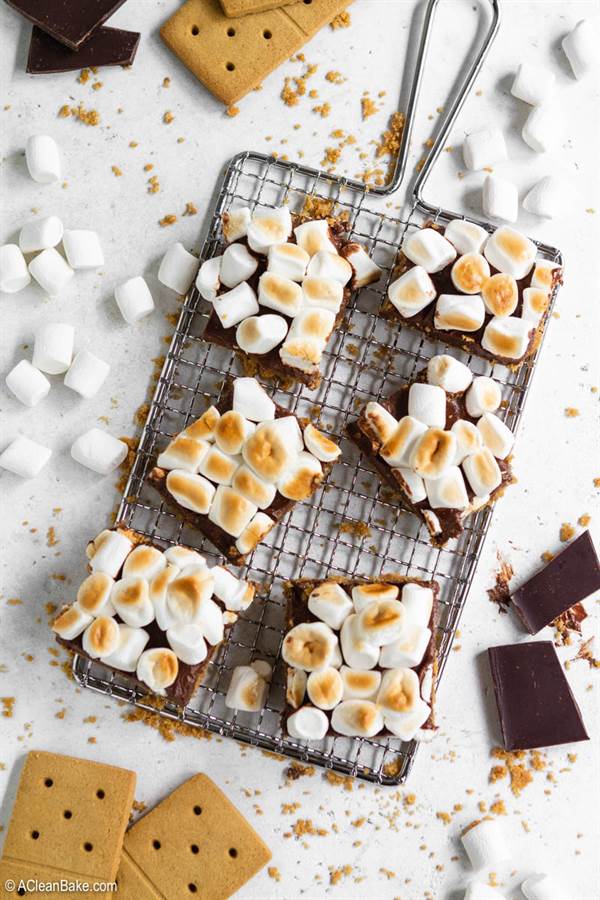 Gooey S'mores Bars (Gluten & Nut Free)
Taking just 5 minutes work before throwing in the oven, these S'mores bars from Caitlin at From My Bowl are making our mouths water!
S'mores Bars Recipe
We love Haley from If You Give a Blonde a Kitchen's S'mores Bars Recipe which are "better than real s'mores!".
No Bake Vegan Smores Bars
This No Bake Vegan Smores Bars by Yasmin from Nourishing Yas gets bonus points for being no-bake, so we can make them anywhere, even without a full kitchen.
Vegan S'mores Crumble Bars
Amy from Nourishing Amy made these crumbly, sticky and sweet flapjack-style bars layered with gooey vegan marshmallows and melted dark chocolate topped with an oaty crumble.
Cookies
Purely Kaylie's Vegan S'mores Cookies
With only 11 ingredients and 10 minutes prep, this is another great plant-based recipe with simple, healthy ingredients from Kaylie.
S'mores Stuffed Cookies
Britt from the Banana Diaries has a ton of healthy plant based dessert recipes and we love this one the most!
Pies
No-Bake Vegan S'mores Pie
This one is from Rebecca at Strength and Sunshine and is gluten-free, allergy-free and low sugar which makes it good for the little ones too.
Vegan S'mores Pie
Elizabeth from Under The Willow Tree created this mouth-watering, refined sugar-free, 7 ingredient vegan smores pie that takes just 15 minutes to make.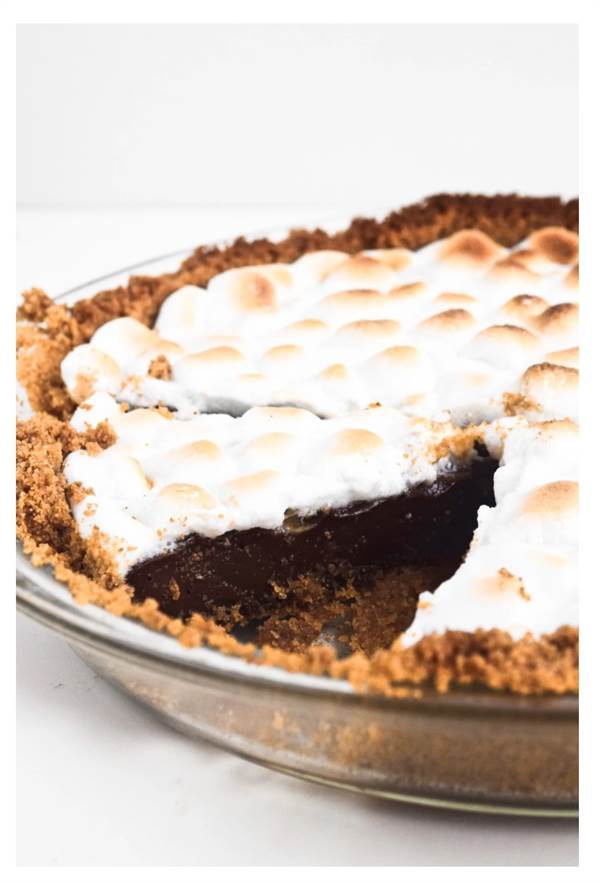 Cakes
Vegan S'mores Cupcakes
These Vegan S'mores Cupcakes from Camila at Pies and Tacos are the ultimate vegan summer dessert! How amazing do they look!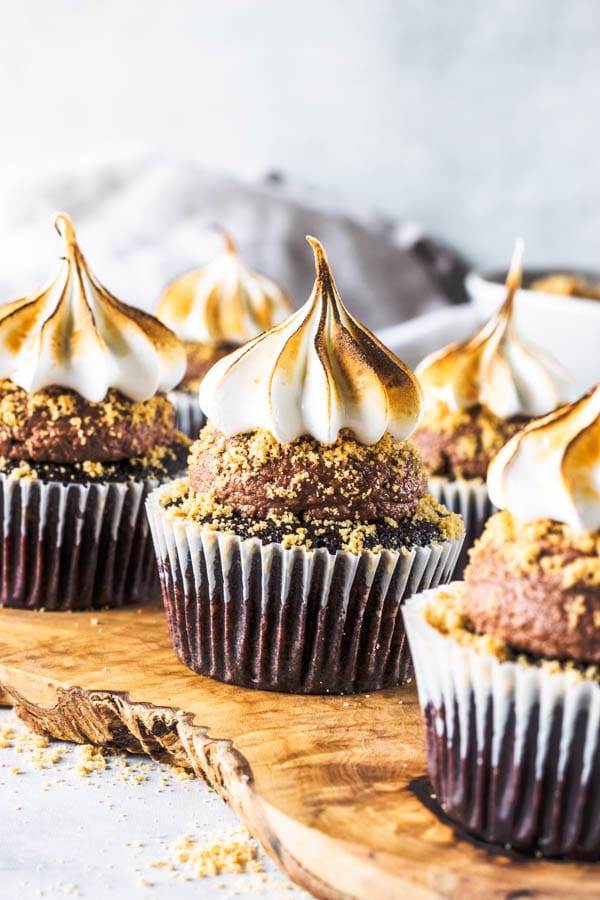 Mini Vegan S'mores Cheesecakes
These cheesecakes are made from a graham cracker crust, a cashew-based middle and topped with chocolate ganache and a marshmallow. They do take time to make (3 hours), but we're sure you'll agree its worth it! This one comes from Erin from The Almond Eater.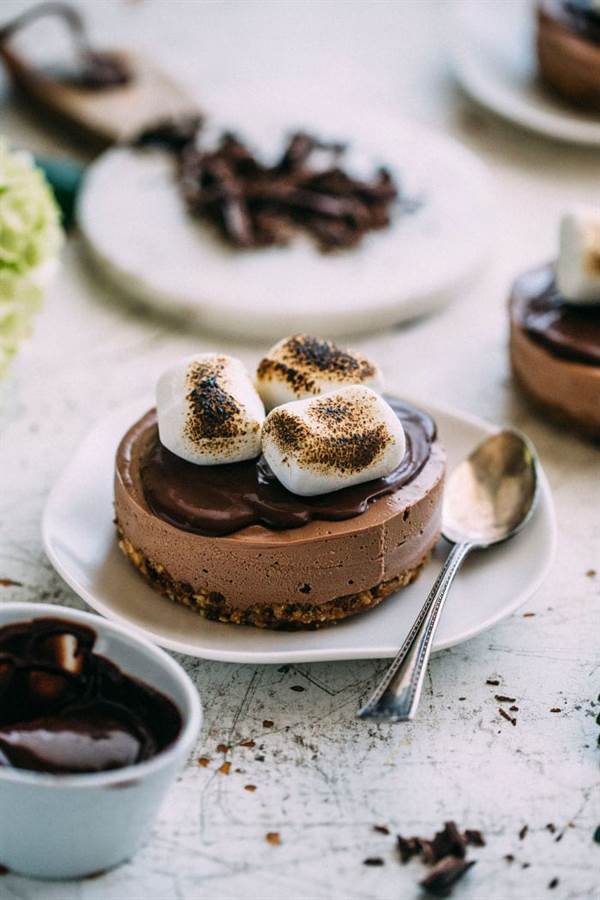 Vegan S'mores Mug Cake
Lisa from Okonomi Kitchen take just 2 minute to make! They're vegan, gluten free and oil free!
Vegan S'mores Cupcakes
Here's another s'moresome (get it) cupcake recipe from Elizabeth from Under The Willow Tree.
Ginger S'mores Cupcakes
Another recipe from Holly Jade from The Little Blog of Vegan (check her Smores Macarons recipe on this page too) – these are "the most moorish cupcakes that have ever existed".
Donuts
Pies and Tacos Vegan S'mores Donuts
Pies and Tacos are back with another recipe, this time with their Vegan S'mores Donuts – Just look at them! 😍
Other Interesting Vegan Smores Recipes
Easy S'mores Pancakes
These Easy S'mores Pancakes from The Edgy Veg use a vegan buttermilk mix topped with marshmallows, graham crackers and chocolate.
Vegan Smores Parfaits
Would you believe this recipe uses chickpeas and avocados to make these smores parfaits! The genius behind these is Amanda from The Mindful Avocado (see her Smores Ice Cream recipe below for more from her).
Vegan Smores Truffles
Here's another one from Haley from If You Give A Blond a Kitchen, this time a variation of her S'mores Bars Recipe (see above for that).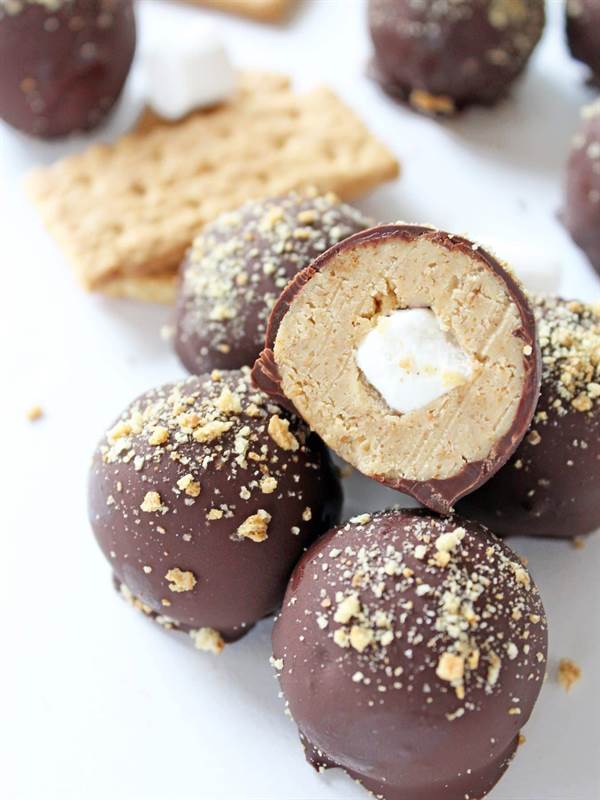 Vegan S'more Macarons
Holly Jade from The Little Blog of Vegan made these crispy and chewy vegan, gluten-free and wheat-free S'mores macarons that look incredible!
S'mores Ice Cream (No Churn)
Amanda from The Mindful Avocado created this delicious, velvety and creamy super easy vegan ice cream recipe.
Vegan S'mores Popsicles
Alexa Peduzzi is the founder of Fooduzzi, a plant-based food blog that made these S'mores Popsicles that take only 10 minutes to make.
Vegan S'Mores Pops (Allergy-Friendly)
Made with just 3 easy allergy-friendly ingredients, these S'Mores Pops are from Nicole at Allergylicious.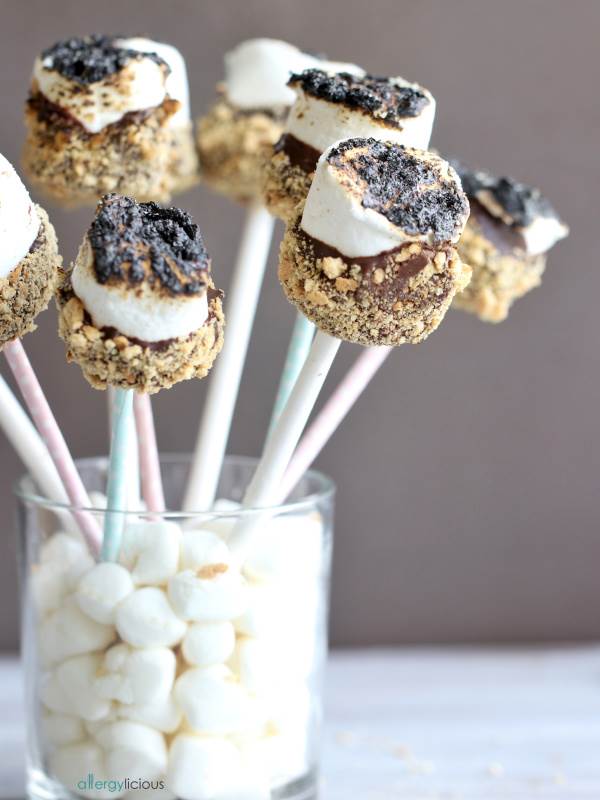 Know Any Other Vegan Smores Recipes?
We'd love to keep updating this list of smores recipes, let us know in the comments if you've got a vegan smores recipe we should add.

Miriam & Skye x