Before we get to our 30 day juice fast results, let's take a few steps back first.

Before we started, we were in a bad way.

Our bodies had more kilos than our suitcases and we were feeling the effects of too much travel and food. Long-term travel is great for so many reasons, but being in a city for a short time meant we tried to eat everything before we left.

And boy did we do that:
Living 6 months in Cancun, Mexico 🇲🇽
A British Christmas in London 🇬🇧
New Years Eve in Milan 🇮🇹
January 2020 in Rome and Venice 🇮🇹
February in Krakow, Warsaw and Berlin 🇵🇱 🇩🇪
March in Budapest 🇭🇺
April, May & June in Sibiu, Romania 🇷🇴
After successfully doing a 14 day juice cleanse in 2019, we decided this time we had to take things to another level. We needed a total body reset. A quick way to get ourselves back in shape after months of gluttony.

And we were amazed at the results. Here's a video we made on the day we finished, we reveal everything and even recorded our first bite of food at the end of the challenge:
Here's Skye's 30 day juice fast results: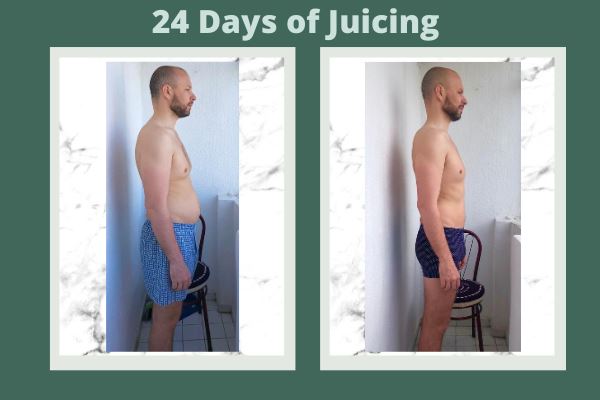 The video and pictures speak for themselves, but we wanted to share more about our journey so here it is.
What Inspired Us?
Honestly, we were feeling sick from too much junk food.

Having a vegan food Instagram page means we felt obligated to go to every restaurant and try everything so we can create content. Well that was our excuse anyway and we're sticking with it! 😜

Our bodies were bulging and the pandemic meant the gyms were closed so we couldn't workout as normal. The good thing about the lockdown is we cleaned up our diet and started to eat 90% home cooked food.

But still we didn't like how we looked. Skye wouldn't wear a t-shirt because he worried about his stomach sticking out.

We both had "bathroom issues" – No regularity, stomach cramps, sharp pains and constant bloating. We were tired all the time and we knew something had to change.

We'd juiced for 14 days in 2019 and we felt great and our bodies transformed faster than we expected. We wanted to do this to reset so we could start to live more healthily. Juicing was never about a fad diet to quickly drop weight and then regain it.
We knew the foundation is healthy food, and we were committed to that, but we wanted to get back to a healthy baseline and go from there and we knew only juicing had the power to undo 12 months of abuse and get us back to health quickly.

After 4 months in Carpathian mountain town of Sibiu, we picked up a car and drove to Romania's capital, Bucharest.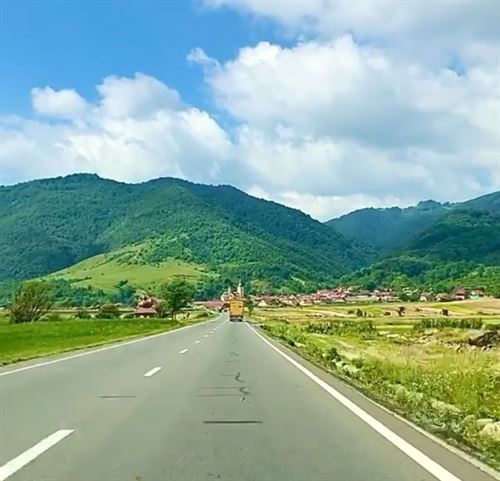 On our final day we stupidly indulged in more vegan junk food (we gotta feed our audience right? 😝).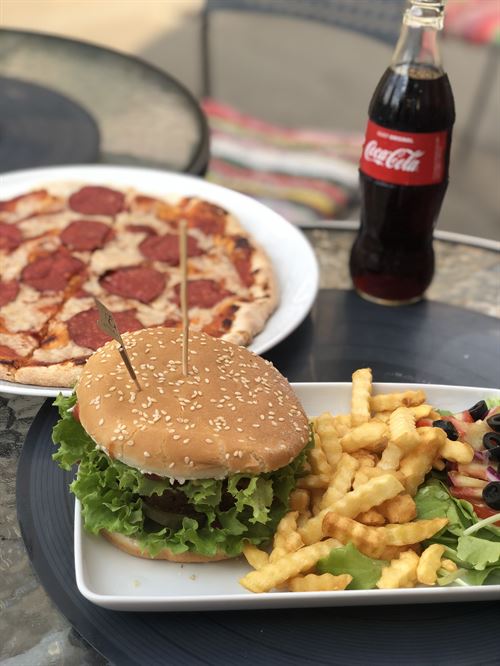 The following morning, the 1st July we started our 30 day juicing challenge.
How Was The Juicing Experience?
A lot of blogs lie to you about how wonderful juicing is.

And it can be, but there's also really difficult days where you hate everything and everyone (including yourself for doing this "stupid fucking diet".)

But there's two sides to juicing, don't listen to these Instagram "influencers" who only show the good bits because they want you to buy something (so they earn a commission).

Here's the unfiltered truth about our experience:

Before The Juice Cleanse Started
You're supposed to eat raw food for a few weeks before and prepare for juicing. We didn't do that. Instead, we ate junk food because we wanted "one last pleasure" before the pain started.

We did a few good things that made a big difference though. We cleaned our AirBnB of all bad food so there could be no temptations, we ordered our first 3 day detox boxes from Urban Monkey so everything was ready for us and we decided we'd stay home for 90% of the challenge.
That helped us shift into juicing and prepare our environment and our minds for what was to come.

We ordered the raw juice 3 day package: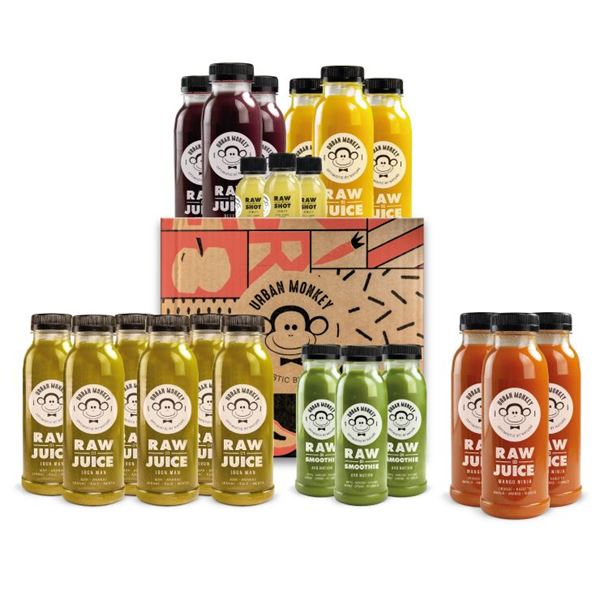 The First 7 Days
Wow!!!!

We feel incredible. Our bloating has gone, we had lost a ton of weight and we felt great to have a break from all the food.

We had no cravings, our teeth looked whiter (you're not allowed coffee while juicing) and we were enjoying our juices.
Juice Cleanse Days 7-14
We we're waking up early without an alarm we needed less sleep overall and woke up feeling rested, but hungry every morning.

Miriam noticed the cellulite she had before disappeared and our clothes that were tight just a week ago were now too big (Skye could get 4 fingers into his waistline!).

But it wasn't all rainbows and unicorns.

Our eyes were dull, a kind of grey colour. Our bodies were processing the toxins out and that meant our skin, breath and even our poop was affected.

We had breakouts of spots, furry tongues, a few smelly poops and a semi-permanent fatigue that stuck to us from day 10 until the last day.

Miriam tried to do a very short workout, but her body couldn't even handle 10 sit ups. Instead we went for short, gentle walks when the sun had gone down (the Bucharest summer heat drained us if we went outside during the day).

Our walks lasted only 10 minutes as our batteries ran low and we rushed home to crash onto the sofa and watch an episode of "The Alientist" on Netflix.

We continued to stay in the house apart from going to the store to get water (which we needed to drink lots of).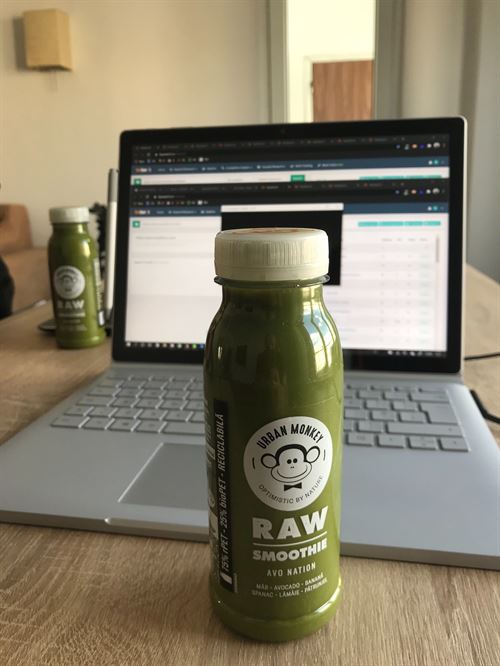 Juice Cleanse Days 14-24
Things started to change from day 14 onwards.

Our weight loss stalled, we couldn't go to the bathroom and we both felt like our bodies weren't changing. We were tired, cranky, sad and sensitive at times.

We felt like giving up but didn't. We pushed through it, mostly because we'd invested almost $1000 and "wasting" that money hurt more than sticking to the juice diet.
Why Did We Stop on Day 24?
There were two reasons we stopped early:
Ordering Juices Every 3 Days Got Tiring
We also had to order juices every 3 days to make sure we got our delivery.

I screwed up the timings twice because I didn't realise weekends changed the delivery schedule. Some days the juices came after 1pm, on two other days we didn't get juices at all.

We didn't want to have to go out to find juices and we were feeling weak already so we decided to water fast, which means we only drink water.

The first day we did that was bad. Really bad.

That night we were both so weak. We couldn't sleep, we felt pain inside our chests and our bodies needed more than water. The next morning (thankfully) our juice came at 8am, but it took 2 juices and 4 hours before we felt normal again.

The second time we had to go a day without juices we knew we couldn't get through it with only water. So we purchased some vegetable broth and honestly, this was our biggest mistake.

It was tasty initially, but it felt oily in our stomachs, we felt disgusted that day and could barely drink our juices. That mistake made us feel very sick for the next 3 days.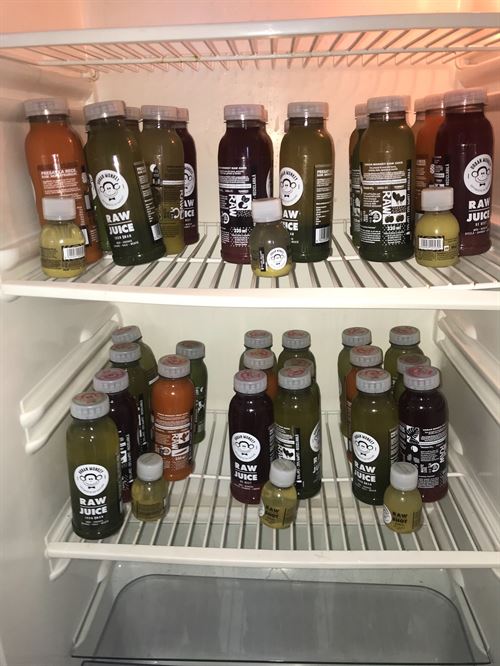 Our Bodies Stopped Changing
Initially we'd committed to a 30 day juice fast challenge and we didn't want to fail.

But as the days rolled on, we realised something was wrong. Our bodies were telling us they were done.

We'd already lost a ton of weight, but somehow the bloating returned. It wasn't bad, our stomachs were way smaller and we weren't eating anything so we were confused.

We realised that our bodies were stressed and that we needed to consider ending the challenge early.

After talking it through, we agreed to end the challenge at the end of the week, on day 24.

Honestly, it was the best thing we did and the video above was filmed on the day we quit the challenge.
How We Felt After?
Relieved and less stressed but nervous about eating again.

Unsure how our bodies would feel with food in them, worried we'd gain the weight back instantly even though it obviously couldn't happen.

Strangely we also felt sensitive emotionally. Throughout the challenge we realised that the food we put into our bodies, has an emotional impact on our bodies.

We first meal was a bowl with oats, berries, soy milk, dark chocolate, almonds, desiccated coconut and chia and sesame seeds.
Somehow we also forgot how to chew! It sounds ridiculous but it was like our jaw muscles had lost the ability to chew, we were worried about biting our tongue's. The positive part was how incredible the food tasted! Wow, Wow, Wow! Simple flavours tasted incredible, you'll see our first bites in the video above and see what we mean.

Later that day we had a big salad with spinach, beans, sun-dried tomatoes, corn, almonds and tofu:
Our stomachs weren't used to having food in them, so after we ate, we did get bloated. Thankfully, after a few days our bodies normalised and the bloating went away.

After everything, our clothes fit better, we felt lighter and we were way happier!

The next step for us was to eat a raw food diet for the next 30 days using the Dr Joel Furhman pyramid of unlimited vegetables, beans and fruits and some nuts and seeds (we're vegan so the rest we ignored).
2 Weeks Later
We still feel amazing! We feel sexier, more confident and are glad we juiced for 24 days.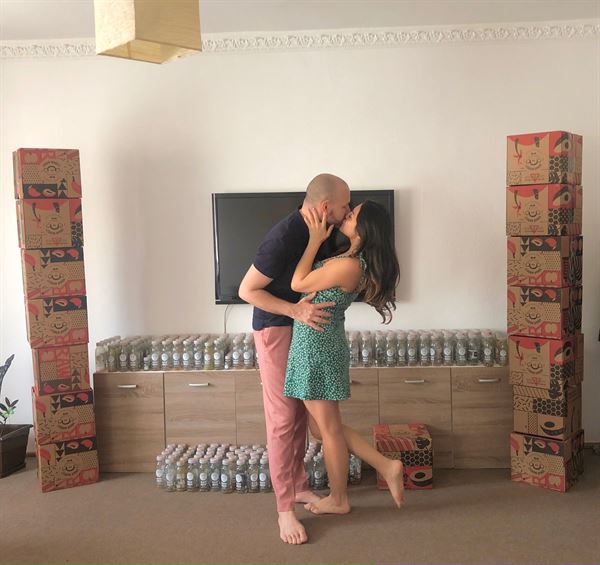 We didn't get to where we wanted to be physically, we still had a couple more pounds to lose, but we made a lot of progress. We decided to incorporate juicing into our lives permanently, but in a different way. We wanted to find a more sustainable way to eat, where we can enjoy food without getting too fat.

After talking it through, we realised we'd eat the Dr Fuhrman style raw vegan diet 95% of the time with 5% of our diet being anything we crave. We don't want to deprive ourselves and repress it, so we'll enjoy it in moderation.

No diet, no counting calories.

We will also juice every month, but only for 7 days.

We think it will allow us to stay happy and healthy while still getting to eat the unhealthy stuff when we crave it.

Our simple logic is "You become what you do daily", so if our days are 95% healthy then we'll be healthy.

After 2 weeks being back on real food, we're feeling great! Skye can wear shirts without crossing his arms or wearing a sweater to cover his belly, has started wearing t-shirts again and all his trousers are too big (his waist went from a 33 to a 30!).
Ready To Try Juicing?
To get started, you have two options:
Buy raw juices from a company – Best for convenience, but can be expensive
Juice at home – Takes time and usually works out cheaper
If we didn't travel so much, we'd opt for growing most of the fruit and vegetables ourselves and juicing at home. Having the juicer lets you juice whenever your body needs it, without spending so much money.

Here are our favourite juicers for all budgets:
Best Juicers Under $100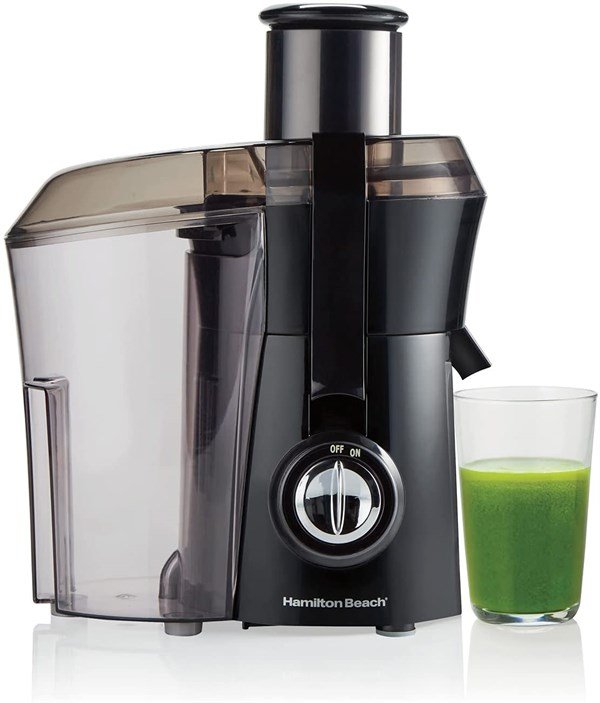 Best Juicers Under $200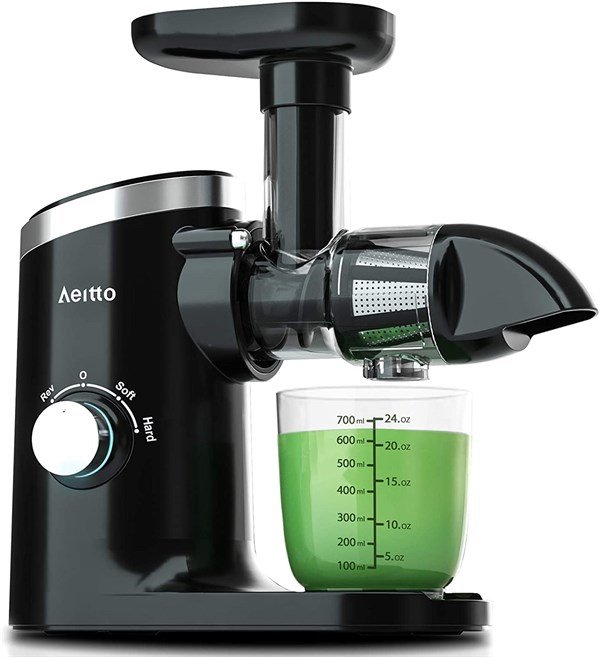 Best Juicers Under $300
Best Juicers Under $400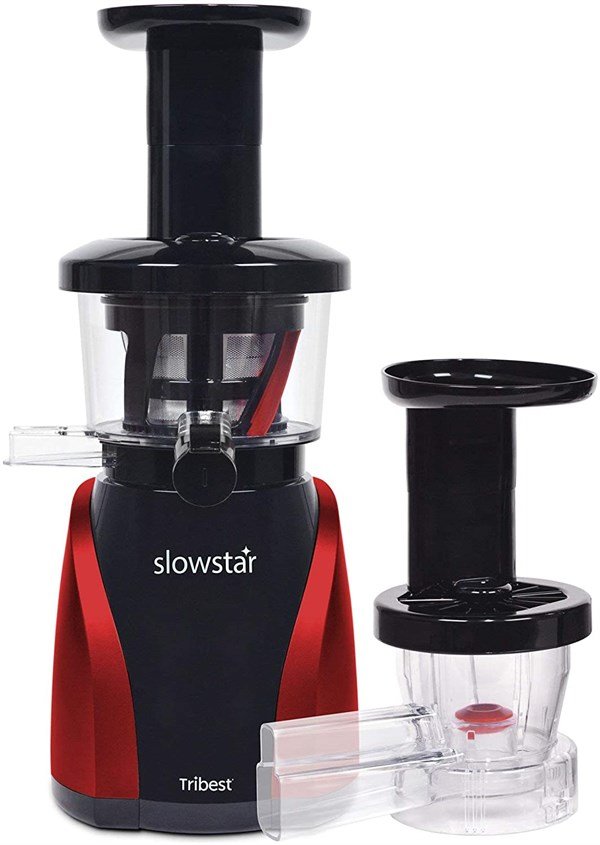 Best Juicers Under $500
Powerful Lessons We Learned
After everything, we learned so much about our bodies, our minds, food and our health.

We wrote a short blog covering everything we learned from our 30 day juice fast results, You can read it here:
17 Things We Learned After 24 Days Without Food (Raw Juice Cleanse)
Want To Try Juicing?
We love juicing and since our 30 day juice fast results all of our friends and family are asking us questions so they can try it.

We've gathered all of their questions and answered them here, we hope it helps you.

How To Juice Cleanse For Beginners (Every Question Answered)