Looking for 5 star vegan restaurants?

If you've been searching for the world's best vegan fine dining restaurants, you'll know many blogs don't know the difference between 5 stars on Google Reviews, and a genuine Michelin star restaurant.

Honestly, it's not their fault, there aren't that many vegan fine dining restaurants that have been officially recognised. It took some work, but we've compiled a list of the planets best 5 star vegan restaurants.
Saido – Tokyo, Japan
This Japanese restaurant opened in 2018 and quickly rose to become one of the world's finest vegan restaurants.

They were voted #1 in Vegan World and Happy Cow ranked them top of their 115,000 restaurants around the world.

Saido's concept is based on a new interpretation of Japanese food, with a diverse vegan menu that avoids animal products (creating "meat" dishes out of vegetables rather than soy).

They carefully avoid chemical additives, refined sugar or the 5 pungent roots in their dishes (green onions, garlic, leeks, scallion and chives).
Menu
Umen
Pork cutlet rice bowl
Yakisoba noodles
Tsutsumiage (deep fried)
Unaju (vegan eel rice box)
Katsudon (rice bowl topped with cutlet)
Ramen noodles with dipping sauce
Spicy tofu rice bowl
Stone grilled mapo tofu
Yakitori
Vegetable soup curry
Soy milk cheesecake
Croquette
Bento
Steamed vegetables
Potato chips
Most Popular Dishes
Ramen
Curry
Katsudon (rice bowl topped with cutlet)
Unaju (vegan eel rice box)
Yakitori
Soba/noodles
Bento
Pancakes
Ice cream
Cheesecakes (vegan blueberry cheesecake especially)
Accompanying this sumptuous 5 star vegan cuisine are traditional Japanese drinks like sake and herb cordial drinks carefully selected by the chef.

If you're going to be in Tokyo and want to visit, we recommend you book in advance to avoid disappointment – Saido is super popular.

Go here to check out Saido.
Pollen Street Social – London, UK
Pollen Street Social is a genuine fine dining restaurant that offers a vegan menu (though the restaurant is not fully vegan).

Its been awarded a Michelin star, 5 AA Rosettes and sits at #4 of the Good Food Guides best UK restaurants. That makes Pollen Street Social one of the world's best 5 star vegan restaurants. Opened in 2011, the restaurant is informal and social, where the surroundings are as vibrant as the food (which also has many nut free, soy free and gluten free options).

Founder Jason Atherton is a Michelin-starred chef who has worked alongside world-class chefs including Pierre Koffmann, Marco Pierre White, Nico Ladenis and Ferran Adria and he now runs 16 restaurants globally.
Menu
The 8 Course Vegan Tasting Menu
Green bean, truffle & hazelnut salad
Green vegetable salad
Bitter leaves & fennel pollen
Braised broccoli stem, lemon purée
Toasted almonds & seaweed
Woodland mushroom rice
Braised white kombu & scallions
Salted baked beetroot tartare
Apple, sourdough croutons & herb salad
New forest mushroom pearl barley, Périgord truffle
Vegan Afternoon Tea Menu:
Jerusalem artichoke, hazelnut & Périgord truffle
Salted baked beetroot tartare, apple
Sourdough croutons & herb salad
Green bean, truffle & hazelnut salad
Braised broccoli stem, lemon purée, toasted almonds & seaweed
Woodland mushroom rice
Braised white kombu & scallions
Seasonal fruit sorbet
Chardonnay poached Brogdale, champagne granité
70% chocolate, pear sorbet & almond milk
Like the sound of that? Go here to check out Pollen Street Social.
Blossom – New York City, USA
NYC is PETA's #1 city for Vegans and with restaurants like Blossom, its easy to see why.

Blossom's tagline is "Refined Vegan Dining" and this Manhattan restaurant is built to offer animal-caring, health conscious cuisine to food lovers everywhere.

They stock their Chelsea and Columbus locations with fresh organic ingredients come from local farms and small distribution companies.

The menu consists of plant-based reinterpretations of classic cuisines, fusing classic dishes and cooking techniques with innovative ingredients and a cruelty-free ethos.
Menu
Starters
Buffalo Arancini ~ Risotto croquettes, bleu cheese
Crispy Artichokes ~ Quinoa-flour battered, lemon-caper aioli
Nachos ~ Pico de gallo, jalapeños, black beans, sour cream, guacamole, tapioca cheese
Hand-Cut Fries ~ Truffle aioli
Soup Du Jour ~ With gluten free bread
Salads
Caesar ~ Romaine, herbed croutons, shiitake bacon, toasted capers
Kale ~ Roasted red & yellow beets, chickpeas, cranberries, cashew-dijon dressing
Ancient Grains ~ Forbidden black rice, quinoa, barley, avocado, radishes, dijon-balsamic vinaigrette
Sandwiches
Tofu BLT ~ Crispy tofu, tempeh bacon, seasonal greens, tomatoes, french dressing, chipotle aioli, focaccia
Blossom Burger ~ Beyond burger patty, caramelized onions, tapioca cheddar, soy bacon, sautéed mushrooms, lettuce, tomato, chipotle aioli, sesame bun
Southern Seitan ~ Crispy spiced seitan, caramelized onions, avocado, chipotle aioli, romaine, focaccia
Grilled Portobello Wrap ~ Roasted red peppers, caramelized onions, arugula, tapioca mozzarella, mayo, spinach tortilla wrap
Grilled Cheese & Soup ~ Tapioca cheese, tempeh bacon, red onion, focaccia with tomato-eggplant purée soup
Mains
Rigatoni ~ Cashew alfredo, shiitakes, spinach, roasted cherry tomatoes, parmesan
Seitan Piccata ~ Pan-seared seitan cutlets, white wine-lemon-caper sauce, mashed potatoes, sautéed kale
Market Plate ~ Ginger garlic braised tofu, black beans, brown rice, brussels sprouts, sautéed spinach, sautéed kale, broccoli rabe, mesclun salad, mashed potatoes.
Pizza
Margherita ~ Mozzarella, marinara, basil
Wild Mushroom ~ Cashew cheese, mozzarella, arugula, marinara, truffle oil
Rosemany Sausage ~ Cashew cheese, roasted potato, marinara, rosemary oil
Desserts
Tiramisu
Chocolate Ganache
Sounds good right?! Go here to check out Blossom.
Vaxthuset – Stockholm, Sweden
This exquisite fine dining experience for vegans is interesting in so many ways (but certainly not for everyone).

The restaurant's location is inside a nightclub called Under Bron (which you get free entry to if you want to party later). Upon arrival, you'll be led through to the restaurant which resides under one of Stockholm's bridges.

Once inside, you'll get a 5 course Scandinavian seasonal vegan set menu. The menu features exclusively plant based ingredients from local producers, with some even foraged from Stockholm's surrounding areas.

Along with the dishes, Vaxthuset offers a selection of natural and biodynamic wines hand selected by importers who source from boutique producers within Europe.

Guests have remarked about about a memorable drinking experience with the Swedish kokkaffe (Boiled Coffee) prepared camping style at your table and exquisite wines and local craft beers paired beautifully with the food.
Menu
TASTING MENU
Served to the whole party. Based on Scandinavian flavours and local ingredients of the season for SEK 590 ($65).
SMALL MENU (Served Wed-Thurs)
A three course menu of the chef's choice consisting of an appetizer, main course and dessert for SEK 380 ($42).
LATE NIGHT DINING
3 courses and a luxury snack you can supplement your meal with natural wines and other craft drinks.
À la carte
Starters
Mushroom and potato croquettes
Sausage, pie & cheese together with pickled, pickled and baked
Long-baked celeriac with horseradish cream and white wine sauce topped with apple crudité and dill oil
Main Course
Grilled eggplant with pistachios in "Brinjal Curry" sauce with red cabbage cachumber and lemon mayonnaise
Baked Portabello in Black Bean Sauce, spring onion, bokchoy, coriander, orange fillets and endivebla
Soft-baked beets, fennel & lemon, soy malai, capers, herb cashew ricotta and red wine reduction
Dessert
Sweet Potato & Fennel Sorbet, Cardamom Ice Cream, Cherry Sorbet & Chocolate Soup
Crispy chewy meringue with whipped cream, strawberries & berries
Cinnamon sugar Sourdough donut with apple cream and apple chips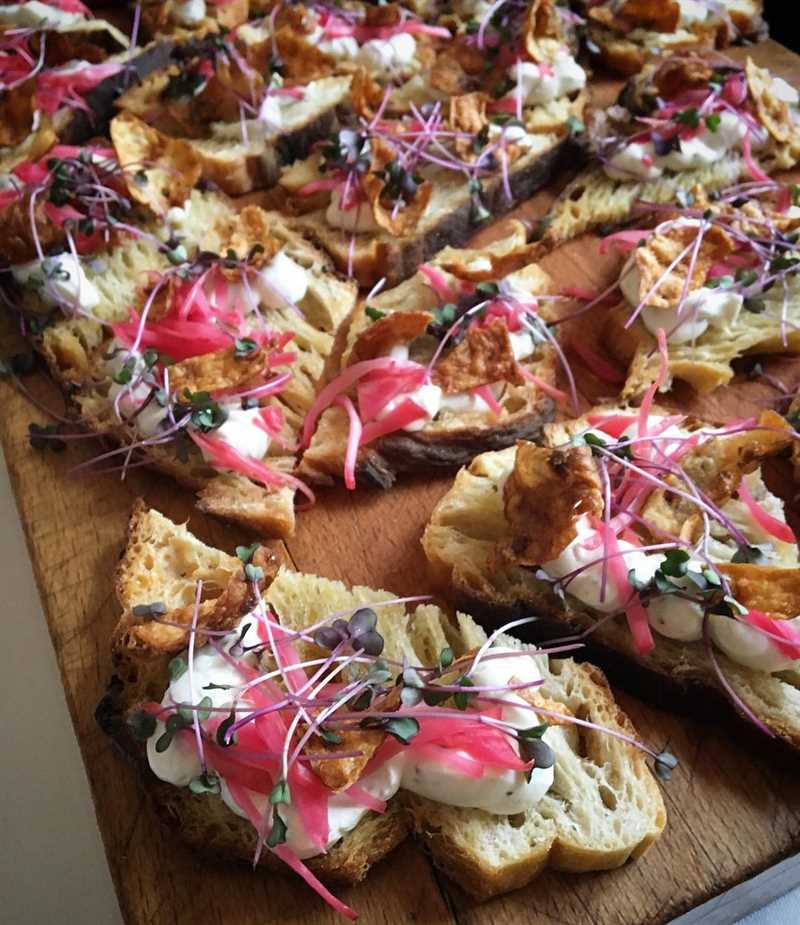 Most Popular Dishes
The dishes which get rave reviews are:
Carrot ice cream
Kroppkaka filled with mushroom and hazelnuts with fried brussels sprouts and lingo
One thing you should know, many diners weren't into the location. They talked about the entrance being through a "dirty gate" and the music affecting their experience once inside.
Some food spots are more urbanised as part of their charm, this is definitely one of them. Regarding the music, if you want a quieter experience make sure to eat before 7pm which is when club opens.
Allotment Vegan – Manchester, UK
Allotment Vegan in the North of England has been making waves recently and has won many restaurant of the year awards including being in the top 50 vegan restaurants in the world.
The 5 star vegan restaurant creates vegan & gluten-free dishes that are fresh, engaging, locally sourced from the best of the season's harvest. This basement restaurant in the heart of Manchester has received rave reviews for its attentive waiting staff plus its fusion of plant based ingredients to create an impressive vegan fine dining experience.
Menu
Small Plates
Salt & Pepper Tofu ~ Pan fried tofu in a salt & pepper seasoning
Tamarind Tofu ~ Pan fried tofu marinated in soy and tamarind topped with sesame seeds
Soup of the Day ~ Served with bread.
Roasted Butternut Squash ~ Roasted squash segments served with baby leaf spinach, garlic miso dressing and topped with coriander and pomegranate
Paneed Mushrooms ~ Battered button mushrooms served with a mustard aioli
Chunky Skin on Chips
Heritage Tomato Salad ~ Chopped tomato salad with fennel, pomegranate and rocket tossed in a light balsamic dressing
Edamame Salad ~ Mixed salad of kale, chilli, spring onions and edamame beans in a ginger, soy and tamarind dressing
Cauliflower Wings ~ Our secret recipe cauliflower wings served with sriracha mayo
Large Plates
Jackfruit Tacos ~ Three delicious tacos filled with jackfruit marinated in a tomato and BBQ sauce, served with guacamole, sriracha mayo fresh salsa and our Allotment house sauce
Buddha Bowl ~ A colourful mix of quinoa, rainbow slaw, heritage tomato salad, roasted butternut squash, romanesco broccoli, baby leaf lettuce and pickled ginger served with a paprika houmous
Salt & Pepper Tofu Laksa ~ Marinated Tofu served in a laksa curry made with chillis, ginger, lemongrass, coconut milk, tender stem broccoli, pak choi, beansprouts and courgette noodles served with wild rice and smashed popadoms
"Fish & Chips" ~ Battered banana blossom served with chunky chips and garden peas with a lemon and mint seasoning
Tofu Ramen ~ Vermicelli rice noodles served in a rich broth with pak choi, carrot ribbons, bamboo shoots, shiitake mushrooms and marinated tofu
Allotment Sharing Board ~ Perfect for sharing our board includes olives, paneed mushrooms, popcorn cauliflower, homemade crisps, heritage tomato salad all served with pea pesto and sriracha mayo
Desserts
Manchester Tart ~ Deconstructed Manchester tart with raspberry coulis, custard coulis, custard and shortbread
Cheesecake ~ Served with homemade ice cream
Hazelnut Slice ~ Chocolate and hazelnut slice served with homemade ice cream and raspberries
Most Popular Dishes
Jackfruit Tacos
Banana Blossom
Fish and Chips
Salt n Pepper Tofu
Tamarind Tofu & Edamame Salad
Cauliflower Hot Wings
Roasted Butternut Squash
Laksa Curry
Like this 5 star vegan restaurant? Check out Allotment Vegan here.
Restaurant Marktküche, Zurich, Switzerland
It doesn't get fancier than a Swiss Michelin starred vegan restaurant.

This upscale vegan gourmet restaurant pairs a sophisticated atmosphere with dishes that use market-fresh, seasonal vegetables and fruits from the region. Everything is plant based and all of the food is made-in-house including bread and pasta.

Open since 2014, chef Tobias Hoesli and his small team artistically arrange plant based cuisine that's often imitated, but rarely surpassed.
Restaurant Marktküche is noted for its chef accommodating diners preferences and allergies to customise their all vegan tasting menus to suit the individuals needs.
The menu is simple, they are fixed and are designed to take you on a vegan Michelin star dining experience through 4 to 8 courses.
Menu
The Market Kitchen Tasting Menus
Menu 79 – Wine accompaniment 44 – 4 courses
Menu 94 – Wine accompaniment 54 – 5 courses
Menu 109 – Wine accompaniment 64 – 6 courses
Menu 124 – Wine accompaniment 74 – 7 courses
Menu 139 – Wine accompaniment 84 – 8 courses
Most Popular Dishes
Cauliflower Tartare
Lambs lettuce salad with chestnuts, orange fillets
Pumpkin "Quiche"
Spinach "Root" Ravioli
Check out Restaurant Marktkueche here.
Browns Bond Hill Restaurant – Derry, Northern Ireland
Whilst this restaurant isn't fully vegan, it is Michelin recommended and has been awarded prestigious AA stars for their culinary excellence.

Better still, they are the only restaurant in Northern Ireland named in PETA's Top 10 Best Restaurants in the UK for vegan fine dining.

The team at Browns Bond Hill focus on the dining experience coupled with local and seasonal produce which makes the vegan tasting menu come alive.

Beyond the food, is the exceptional, unpretentious service (something many diners worry about when going upscale). At Browns you'll not only get excellent vegan food but also genuine hospitality.
Menu
Starters
Soup of the day ~ seasonal garnish
Asparagus salad ~ pea bavarois, smoked egg yolk, kilcreen cheese
Twice baked cheese soufflé ~ smoked gubbeen, leek
Goats cheese parfait ~ pickles, honeycomb, walnut
Wild mushroom arancini ~ oyster mushroom, bearnaise, shallot
Main courses
Onion risotto ~ braised onion, tarragon, kilcreen cheese
Roast squash ravioli ~ crispy polenta, broad bean, pea
Spiced carrot falafel ~ salt baked carrot, romesco
Potato gnocchi ~ oyster mushroom, smoked tomato, broad bean
Sides
Chunky Chips
Black garlic chips
Potato of the day
Seasonal vegetables
Organic leaf salad
Most Popular Dishes
Wild Mushroom Ravioli with braised lentils and roasted onion
Beet & Broccoli Meringue
Black Forest Desert
poached pear with champagne rhubarb and "honeycomb"
Like the sound of Browns Bond Hill? Check them out here.
Plant Based Fine Dining is Here
As the popularity of veganism explodes around the planet, more and more fine dining and 5 star vegan restaurants are becoming available, so the finest food is no longer out of reach to the compassionate.
Know Any Other 5 Star Vegan Restaurants?
Have you been to any vegan fine dining or 5 star vegan restaurants we should know about?
Let us know in the comments. 👇

Read More Vegan Food posts from us here.