A lot of blogs have written about Shea Moisture, but here's what they're not telling you about it being vegan…
In the world of hair care and cosmetics, shea butter is an ingredient that is worth its weight in gold – literally.
Shea butter is a type of plant-based fat that is from the nuts of the Shea Tree, which is native to West Africa.

At room temperature, this fat is solid and is full of fatty acids, vitamins, and minerals. Because of its texture and nutritional profile, shea butter is a hugely popular ingredient in cosmetics industry. As it is plant-based, it's also a staple in vegan cosmetics.
What does shea butter have to do with today's topic? Well, quite a lot as it happens, because we're looking at a company that has managed to garner a lot of respect in the vegan community and that is, 'Shea Moisture' which wouldn't be here without this fantastic ingredient.
People often wonder, "Is Shea Moisture baby wash and shampoo vegan?", along with questions like "Is Shea Moisture vegan and cruelty free?" Well, that's what we'll be getting to the bottom of in this guide.
Here's a look at what they're not telling you on whether or not Shea Moisture and their products are vegan friendly or not.
Shea Moisture's History
Shea Moisture is a hair and skin care beauty company that has been in operation for decades now.
They have a reputation for making stellar hair care products that will leave the hair soft, shiny, vibrant, and voluminous. The company has also amassed a lot of respect from the vegan community.
Officially the Shea Moisture brand has been in operation since 1991, having been founded in Harlem, NY, by Nyema Tubman and Richelieu Dennis, along with his mother, Mary.
However, you can trace the origins and inspiration of this company back to 1912, as they drew inspiration from Dennis' grandmother, Sofi Tucker. She sold shea butter on the markets in Sierra Leone.  

In 2017, Unilever acquired Sundial Brands, including its flagship brand, none other than Shea Moisture, so officially, Unilever now owns the company. 
Is Shea Moisture Cruelty-Free?
If you do a little research yourself, you'll quickly find out that Shea Moisture is a cruelty-free brand.

They pledge that they do not contract out, conduct, or fund testing on animals in any way, shape, or form when it comes to the manufacturing of their products.
Shea Moisture's Policy on Animal Testing and Its Relation with China
Shea Moisture makes a point of emphasizing the fact that they are a cruelty-free brand and that they stand against animal testing.
They also make a point of not exporting their products to China which is a big plus, considering China has a mandatory legal requirement for products to be tested on animals before being sold to the general public. 
This is proof of Shea Moisture's role in the fight against animal testing which also sets a good foundation for the company to pursue being 100% vegan should they choose to do that in the future.
So yes, Shea Moisture is without a doubt, a cruelty-free brand. However, it is important that we keep in mind that the terms' vegan' and 'cruelty-free' are not the same thing.
What Is The Difference Between Cruelty-Free and Vegan?
Some people get confused about whether Shea Moisture products are vegan or not because of the terms' cruelty-free' and 'vegan'.
While they are sometimes interchangeable, the two stand for different things.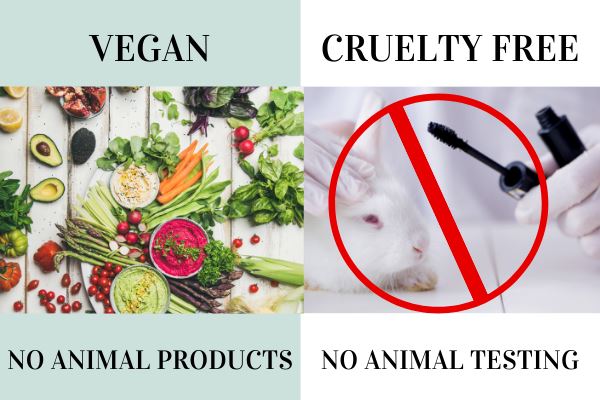 Cruelty-free products (such as those offered by Shea Moisture), are not directly tested on animals nor do they contain ingredients that are tested on animals.
Vegan products are simply products that contain no ingredients derived from animals.
So, in theory, a product could be marketed as 'vegan' but not marked as 'cruelty-free' if it contains no animal-derived ingredients but was still tested on animals.
Just because a product is cruelty-free, this does not mean that it is necessarily vegan-friendly, and vice versa.

So Shea Moisure can be added to your cruelty-free brands list, but can't be considered a vegan brand.
Vegan Shea Moisture Products
This guide wouldn't be a complete guide without us mentioning some of best Shea Moisture's fan favourite vegan products. 

This is for you if you're asking questions like:
Is Shea Moisture African black soap vegan?
Is Shea Moisture curl enhancing smoothie vegan?
Is Shea Moisture coconut and hibiscus vegan?
Which Shea Moisture products are vegan?
Here's the list you've been searching for.
The following are some examples if you're shopping for new animal friendly beauty products:
SheaMoisture African Black Soap
This vegan African black soap consists of Shea Butter, Aloe, and Oats which provides a calming effect on irritated skin by cleansing and moisturizing it. It also relieves symptoms of eczema and psoriasis as stated on the company's website.
SheaMoisture 100% Virgin Coconut Oil Daily Hydration Vegan Salve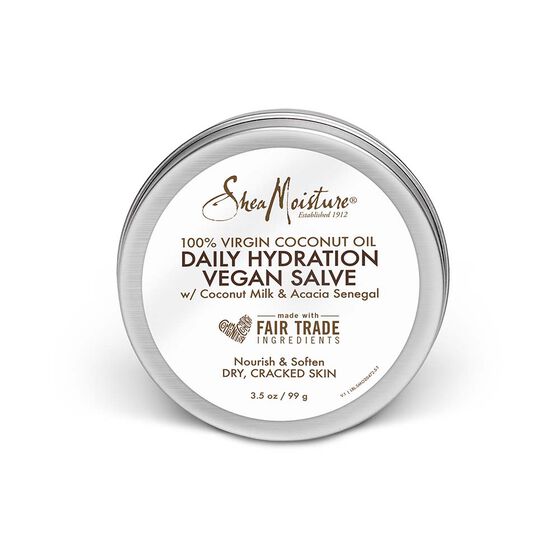 One of the main uses of this coconut oil hydrating vegan salve is to nourish and soften dry and cracked skin. You can apply it on your whole body, cuticles, and lips.
Based on the product description on the company's website, the product is a blend of candelilla wax, 100% Virgin Coconut Oil, and Fair Trade Raw Shea Butter but they also state that the ingredients are subject to change so we would advise you to first contact them and confirm if all the ingredients used are vegan before purchasing.
Do Shea Moisture's Products Have Non-Vegan Ingredients?
So, we've established that Shea Moisture is cruelty-free but what about those of you who are asking is Shea Moisture baby wash and shampoo vegan? Here's what they're not telling you about Shea Moisture and whether its products can be considered vegan.
Shea Moisture is a company that provides several products that are suitable for vegans, although the labeling isn't always straightforward. Therefore it is tough to determine whether or not a product is vegan-friendly.
Some of their products such as their Shea Moisture Vegan Lip Butterstick are vegan-friendly and they market them as such. Yet, with other Shea Moisture skincare products, it is less clear.
Shea Moisture cannot claim to be a vegan brand, because some of their products contain ingredients from animals. There are 11 ingredients to watch out for, which are as follows:
Keratin
Beeswax
Honey
Collagen
Conchiolin Protein
Silk
Yoghurt
Pearl Protein
Lactose
Lanolin
Milk
As you can see, the ingredients above are from animals, or the exploitation and unethical treatment of animals. They can, therefore, not suitable for vegans.
Is the Shea Moisture's Parent Company Cruelty Free?
As mentioned, back in 2017, Unilever acquired Shea Moisture. Although we appreciate Shea Moisture's commitment to being cruelty free, Unilever is NOT currently a cruelty-free company, and they do have a powerful presence in China.
With that said, Unilever has pledged to do what they can to end animal testing and look for viable alternatives. They even recently published an article on their website entitled 'Developing Alternative Approaches to Animal Testing'.
Final Thoughts
So, as you can see, Shea Moisture is a cruelty-free company that feels very strongly about animal testing and the mistreatment of animals in the cosmetics industry.
However, they are not a vegan brand as some of their products contain ingredients derived from animals in some form or another.
Shea Moisture's numerous vegan-friendly products that are made solely from vegan ingredients are suitable for vegans.

Even though the company can be considered one of the best cruelty-free brands in the market, it's important to note that they also create products that contain animal-derived ingredients so they cannot claim to be vegan. 
They are, however, well respected in the vegan community and have even been awarded the 'Beauty Without Bunnies' certification from PETA. This is clearly stated on PETA's website where they usually list companies and brands that are cruelty free.
Is Shea Moisture Vegan? In Summary
Worried whether your SheaMoisture skin care products are vegan? Read the ingredients and find out precisely what's inside each product.
Want to only use 100% cruelty-free and fully vegan companies? You might want to avoid Shea Moisture.
If you enjoyed reading our review on Shea Moisture, you will most likely be interested in some of our other vegan beauty brand reviews here: