Sirena Morena Cancun Vegan restaurant is in our top 5 vegan restaurants in Cancun (after living there for more than 6 months).

So today, we'll walk you through everything you need to know before you visit.
Table of Contents
Sirena Morena is in Downtown Cancun, which is safe for tourists and easy to get to (see directions here). We lived Downtown for 6 months and visited Sirena Morena both in the day and at night without any issues.

The restaurant is on a long-straight road called Avenida Carlos Nader, which is also home to Freco Habito, another healthy eating joint with vegan options.
The first thing you should know is that Sirena Morena is not a completely vegan restaurant. The restaurant is actually vegetarian, but does offer many vegan and gluten free options.

We've included the full menu below, the items with the leaf icon are vegan and the descriptions are very clear so you'll know exactly what your options are.
Breakfast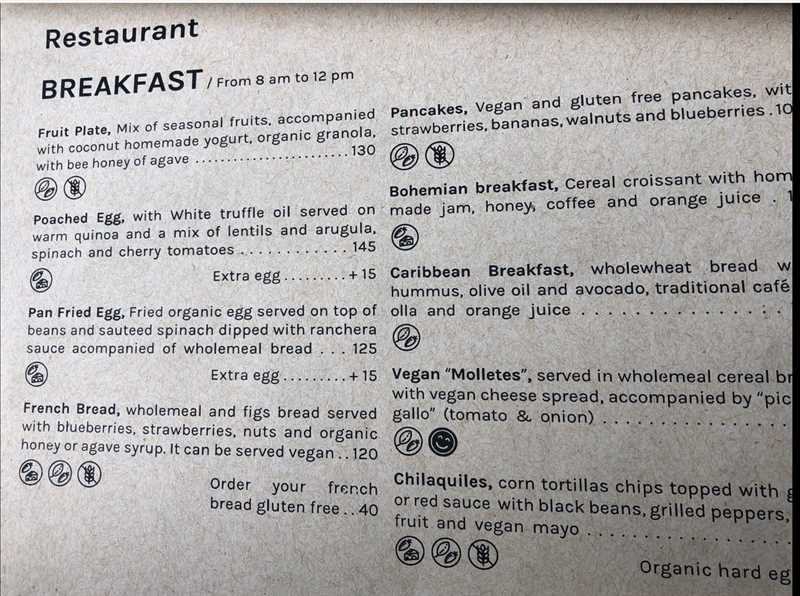 Breakfast is served until 12pm and there are a good number of vegan options. We never ate breakfast but the Caribbean Breakfast and the Chilaquiles would be our choices when we go back.
Starters
The appetizers menu has many vegan options, we recommend the homemade hummus, sweet potato chips and the vegan nuggets.
Main Courses
The main course menu again offers many vegan options, we loved the Vegan Burger and Buddha Bowl so much we got them every time we visited (our entire meal and photos are below).
Bowls, Jars & Sandwiches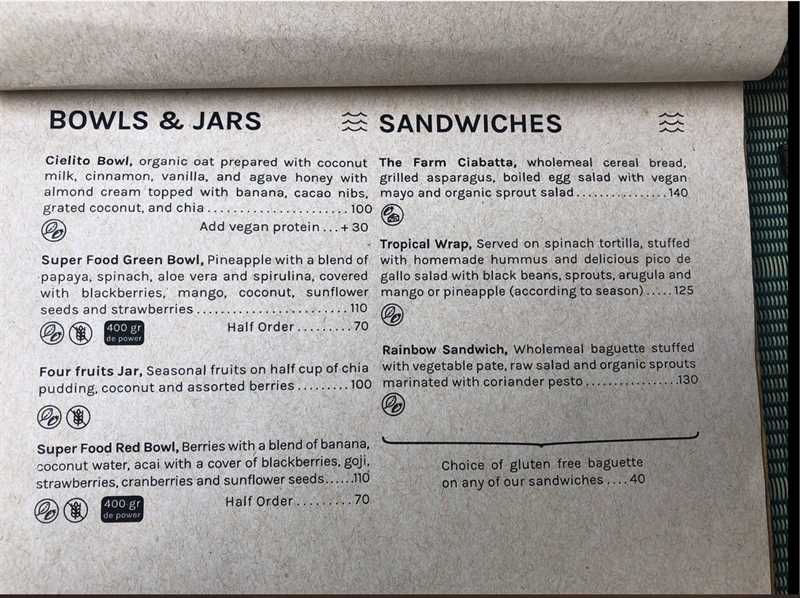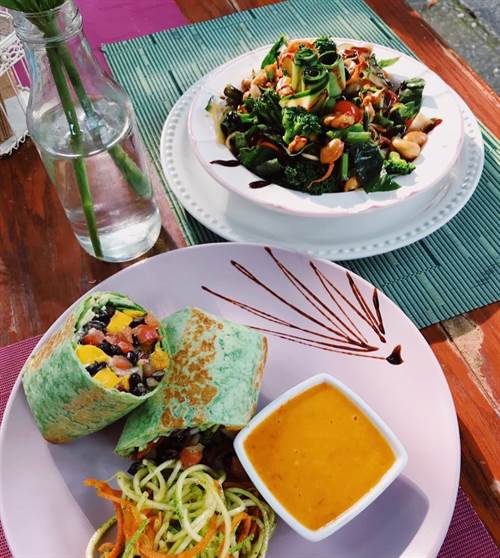 Salads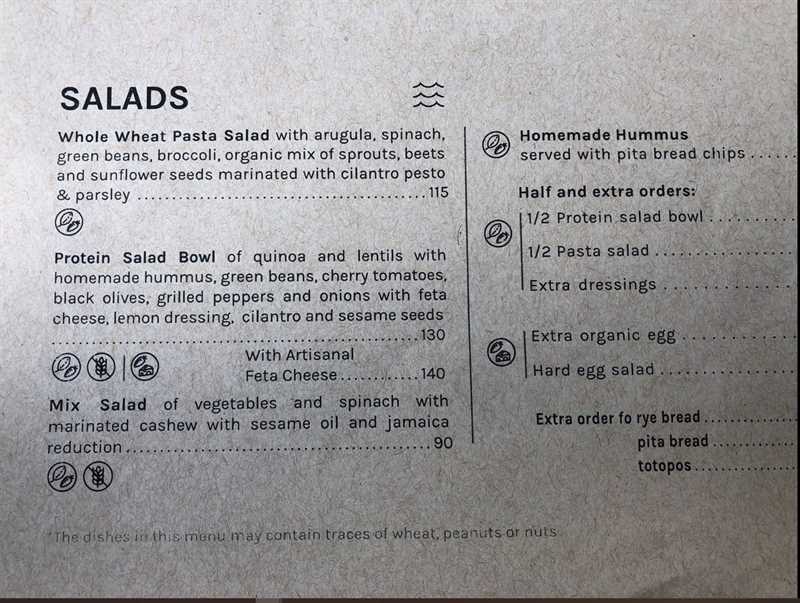 Desserts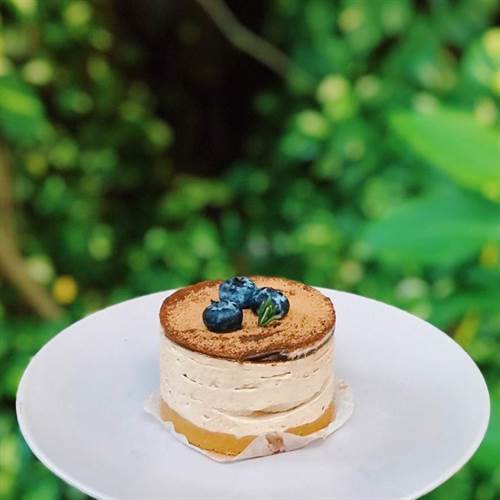 Drinks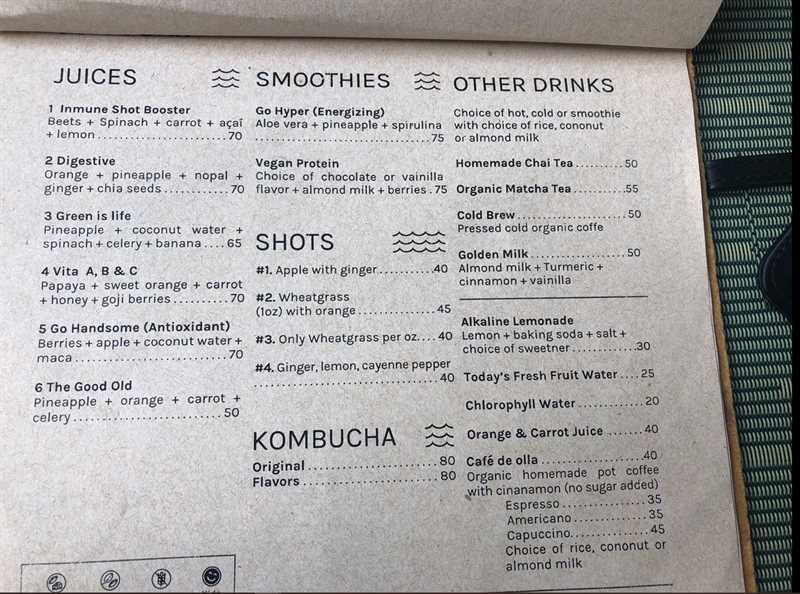 Takeout
Sirena Morena offers takeaway food via Uber Eats, Rappi and the other food delivery apps. The food is still good, but we still prefer eating in the restaurant because of the atmosphere and the way the food is presented.

The takeaway comes in compostable packaging which is a nice touch.
Specials
Every Friday Sirena Morena release their specials of the day, which are traditional Mexican dishes (like tacos, carnitas, barbacoa).

The specials are different every week, they announce the specials on their Facebook and Instagram pages on Friday morning.

They do usually offer Tacos on Fridays which is a nice touch, but the 12-4pm window makes it hard for anyone who works a regular job.

They do Taco Friday every week, but make sure you get there early. They sell out often and if you turn up after 4pm they won't sell you anything (trust us, we tried!).
The tacos are really delicious – some of the best vegan tacos we tried during our entire time in Mexico.

The carnitas actually tastes like real carnitas and the barbacoa is also really good.
The food at Sirena Morena is well prepared and beautifully served, from the way they place the food on the plate, to the natural surroundings which seem to complement it perfectly.

Here's what we ate last time we visited Sirena Morena:
Every time we'd visit, we start by sharing this giant hummus plate. It comes with thick, crunchy pita chips which are the best tortilla chips we've ever tried.

The hummus is fresh and wholesome and the dusting of paprika adds a little kick of spice to make it more exciting. To take these to the next level, ask for a plate of lime quarters and squeeze them everywhere. That small tweak makes a major difference, try it!

By the way, you'll finish the pita chips and still have hummus left, if you ask they'll give you extra chips and we were never charged which was a nice touch.
The vegan nuggets were really tasty! They come with a homemade natural ketchup which adds a tangy touch to the crunchy nuggets, which are made from vegetables and lentils.

They're not greasy or oily, but they are quite filling so you might want to take some home with you.
Agua Fresca
Agua Fresca (fresh water) is flavoured water that is super refreshing. You'll find flavours like watermelon, hibiscus, watermelon and other fruit based flavours.
Café De Olla
This traditional Mexican coffee comes from the villages and is made in a clay pot which gives it a unique taste.

To make it they grind coffee beans until they're fine and then pour them into a clay pot which is placed on a fire. The coffee grains fall to the bottom of the pot, so once its boiled you take your coffee from the top.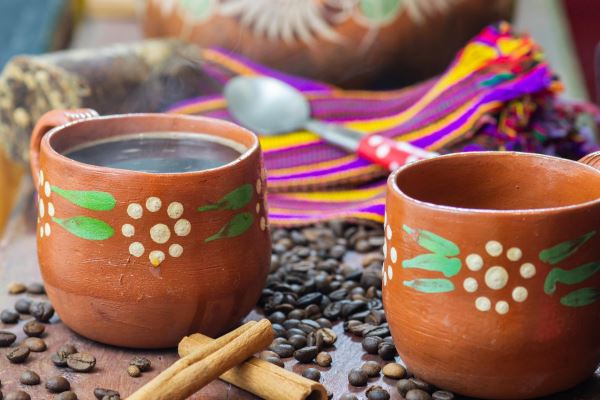 Cafe De Olla is a little strong, but they add cinnamon to the pot which makes it slightly sweet. That means you don't need to add too much sugar. If you do, go with brown sugar to keep it traditional. The traditional way is to also eat some sweet bread with your coffee.

The coffee at Sirena Morena tastes as good as it is in the villages! Miriam is Mexican and she grew up drinking Cafe De Olla and she couldn't tell the difference.
Buddha Bowl
We always shared the Buddha Bowl and the Vegan Burger and it never disappointed us.

The Buddha Bowl is made with roasted sweet potato and beetroot cubes, broccoli, avocado slices and pumpkin seeds. On the side you get a green pesto like sauce. It's like a creamy, oily pesto. Drizzle it over the bowl and it will make its way to the bottom of the bowl.
Vegan Burger
The Vegan Burger is one of the best we ate in Cancun.

The caramelized onions are sweet and a little crunchy, put them inside the burger, spread the guacamole onto the bottom of the bun and wait for your world to get rocked!

We loved the burger because the patty didn't fall apart and because the bun is like a wholesome brown bread which is filling and tasty. The onions add the sweetness to offset the plain flavour of the vegetable based patty. The sweet potato fries are awesome, they're not greasy or oily, they're thin with burned ends so you get that little crunchiness.

Usually sweet potato fries are oily or deep fried and make us feel sick, but these ones were perfect and with the homemade ketchup it was a perfect mix of crunchy, wholesome and sweet.
Strawberry Cheesecake
The strawberry cheesecake is a great replica for real cheesecake. It was one of the best vegan cheese cakes we've ever had. The mousse didn't fall apart and it has the tiniest flavour of vanilla and a little tangyness,

The strawberry jam on the top is fresh and it couples the crunchy base perfectly.
Vegansito
The Gansito is a typical Mexican cake bar that Miriam enjoyed as a kid in Mexico City.

Gansito's are a sponge and jam filled, chocolate covered bar with chocolate sprinkles that's sold across Mexico and the U.S. Sirena Morena has made a vegan version called the Vegansito.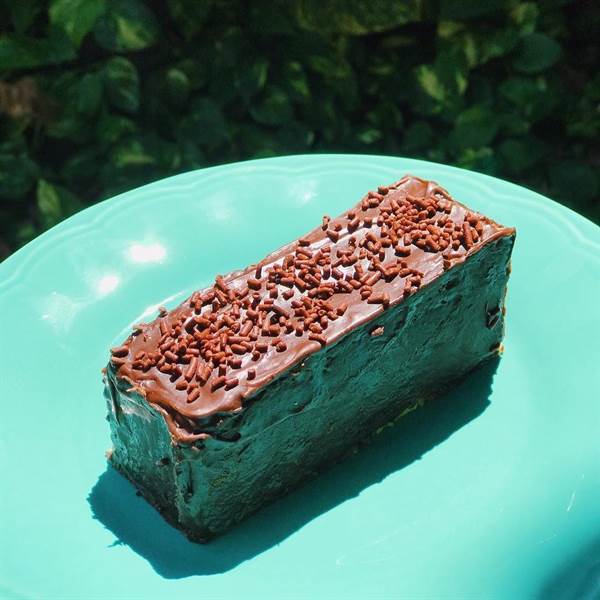 Miriam said this was better than the real thing!
Vegan Brownie
The vegan brownie is EPIC with a coffee.

Like the Gansito, they're not made in-house, but are bought in by the restaurant. Unlike many brownies, this one wasn't dry, it was more like a tart. Miriam loved these so much she used to sneak out of work during the day to go and buy some for her afternoon coffee! 😆
We love the fact the restaurant is outside (there's a couple of high stools at the bar), it feels tropical with the trees and especially with subtle fresh soil smell. Sometimes you even see a little lizard climbing a tree a few feet away and the birds visit constantly. It makes a very Instagrammable background for your photos!

The restaurant is at the back which makes it quiet and away from the traffic out the front (though the road itself isn't too busy).
If feels like you're eating in your backyard, but don't worry about the sun beating down on you, there's a canopy of trees providing coverage along with umbrellas at the tables, so you'll be in the shade. Cancun can get pretty hot but they have industrial fans to blow cold air onto you as you eat which makes it bearable.
Upstairs is a Yoga studio, from 9:00-12:00 every day if you want to get flexible.
The Store
Sirena Morena is not only a restaurant, it also has a well-stocked store which has organic products, a selection of vitamins, essential oils, beauty products and fridges with food like vegan cheeses and brownies..

They also hold a market on Saturdays selling fruits and veggies.
The staff are very friendly and if something is sold out, they offer you different options and if you ask for something off the menu, they sometimes offer to make it for you.

The staff speak good English and even tolerated Skye's basic Spanish. They are mostly quite young and many work there part time so it feels like they really enjoy working there which makes a difference.
Sirena Morena attracts a relaxed crowd, everyone is chilled and you can have a peaceful lunch.

The crowd is mostly tourists and middle-class Mexicans (as the cost is expensive for the locals) but its affordable for anyone who visits from a western county.

More on that here.
The menu is pretty varied for vegans, there are many options to try and the weekly specials mean they're adding new vegan options often.
Sirena Morena would be considered expensive for Mexico, so you won't find many locals eating there.

The prices are geared towards the wealthier locals and tourists and we found it very affordable. We went with Miriam's sister, Karla and the 3 of us ate a (shared) starter, main course and desserts with coffee for just over $20.
(7 / 10)
Address: Av Carlos Nader 66, 3, 77500 Cancún, Q.R., Mexico

Getting there is easy enough, its:
12 minutes from the Hotel Zone in a car/taxi
3 minutes from Downtown Cancun in a car/taxi
55 minutes from Playa Del Carmen in a car/taxi
Here's a map of the area:
Here's how you get to the Sirena Morena Cancun Vegan restaurant:
The map below shows 4 landmarks you'll find easily in Downtown Cancun and how to get to the restaurant from there:

The ADO Bus Depot
The Chedraui Supermarket
Office Depot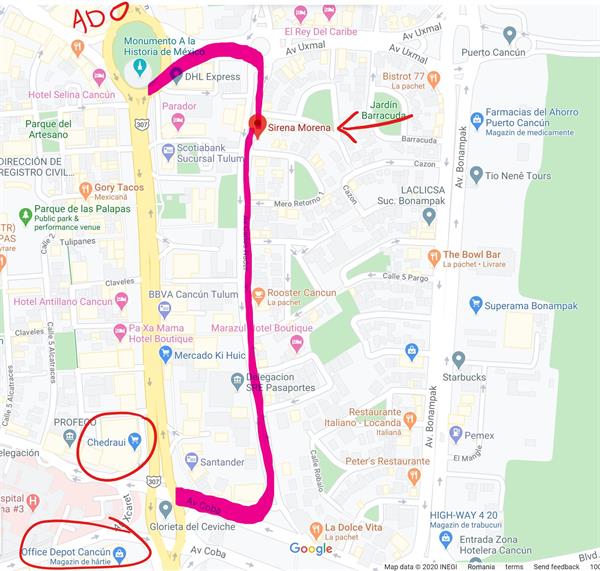 Once you get onto Avenida Carlos Nader which we've marked in pink, look for Sirena Morena Cancun Vegan restaurant at number 66: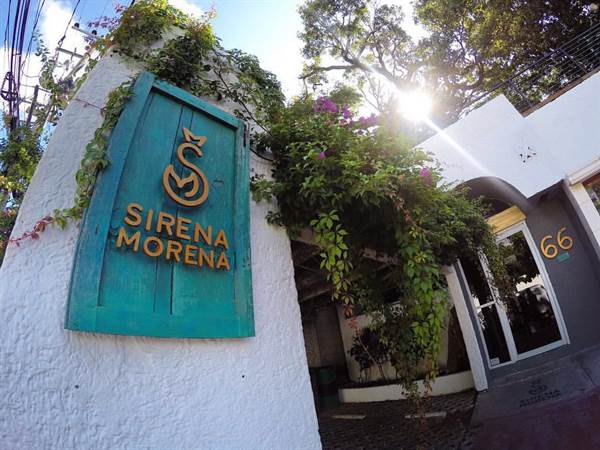 This is what the front looks like, it's a little back from the street so drive/walk slowly or you might miss it. You'll be able to stop or park directly outside without any issues and you don't have to pay for parking.
If you want to contact Sirena Morena Cancun Vegan restaurant their contact details are below:
Phone: +52 998 887 9774
Email: hola@sirenamorena.com
Website: http://sirenamorena.com/ (literally a one-page map)
Facebook: https://www.facebook.com/SirenaMorenaRV
Instagram: Sirena Morena Cancun
Important: Sirena Morena Cancun Vegan restaurant is closed on Sundays
Monday 8am–10pm
Tuesday 8am–10pm
Wednesday 8am–10pm
Thursday 8am–10pm
Friday 8am–10pm
Saturday 8am–10pm
Sunday Closed
Can pay with card (nearest ATM is at the Oxxo 2 minutes walk on Av Carlos Nader)
Closed on Sunday's – Here's the times
The restaurant is vegetarian, with some vegan options (check the menu)